Bybee Technology Super Effect Speaker Bullets Mk II
Ass backwards. That's what I think about this hobby when it comes fine-tuning a high-end audio system. It's typically about this or that new loudspeaker, amplifier, DAC or whatever. But how often is the effort of fine-tuning your existing equipment seen in a print high-end audio journal?
Whenever I visit the home of a fellow audiophile, whether new to the hobby or steeped in experience, I rarely see any of the tweaks that have been garnering attention on Stereotimes or the other audio webzines. Yet, each month—like clockwork—there's a shiny new pair of $100,000 loudspeakers, or a new amplifier costing almost as much, adorning the front page of the high-end stereo magazines.

What's going on?

Audiophiles in general believe in tweaks and are interested in improving their rigs without spending exorbitant amounts of money (which many of them don't have), but none of the big rags seem to care. And because they don't—and the webzines do—it is our legitimacy that is called into question. The major magazines, with huge circulation (and advertising revenue) simply carry more weight. So why, if the magazines don't bother with tweaks, should anyone take us seriously? I understand. It's precisely what I mean when I say this industry is "ass backwards."
On the other hand, some of the seasoned guys I know and admire who also have a long history in high-end audio do own an assortment of tweaks. In their quest for sonic excellence, they have discovered the value of non-mainstream devices created through the devotion and ingenuity of audiophile/entrepreneurs.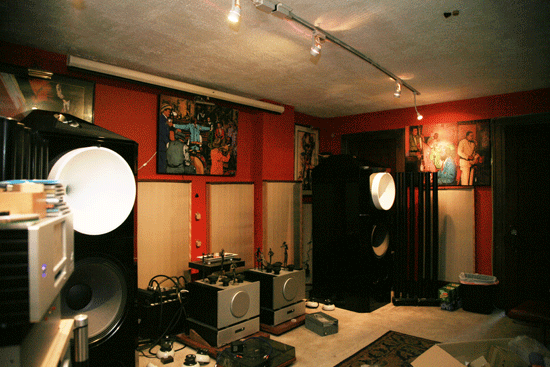 It is no mere coincidence I haven't had the desire to make major changes to my reference system since the summer of 2005. That's when I first took possession of the Behold electronics from Germany. And the following year I was among the first few to audition and write on the virtues of the Laufer Teknik Memory Player. Finally in 2007, the 900-pound Sunny Majestic horn loudspeakers arrived. This trio has continued to be my reference-caliber system for over seven years. Fact is, since this trio arrived, the only audio items that made it into my dedicated listening room have been tweaks.
Paying close attention to understanding this room's acoustic strengths and weaknesses has played a major role in my appreciation of its sonic character. Passive devices like Franck Tchang's Acoustic Resonators changed my perception of what is possible in this space. Ditto Holger Stein's Harmonizers. IPC products have taken my system to new heights of musical satisfaction. And more recently, Akiko Audio's affordable Tuning Sticks have shown marked success attached to my speaker cables and AC power cords.
Unfortunately for the uninformed, the "logical" choice still seems to be the purchase of that new component or loudspeaker as suggested by the encomiums of the major journals. But rather than drooling over the latest and greatest stars in the audiophile firmament, isn't it time to consider a far more cost-effective approach?
My first major experience with a tweak came from physicist Jack Bybee. His Super Effect Speaker Bullets (hereafter SES Bullets Mk II) made a believer out of me a long time ago. Knowing Bybee personally for nearly twenty-years, I've never seen him this excited or have heard him boast this much about one of his products.
Bybee's latest version SES Bullets, the Mark II, launched in March of 2014, has him happier than a termite in a lumber yard. I asked that he send me a set (four per set) to compare against his older version, which I've owned since 2007.
Bybee's SES Bullets have the ability to improve harmonics, transient response and dynamics (especially in the bass region). But most of all, the overall 'purity quotient' goes up. Way up. Bybee credits this to the ability of SES Bullets to address what he calls "1/f distortion"—before it ever reaches your loudspeakers.
In the last few years the addition of newer tweaks, like the Stein Harmonizers, Akiko Tuning Sticks and IPC Energizers, led me to experiment listening without the SES Bullets. I was curious if other tweaks could imitate their effectiveness. Didn't happen. Without the SES Bullets, a harsh sounding, rough-textured sensation overtook my senses. I immediately placed them back in my system.
Physically, the SES Bullets Mk II are greater in length and width. The older version resembled a roll of nickels while the newer version looks about as thick as a roll of quarters. Super Effect Speaker Bullets connect between your speaker cables and speaker terminals. Bybee claims break-in is around 200-hours. However, I listened as soon as I plugged them in.
Immediately, I was able to specifically detect instruments that had been submerged into the fabric of a song. They didn't appear more forward as much as more out in the open. This allowed a greater comprehension of the various instruments that actually make up a song. The improved delineation of even the slightest cymbal stroke or accent of the snare was an indication that the SES Bullets MK II were dynamically superior and more transparent than the previous version. And this with zero burn-in!
I couldn't wait until I hit the magical 200-hour mark. So, I placed about 300 songs in the Laufer Teknik's playlist, intending to allow the SES II Bullets MK II their allotted burn-in time. However, after 24-hours I thought to myself, what's the sense of waiting? They already sound so much better than their predecessors.
Seal's finger-snappin' Love's Devine from SEAL IV is a commercially successful venture never intended for audiophile scrutiny. It's an okay recording. But the man's voice and his music are pretty damn impressive. Especially the soaring electronic keyboards and synthesizers working against this smooth bass line. Seal's rough and edgy vocals elevated this song into my playlist for longer than I am willing to admit. Through the new SES Bullets Mk II, I got the sense that not only was I able to follow the bass notes, but that the synthesizers sounded far more spacious and clearer than ever before. Needless to say, I was surprised at the level of quality this recording had hidden in it. This CD is easy to push to the point of sounding harsh. Yet, here I was pushing it beyond the normal comfort threshold and the only thing I got was more volume and spatial cues. Wow!
Christian McBride's Shades of the Cedar Tree from his 2011 big band recording "The Good Feeling" (Mack Avenue) proved revelatory. This talented musician is firmly in the spirit of great big band arrangers like Duke Ellington, Nelson Riddle and Oliver Nelson. I appreciated the quality of the arrangements as well as the recording. I sort of got lost in its magic and ended up playing it in its entirety. I also greatly enjoyed the style and grace of Melissa Walker who's the featured vocalist on "When I Fall in Love". The buoyancy of the lower bass contrasted by the speed and whisper-quiet high frequencies brought about by the SES Bullets Mk II made for a pretty spectacular evening of listening.
Keeping with this big band theme, I then pulled out and dusted off the incomparable Trane Whistle by Eddie Lockjaw Davis. If you're a fan of Oliver Nelson's Stolen Moments, you're sure to gain a new appreciation of that song in a big band
setting that features Oliver Nelson as arranger and conductor! The problem with dated recordings such as this (September, 1960) is the heavily panned effect in the loudspeakers which can be distracting. Also, the music suffers in terms of overall fidelity. But that's to be expected. This was the pinnacle of jazz that era—and there has never been a more powerful stimulant or aphrodisiac than 60's jazz, if you ask me.
However, I was absolutely floored by how much more fidelity and excitement this recording had through the SES Bullets Mk II. Yeah, there is still that "hole in the donut" effect when the engineers pan the sound to each speaker, but the breadth and fidelity that came through was better than I would have ever believed possible. I was better able to appreciate the magical musicianship in this song like never before. As a result, I've been digging through tons of early 60's jazz recordings of late.
Now I understand what Bybee was so excited about. His comment—"You'll gain a new appreciation for your music"—is, in my opinion, an understatement! The SES Bullets MK II produce sound quality comparable to giants like Audio Consulting of Switzerland and the most outrageous offerings from Audio Note. That my system could even remotely be on a similar path is amazing — a glimpse of audiophile heaven that I was not expecting. I've been far more interested in listening to classic jazz than in talking about new audio equipment! Moreover, I find myself hanging out with the musicians themselves who much prefer listening to music rather than ask a million questions about the equipment.
The only downside of this most impressive tweak is the price of admission: $5500 for a set of four (enough for two standard configuration loudspeakers).
To those who can't indulge in Jack Bybee's latest and greatest because of the price, all I can say is that very few loudspeakers will do what these do for $5500. Heck, you can always try them before you buy under Bybee's 30-day money-back guarantee.
The Bybee Super Effect Speaker Bullets are the ultimate tweak for a guy like me. It forces me to keep my focus where it belongs: on the music. For this reason I can recommend the Bybee Super Effect Speaker Bullets Mark II without reservation.

Specifications:
Bybee Technologies Super Effect Speaker Bullets Mk II
Price: $5500.00
Website: http://bybeetech.com/
Stereo Times Masthead
Publisher/Founder
Clement Perry
Editor
Dave Thomas
Senior Editors
Frank Alles, Mike Girardi, Key Kim, Russell Lichter, Terry London, Moreno Mitchell, Paul Szabady, Bill Wells, Mike Wright, Stephen Yan, and Rob Dockery
Current Contributors
David Abramson, Tim Barrall, Dave Allison, Ron Cook, Lewis Dardick, Dan Secula, Don Shaulis, Greg Simmons, Eric Teh, Greg Voth, Richard Willie, Ed Van Winkle, and Rob Dockery
Music Reviewers:
Carlos Sanchez, John Jonczyk, John Sprung and Russell Lichter
Site Management  Clement Perry
Ad Designer: Martin Perry