Sunny Cable Technology H2W10 Speaker
A Real Giant Killer
October 2007

While attending CES 2007, Clement Perry and I visited a lot of rooms, but were greatly surprised when we walked into the Sunny Cable Technology suite. I can faithfully state that we weren't prepared for what transpired once we entered the room. But before I tell that story, let me digress just a bit. A little more than three years ago, DNA physicist Sunny Lo developed their company's first time-accurate series of cables called Sunny Cable Technology ("SCT"). This cable has become the reference of quite a few Stereo Times reviewers, myself included. Never one to rest on his laurels, Mr. Lo used last year's CES as a coming out party to launch a new product line: horn loudspeakers.

Why horns?

Lo shared with us his dissatisfaction with how dynamic loudspeakers were not providing the realism and sonic experience he hears from various loudspeakers he's used over the years—namely the pro series TAD horn loudspeaker from Pioneer. Dynamic loudspeakers, by their sheer physical and mechanical construction, lack the speed, accuracy and coherency that horns inherently possess, and which Lo prefers.

Living in an imperfect world, Lo acknowledges the horn's fundamental flaws, including their characteristic shout (especially when played at higher volumes), oversized images and their most notorious "hand-cupped-over-mouth" coloration. Lo went on to say "BUT if you can control these shortcomings and keep the positive attributes, something quite impressive is possible that no dynamic can match." Lo, fully understanding the strengths and weaknesses of horns decided to start from scratch and design his very own variation of a horn.

Back to the room at CES: Using his patented time-accurate technology employed in his cables, Lo built a cost no object, statement horn speaker which weighs nearly 800 lbs per side and boast a single 16.5" 96 dB efficient midrange horn coupled to a super-fast 18" woofer. That demonstration of what was to be crowned the Sunny Cable Majestic loudspeaker proved hypnotic, forcing us to return several times during CES, spending unplanned hours just listening to music via these sonic wonders. This gigantic horn, aptly named the Majestic, took CP and me on a sonic ride that didn't end until we arrived back here in New Jersey.

To sum it up in a word: Beguiling.

Also assisting in the demonstrations was Andre Au engineer and operations manager for SCT in addition to being Mr. Lo's brother in-law and traveling companion. Au observed my positive reaction to the music played and ushered me next door to their Home Theater suite (which fortunately for me proved more financially earthy in price), where I was introduced to the diminutive model H2W10 which I dubbed the "Mini Majestic." Standing 42" tall and tipping the scales at a very hefty 155 lbs, these little guys played effortlessly and loud! The demo consisted of the DVD "House of The Flying Daggers" which is at one both visually beautifully and sonically dynamic. The sound from the H2W10s was very impressive, so much so, I wondered how the "Mini Majestic" would handle sophisticated two-channel playback. A request was made and in a couple of weeks the H2W10s arrived at my doorstep for a formal review.

Speaker Description
Unpacking the speakers we noted that they were shipped in corrugated cardboard boxes with sturdy Styrofoam surroundings for ideal protection against typical UPS gorillas. The H2W10 is a two-way, front ported design, featuring a 10 "bass reflex woofer, a 9" compression loaded horn driver, and a 3" compression driver using a proprietary aluminum alloy diaphragm and neodymium magnets. The H2W10's horn is made of special wood and built from the ground up by Sunny Lo. The crossover point between the horn and bass reflex is at a relatively low 800 Hz. Sensitivity is rated at 91 dB; while relatively low for a horn, the stable 8 Ohm load made them easy to drive via my Boz digital amplifiers (which can be quite finicky due to loudspeaker loads).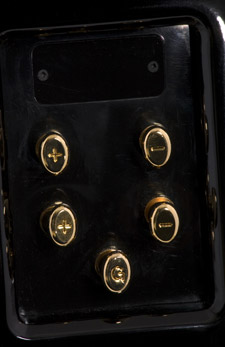 At the back of the H2W10s are dual binding posts allowing for bi-wire/bi-amp versatility. A fifth terminal serves as a ground terminal and according to Lo, is a very important feature and a BIG part of his cable's success. Because Lo didn't elaborate enough on the "why" behind this ground terminal, I did not hook it up for the first few months. However, when Sunny Lo paid me a visit some months into the review and hooked up the ground connection, the sound and balance of the music changed rather dramatically. Needless to say, the ground wire terminal is no gimmick and should never be considered as a mere afterthought. Wiring to the three-pin ground at your AC power-cord's outlet is all that is needed. All in all, the black piano high gloss fit' n finish on the H2W10 is beautiful. Both my wife and I love the H2W10s reasonable size and overall appearance.

The Setup
Setting up the H2W10s was an easy chore; even at 155 lbs, they slid across my carpeted floor to reside where my Selah Audio XT8 loudspeakers were placed—4 feet from the front wall, about 7 feet apart and 3 feet from the adjoining side walls. We connected the H2W10s using SCT's 600 series cabling to the 200-watt Boz 216/2200 amplifiers from Tact Audio. As mentioned above, synergy wasn't a problem due to the H2W10s' 91 dB sensitivity and 8 Ohm load. After all connections were made and loudspeaker placement deemed satisfactory (basically the same position as the Selah), room correction was done via the Tact 2.2XP. The results were quite impressive considering this is the first horn loudspeaker to grace my listening space.

How Do They Sound?
I'm going to preface this section of the review by saying that the sonic differences between my reference XT8 loudspeakers and the H2W10 was subtle but alarming. I attribute this to horn attributes in general and the H2W10s in particular. Initially, I did have some concerns about the upper high frequency hardness. Fearing it was that dreaded horn coloration, I was relieved to hear it go away with each passing day of break-in. After a good 400 hours or thereabouts, the sound via the H2W10s became much more relaxed and very promising, very easy I might add, considering how utterly relaxed the XT8s are. I would have to say, by the end of the review process these little two-ways sounded as effortless as my reference XT8s which is almost scary considering the size difference (price is almost the same with the XT8s retailing for $8k). That said, the H2W10s possess vitality and a jump factor the XT8s do not.
Vitality and jump factor is inherent in horn designs but proved rather illusive outside my own listening room. For years I either heard or read of the inner beauty of horns, their ability to reveal even the tiniest of nuances in the music. But somehow hearing them at trade shows, this beauty eluded me. Not any more. The H2W10s ability to make instruments snap, crackle and pop from the blackest background - possibly due to low distortions and ultra-small signal colorations - proved revelatory. The H2W10s gave very old and familiar music a new sense of vibrancy and life. The XT8s provide a nice and easy laid-back and panoramic view to the music that is very impressive. But going back to the H2W10s shows the XT8s possess less dynamic snap, which gives the music that get up and go feel.
I've read of these sonic attributes before with regard to horns. On paper this all sounds good - almost too good - until I heard the H2W10s (apparently done right) for myself against a very good dynamic line array such as the XT8s.

The H2W10s' soundstage presentation and imaging are overwhelmingly good by virtue of its two-way design, with good vertical, lateral and horizontal dispersion creating the right coherence to make the listening experience more believable and palpably real. Image stability is pinpoint and constant, whether you're in the sweet spot, off axis or standing.

Midrange offered an improved perspective of tonal shadings without highlighting specific frequencies, by adding a rightness and character to instruments and their outlines. The speed and delicacy of the violin and other stringed instruments for example, is portrayed with a rightness of body and texture that even eludes my reference XT8s. Similarly, brass instruments are rendered with the correct burnished tonality that clearly pinpoints their stage location and placement.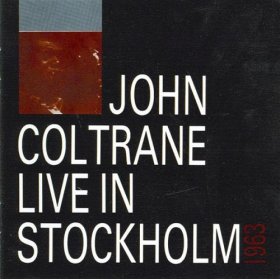 The woofer is fast and seamlessly integrated with the horn, providing bass extension that is as taut as it is fast. Tonal pitch is improved and this feature enabled me to hear what to me sounds slower and more melodic. I was pleasantly surprised at how fast and deep the bass could sound in my relatively large listening room. The H2W10s' dynamics are exceptional allowing one to follow the ebb and flow of music's crescendos. This lends to an emotional contact with the source material. A good example is John Coltrane: Live in Stockholm 1963; Featuring Eric Dolphy [Charly label LEJAZZCD57]. First track "My Favorite Things" is a high energy rendition of the Rogers and Hammerstein classic. Coltrane's lead-in is a tease of what is to come. For the first time I heard a coherency in Coltrane's arpeggio that was as if he was preparing you for a spiritual experience. McCoy Tyner's piano is played with a more elegant AND forceful dynamic than I remembered. Eric Dolphy gracefully appears on flute with a sound more natural while Elvin Jones' drumming cannot be missed with Elvin-istic over-riding cymbal accents driving the rhythms on this intricate and classic piece.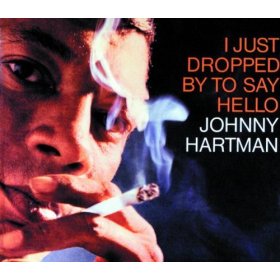 Another is Johnny Hartman's I just Stopped By To Say Hello (Impulse MC AD 39105) This CD is a conveyance of vocal delicacy and instrumental cohesion that showed off the H2W10s rendering of intimacy and quietness. Mr. Hartman has often been referred to as the black Sinatra and that is clearly demonstrated on "Stairway To The Stars." Mr. Hartman's sexy baritone voice is matched by Illinois Jacquet's tenor sax and together they transport you to a time of formal dating and tender romance.

In Conclusion
I must confess that I've heard something significant here with regard to the Sunny Cable Technology H2W10 loudspeakers. First, I heard a horn that sounds "right" to these ears: holding nothing back except the problems that have plagued their designs for eons. Secondly, the wonderfully rich sound they reproduce appears more accurate and true than I would have expected considering their size. Their sound would have to qualify as super sophisticated due to their open and honest reproduction of the teeniest notes: Classic horn qualifications with no drawbacks.

The H2W10 loudspeaker should be renamed "Mini Majestic the Giant Killer." There's no question its performance rivals many loudspeakers twice their cost. Their relatively small footprint enables them to fit into any room décor without taking up much space. A beautiful piano black finish serves as icing on the cake and in my opinion, gives them a very high WAF acceptance factor.

I'm reluctant to say that it's only the subtleties, nuances and sense of tonal rightness of horns that have me enjoying the H2W10s; it's more the way they render the music so convincingly real. I do know I like these more with each passing listen. So much in fact, I purchased them. Need I say more?

_________________


Specifications:
2-way system Horn loaded system with bass loaded woofer
Frequency Response: 30 to 20,000 Hz
Sensitivity: 91dB
Dimensions: 42" H x 12" W x 16"D.
Weight: Approx.155 lbs.
Finish: Black Piano on all six sides
Price: $8,800.00 a pair
Address:
PMB 238
21c Orinda Way
Orinda, CA 94563
U.S.A.
Telephone: (925) 258 3688
Fax: (925) 258 9862
Website: www.sunnycable.com
email: info@sunnycable.com