2006 Consumer Electronics Show Report

Mike Wright

What a difference a year makes. Last year's Consumer Electronics Show in Las Vegas had days that were not only long, but quite cool as well. It even snowed on that Friday morning. It was like something from out of the movie "War of the Worlds". Cars stopped in the middle of the street and people came out of doors to look up at the sky to see the white stuff floating around. Some people were excited and some thought it was a bad omen. This year was different. The temperature climbed into the mid 60s every day. It's getting difficult to figure out how to dress for this event. Still, there were plenty of rooms to go to, plenty of equipment to see and hear, and plenty of people to meet. For me, this has always been three days of being very busy doing something that you love to do.

Before I get into the meat of my report, let me say a few things as qualifiers for why I pick rooms or equipment the way I do for CES and T.H.E. Show. Some manufacturers really put the time and effort into their rooms to get them to sound good. Some times it pays off and some times it does not. However, I would hope that people not judge manufacturer's equipment based on what they hear at a show. For example, there were several speakers that were too big for the rooms they were displayed in. However, us curious industry types want to hear them anyway. If the manufacturer chooses not to play his speakers, he must be hiding something, but if he does play them and it's too loud or too "boomy", or the sound is too bright, then there must be something wrong with the speakers. I do not envy the manufacturers under these conditions because most really do try to put on a good show.

LSA Group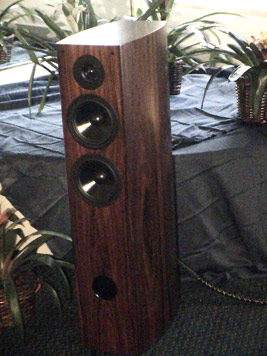 Last year, I discovered a gem of a room that had a most relaxing, pleasant sound that was being run by the folks from Margules Audio. This year, that designation for would go to Larry Staples and the LSA Group, formerly DK Designs. I visited this room a couple of times and each time the music was relaxing and involving. Several of us listeners kept asking each other about the speakers we were listening to, having already recognized the DK Designs integrated amplifier, which turned out to be the DK Design, LSA Signature Edition ($6000). The speakers were the LSA2. The digital front end was a universal player from Exemplar universal DVD player ($5700) and an Exemplar DAC ($8800). All this drove the surprisingly very good, very musical LSA2 speakers ($2500/pair in rosewood or black ash). Larry Staples and staff put on a very nice demonstration showing the musical qualities of their equipment.


Wolcott Audio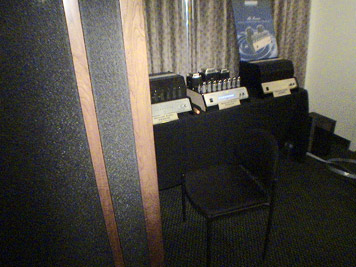 I have been an admirer of Henry Wolcott's company ever since I heard a pair of Wolcott Omnisphere speakers at a friend's home years ago. They were demonstrating their Presence P220-S vacuum tube stereo amplifier ($6000) being driven by an Edge preamplifier, Magneplanar 3.6R, a Marantz SA-11 SACD player all connected with the top-of-the-line Nordost Valhalla interconnects and speaker cables. I was not really expecting much from this unassuming looking setup but wound up being surprised at how musical it really was. Henry Wolcott is particularly proud of his amplifier and on occasion would crank it. The Presence had no problem at all driving the Maggies with rock or jazz music. When he played Miles Davis', Kind of Blue CD, the music was rich and detailed and quite enjoyable.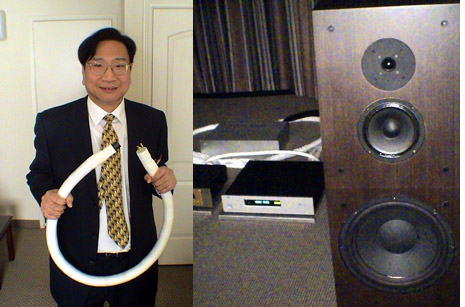 Sunny Cable Technology
Sunny Lo (photo) of Sunny Cable Technology had three excellent rooms going. Of particular interest was their smallest room which featured the Model 3 loudspeakers ($7000/pair). The Sunny Cables are my reference cables so when they said they came out with a speaker, I just had to hear it. Let me tell you, I was mightily impressed. They used a simple setup with the Model 3s, a Sonic Frontiers SFCD-1 CD player driving a TacT S2150 ($3000), and their own SP 1000 MKII speaker cable and interconnects used throughout. Even though their Model 3 speaker uses a 12-inch woofer the bass never was fat or loose, instead it was always tight with good extension, excellent highs and a very detailed midrange. This was a very enjoyable system to listen to and I hope to find out more to share with you concerning Sunny Cables foray into the speaker world.

Hyperion Sound Design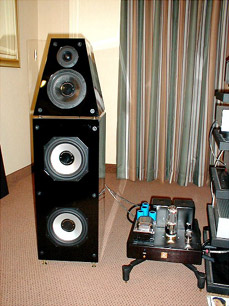 I had heard and read a lot of great things about the Hyperion speakers so I was eager to see what all the talk was about. I must admit that I was impressed by what I heard and enjoyed listening to the new Hyperion 968 loudspeakers ($6500/pair). The Hyperion speakers were being driven by the Hyperion's HTA45 amplifier ($4600) and BEC-P25 preamplifier ($1500) and a Sony SACD1 CD player. Hyperion's own interconnect, speaker cables and power cords were used throughout. The sound was detailed, had a lot presence in the midrange that gave a very good portrayal of vocals and nice, full, tight bass. Not sure what the talk is about the Hyperion speakers but if you like the sound of music, you'll like this line of electronics and speakers.
Orpheus This was one of my most favorite rooms at T.H.E. Show and I enjoyed my chat with Orpheus' Vincent Fuentes. The Orpheus gear has a somewhat slim, streamlined look but is very musical, very detailed and very powerful. I listened to the very fine White Light speakers from Lumen White ($60K) being driven by the Orpheus Three M 150 watt per channel monoblock amplifiers ($9300/pair), Orpheus Two preamplifier ($6500), Orpheus Zero D transport ($7500) and the Orpheus One SE DAC ($9650). Speaker cables were from Cardas and the interconnect and power cords were from MAC Wire. The power strip was from Sound Application and the stands were made by Orpheus. Yes, Orpheus gear is expensive, but it has the look and feel that fine Swiss-made electronics are known for. I wasn't sure that they would possess the power and finesse to drive the White Lights. They not only allowed these speakers to show off their wonderful midrange but also showed a surprisingly good level of control and extension in the deep bass as well. This is definitely a company to keep a watch out for.


Bosendorfer
Kudos should go to Lisa Feldman and friends for the time and effort they poured into making this a marvelous sounding room. This was another room I had several visits to because I enjoyed the sound more than I should have. The Bosendorfer VC7 ($22K) is a breathtakingly beautiful looking and sounding speaker. Ironically, there was no other speaker at the Show, in my opinion, that did a better job at reproducing the sound of a live piano. The performance doesn't stop there. Vocalists seemed eerily right there in the room with presence and all of the room sounds clearly evident. The VC7 had the help of an all-star cast with the gorgeous Einstein "The Last record Player" CD player ($7500) spinning the discs, the Gill Audio Alana vacuum tube linestage ($4500) and Art Audio's Adagio mono block amplifiers with the Emission Labs 520 tubes ($22K) driving the operation. The outstanding Dynamic Design "Nebula Series–TBK" cabling was used throughout.


Shindo Labs and DeVore Fidelity
These folks had a couple of rooms going and both sounded excellent. I especially found myself drawn to their larger room. The DeVore Fidelity Silverback Reference loudspeakers ($15K) were featured in that room and had a smooth, musical, easy to listen to character. They had a tremendous amount of detail and ambience with a wide soundstage. They were driven by the remarkable Shindo Laboratory Sinhonia mono block amplifiers ($17.8K). The rest of the system included the Shindo Labs Vosne-Romanee preamplifier with phono ($16K), the Shindo modified Garrard 301 turntable system ($19.8K) with Auditorium 23 Hommage T1 step-up transformer ($4295), and Shindo Labs Silver speaker cable, interconnects and power cords. All of this rested upon the LignoLab suspended racks (starting at $9750).


GTT Audio
This was another popular room that was stocked with heavy hitters that put on a really great demo. It took me a couple of passes by to be able to get in for a listen but my diligence was rewarded. The excellent Kharma Midi Exquisite speakers ($75K/pair) driven tantalizingly by the by the greatly lusted after (by this writer) ASR Emitter II Exclusive Blue integrated amplifier ($27K) to great affect. Front ends in use here were the mbl 1531 CD player ($9200) and a vinyl rig that included the Kuzma Stabi Reference turntable ($8000) with a Shelter 90x cartridge housed in a Stogi Reference tonearm. This sound was breathtakingly real. The high frequency performance was airy and extended, dynamics had nice impact and transient response and bass was extended and controlled.


JAS Audio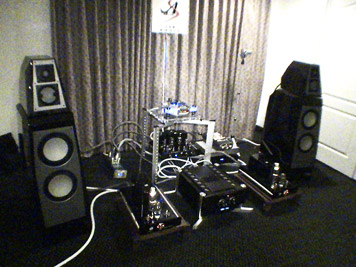 I felt this company had a pretty nice sounding room and went there to listen a couple of times. Now I must confess the JAS Audio Plato speakers ($22.8K) were beautiful looking and sounding but were too big for the room they had. The room off to the right had their Odin speakers ($6380) was a better match for the room and sounded musically coherent and really grabbed on to and held my attention. The Odins were driven by the JAS Audio Array 2.1 integrated amplifier ($3290) and Musik Player CD player ($990) with tube output. The JAS Silver Series speaker cables and interconnects as well as their Single Square Core OFC power cords were used throughout.

Escalante Design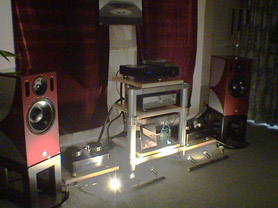 This is a room that I always look forward to visiting because they consistently put on a musically satisfying demo and this year was no exception. The Escalante Design folks were showing their new statement speaker, the Fremont ($14,990/pair), which actually sits on a 16" stand, but is still full-range down to 18 cycles. The speakers were driven by the excellent Butler Audio Monad tube mono block amplifiers ($19K/pr) and Dan Wright's Modwright SWL 9.0 preamplifier ($2,200). The popular Electrocompaniet EMC-1 was combined with a Stax Talent DAC ($2,700) to provide the digital source. Interconnects and speaker cables were provided by Shunyata Research, which also saw their Hydra 6 power conditioner providing service. Tierry Budge's designs have always proven to be musically involving, deliver a wide soundstage, extended and airy upper frequencies and deep, tight bass. The Fremonts exhibited all of these characteristics and did not disappoint.


Acoustic Dreams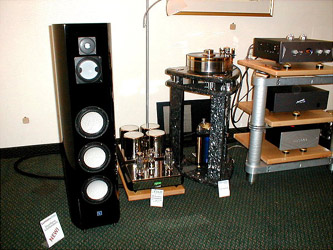 I told myself that I was not going to list this room with a "Best of Show" designation because I had done so in the past, several times, and felt that some other component should get it this time. As I sat there and listened, I began to fidget, and that soon gave way to head shaking. I couldn't do it. For me, the sound was special. It was something I couldn't ignore. Finally, I broke down and gathered the information on what they were showing with because I felt compelled to once again proclaim this room as one of my "Favorite Rooms at the Show ." The speakers were the Lumen White Silver Flames ($27,750) being driven by the Ayon Reference mono block amplifiers ($29,200) and the excellent Messenger preamplifier with phono ($16K). This didn't include hearing the system with Ayon's new Spheris preamplifier ($24K), which I was told was a stellar performer in this system as well. The front end consisted of the exquisite looking Blue Pearl Audio J.E.M. turntable ($75K) with a Graham Phantom B-44 tonearm and Lyra Titan cartridge. The cables consisted of Shunyata Andromeda speaker cable and power cords with Acoustic Dream's own interconnect and Shunyata Hydra 8 power conditioner. Fellow Stereo Times writer, Frank Alles, also commented on the merits of this room, and I concur. The sound was pristine, alive, communicative and moving.


Usher Audio
My other "Outstanding Room" goes to Usher Audio. There was no other room, except for maybe the Dartzeel and the Plinius rooms, that was as busy as this one was, and for good cause. Usher Audio offers up some of the very best sounding speakers for anyone to listen to at affordable prithe Show. Every year I marvel at their demo and this year was no different. I listened to the Usher BE20 speakers ($16.4K) being driven by the Usher R1.5 amplifier ($2500), Usher P307 preamplifier ($2280), the Usher CD1 CD player ($800), and all cabling was by Kimber Kable and Acoustic Zen. The music reproduction from this system was outstanding. I am not an R. Kelly fan, but they played a disc of a duet with R. Kelly and Ronald Isley that was breath taking. I could easily close my eyes and feel them in that room, even with all of the activity going on about me. I heard no other vocal rendered better during my three days going from room to room.


Honorable Mentions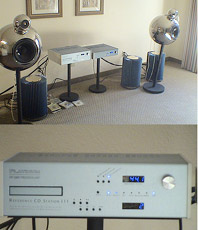 There were many other very impressive rooms including Vitus Audio, Audio Research, Acoustic Zen, Blue Circle Audio, MSB (photo left), Cerious Technology, Audia, Silverline, and the Swedish Statement room which combined the efforts of five Swedish audio product manufacturers. These rooms for one reason or another, I did not get to spend as much time listening as I would have liked or didn't have enough space to add them to my report. They all contributed to one of the best shows in recent years.