Consumer Electronics Show – 2006

Bill Wells

As the plane touched down for my arrival in Las Vegas for this year's CES, a bright, sun-filed sky and slightly cool but quickly warming temperatures greeted me. Quite a departure from the gray, overcast skies of Minnesota that I had just left a few hours ago so I felt energized and ready to go. Only thing I needed to do was wait for the arrival of our illustrious editor, Dave Thomas and Jazz/equipment reporter Craig Fitzpatrick, whose planes would be arriving hopefully within an hour or so of my arrival. With a bit of time on my hands, decided to grab a quick breakfast while still at the LV airport and by the time I was done, it was time to head down to baggage claim, retrieve my luggage and head over to where the other's luggage would be.

Once we were all assembled and with it still being relatively early, we were able to grab a quick cab and head off to the hotel where we would drop off our luggage. By now, the sun's rays were warming up nicely and the stage was being set for a wonderful visit. This was my first time back to CES for a number of years so I was anxious to get started. First stop was registration and that process actually went very smoothly with only a minor correction to my badge.


Our first stop was the Audes exhibit. There they had two separate rooms with a number of different speakers from their speaker line.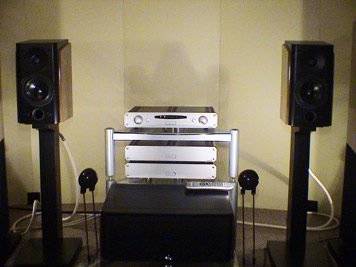 The main room featured the Audes Excellence 5 speakers, $5,000 retail, powered by Balanced Audio Technologies electronics including their top of the line VK51SE line stage, VK55 stereo tube amplifier and VKCD5SE CD player. Speakers sport a slim profile, are very attractive with a nice finish and feature European handcraftsmanship. Cardas connectors are used for single wiring. Sound was good overall and with it being so early in the first day, they were still tweaking the room to get the best possible sound.
In their second room (photo left), the Audes Excellence 1 speakers ($1,499 retail) were mated with Roksan electronics. The sound in this room was also very good with the speakers providing a very revealing and clear midrange. Additionally, the midbass reproduction was good and speakers were open and smooth overall.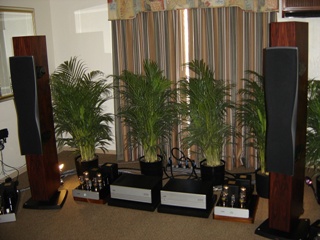 Next stop was the Cary suite where they had their electronics mated to a pair of the Dynaudio Confidence C4 loudspeakers. Specifically, the Cary 306 preamp and 306 SACD player were on the front end of this very good sounding exhibit. In particular, the sound was full, dynamic, open, clear, detailed and smooth with a very natural tonal balance along with excellent sound staging and good depth. Playing one of my favorite recordings, Ray Brown's Soular Energy, the highs were extended, airy and sweet, piano was clear with solid impact and the bass was powerful, deep and detailed. Overall a very good showing for Cary that came as no surprise.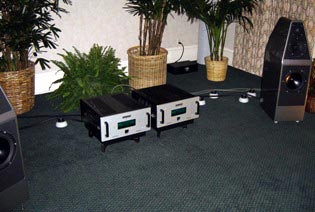 Seeing a sign pointing to the Audio Research suite caused me to alter my direction and soon I found myself immersed in sound that was absolutely captivating. In this room, ARC had assembled a very serious system of tube electronics including their highly acclaimed REF 3 line-stage preamplifier ($9,995), REF 210 mono block amplifiers ($19,990 pr.), brand new REF CD7 one-box digital player ($8,995) and new PH7 phono stage ($5,995). These components were coupled to VPI Super Scoutmaster Signature turntable with the JMW 9 Signature tone arm and Dynavector DRT XV-1S cartridge. Speakers were the Wilson Audio Sophia Series 2 with cabling by Shunyata (interconnects and power cords) and Cardas (speaker cables). Along with this, Richard Gray Power Company products for used for AC line conditioning.

The sound in this room was absolutely gorgeous, very musical with a richness that was wonderfully delicious. There was a cohesiveness and tonal correctness to the sound, along with an organic quality that made you feel a part of the music yet everything was smooth, delicate, light, open and airy. The midrange and highs were clear and expressive. Playing everything from vocals to jazz to R & B, the sound never failed to impress. Clearly one of the most outstanding sounds at the show.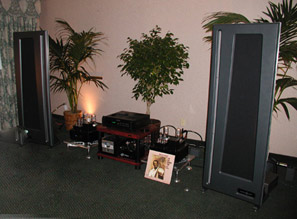 Having a long fascination of planar type speakers, I trotted over for a quick visit at the Analysis Audio suite. Here they were featuring the Omega speaker which is a full range planar-ribbon loudspeaker retailing at $14,990. With its' Apogee like look, the sound was excellent, good balance, open, expressive with great mids, good upper bass (body), detail and natural decay with cymbals and similar percussive instruments. As with many speakers of this type, there was a noticeable sweet spot where the sound really came together. Speakers were connected with a variety of different HGA cables to either the tweeters or bass panels. Electronics used were the Ray Samuels Audio Stealth tube preamplifier ($2495), Emmeline XR-10B phono stage ($4500), Antigue Sound Labs AQ1009 mono tube amplifiers ($5600 pr.) along with Bybee Power Golden Goddess power cords, ($1250). Digital playback was provided by the new Audio Research REF CD7 tube CD player and analog duties were covered by a VPI Super Scoutmaster Signature turntable. Equipment was housed in an MK Audio equipment rack.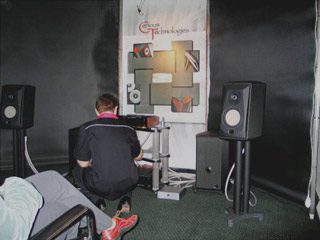 Next stop was at the Cerious Technologies suite. This is a relatively new company based in Lansing, MI. They were using a pair of their Model 2.2 loudspeakers that are comprised of their satellites ($3800) along with a self-powered subwoofer ($4000). Electronics used were an HCAT preamp along with an Electrocompanient 75 watt amplifier. Sonically the presentation was very good and listening to the superb Milt Jackson on vibes was very lifelike and highly musical. This is a company the is serious (no pun intended) about getting the music right and I would expect to hear more from them in the future.

Stopping by the WAVAC suite took me in a totally different direction. Sound was superb but this suite had to be one of the more costly rooms I visited. Unfortunately, the room was a bit too small to fully appreciate all the wonderful gear assembled however I was able to get a handle of its overall performance. System consisted of speakers by Venture ($87,000), WAVAC mono block amps ($47,000 pr.) and all connected by various types of Prana Wires (Joseph Cohen designs). Analog playback duties came via the new and very expensive Continuum Caliburn turntable along with its companion Cobra tone arm ($65,000 for both). Included in this display was the Castellon stand for the table that provides a totally complete look ($24,999). This is a very serious product from Australia. What I heard was a crystal clear, very neutral, linear, open sound with transients that were dead on. Bass was good but due to the room size, the sound in this region wasn't able to fully open up. For the most part, felt like the speakers needed a bit more room to the sidewalls. However listening to voice and piano the sound was killer. Midrange was gorgeous and highs were fast and precise. Very obvious see-thru quality with great transparency although not cold. Musical colors were all there. Sound overall was pure and very musical.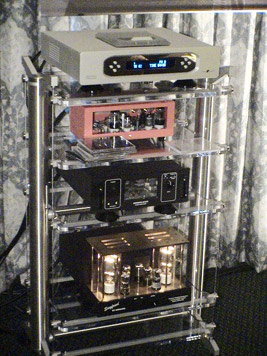 A surprise for me occurred when I stuck my head in the Berning suite. This system consisted of the Peak Consult Empress speakers powered by a combination of Berning electronics. These included his Micro Z headphone amp used as a preamp. At $750 for this unit I was stunned. This was connected to his Zero-Hysteresis (ZH) 270 stereo tube amplifier that produces 70 watts per channel and was used from 200 hertz down. Cost for this amp is $4,995. For driving the top section of the speakers, the Berning Ziefried OTL amp was in place. This mighty 10-watt amp drove the stink out of these speakers and was used from 200 cycles up. The cost for this amp is $5,750. Overall – the sound in this suite rocked. It could easily be as delicate as you could imagine. On the other hand, throw some solid jazz or hard-hitting. R & B and you'd be surprised. Very dynamic, good extension on top and bottom, open, deep and clear soundstage. Wow – what a surprise.

Over at the Bosendorfer suite, this room was laid out in a most elegant manner. As you walked in, the first thing you notice is the heavily jewel-laden piano. With this type of visual impact, your expectation was gorgeous sound is right at hand. Featured in their system was the flagship Bosendorfer VC7 loudspeakers ($21,000). These are tall, slender speakers with a outstanding piano black finish. Powered by Art Audio monoblocks mated to a Gill line stage, digital playback duties came from the Einstein The Player and all components connected via new and very expensive cables from Dynamic Design. Overall the sound was warm, full and very musical. Initially the room was a bit over damped but as time progressed, much of the draping was removed and the sound opened up significantly. These speakers are really quite good and I'm hoping to get a pair in for review sometime in the near future. Also would love to secure those wonderful cables from Dynamic Designs to get a better handle on their overall capability.



Next Page