Von Schweikert Audio/DarTZeel/EMM Labs/Jena Labs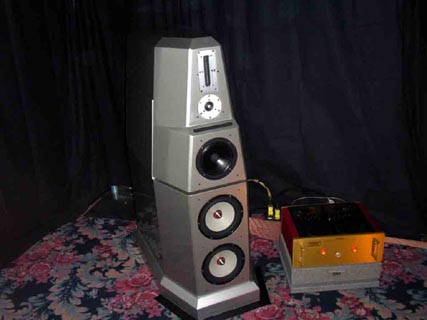 Monte Carlo Ballroom, T.H.E. Show

Importer/Distributor Jonathan Tinn of Blue Light Audio in Portland, Oregon, put together a multi-channel package of components believed as the finest sounding system available. All of these components have one thing in common: they were statement pieces attempting to bridge the gap between hi-fi and live music. In the case of Albert Von Schweikert's new $60k loudspeaker design, the Virtual Reality-9ES (his moniker for a set of design standards that can closely replicate live musical waveforms). Let me say this, the VR-9SE sounded very close to "live" and in comparison to more expensive loudspeakers I heard perusin' round the show, this latest effort must be considered a bargain. [Consider this, Von Schweikert showed secret drawings of his new VR7 prototype, which looks very much like the VR9SE's minus a powered sub, that will retail for about 30k and slated to debut this spring.]

Von Schweikert - the man, as well as his machine - blessed showgoers by unveiling two pair of the mid-sized VR-9SE's in a four-channel format in gigantic 24' x 34' ballroom. Employing the impressive multi-channel EMM Labs Switchman preamp ($8K) and SACD transport/DAC ($16k combo) rested upon the attractive and functional Craz Reference isoRack from Silent Running Audio ($7k). Four Swiss DarTZeel ($13K/ea) 100-watt amplifiers drove the VR-9SE's in a vertical bi-amp mode, using Jena Labs woven copper cables (price TBA). A variety of SACD multi-channel recordings were used to demonstrate how recorded sound can approach a live concert performance. Bravo, Mr. Von Schweikert, you've done it again!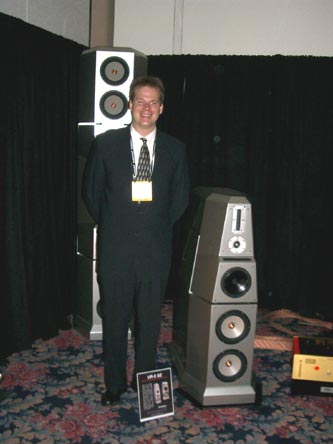 Von Schweikert, once again gave me the scoop on how he and his design team, led by Kevin Malmgren, VP Engineering at VSA (photo left), were able to design yet another ground-breaking system. Chew on these VR-9SE factoids that Von Schweikert spoke quite matter-of-factly into my Sony voice recorder:

Bandwidth: 10Hz to 100kHz (claimed to be a "first" in a reasonably sized system).
Distortion: Less than 0.7% at 100dB (that's the lowest distortion around, folks).
Sensitivity: 96dB (this amount of dynamic range will leave you with goose bumps on a daily basis).
Output Level Capability: 127dB with less than 3% distortion (Is it Live or is it VR-9?)
Drive Units: 1-15" powered subwoofer, 2-9" midbass, 1-7" midrange, 1-1.5" Dual ring tweeter, and 1-5" ribbon super tweeter (front), 1-5" ribbon rear-firing Ambience Retrieval driver.
Amplification: Built-in 1,000-watt Class D amplifier used to drive the rear mounted 15" sub exclusively.

The Von Schweikert Audio VR-9SE is a scaled down version of their flagship $125k VR-11SE, considered by many as one of the most accurate transducers in the world. Unfortunately, the VR-11SE stands nearly eight feet tall and at a ½ ton in weight, many potential customers demanded a scaled-down "real world" version. From the front, the VR-9SE is not particularly intimidating, being only 50" tall and 11" wide in front. However, the 350 lb. weight per side curb-weight and 30" depth makes you realize this isn't your average floor-standing speaker.

A handsome two-piece stacking system, the "L" shaped bottom and top pieces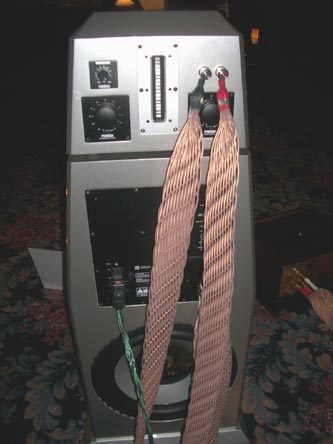 interlock together and "float" on rubber pucks designed to reduce vibration. The woofer section houses twin 9" Excel magnesium-coned front-firing woofers to handle midbass down to 40Hz, while a 15" rear-firing Diamond woofer provides infrasonic bass depth Von Schweikert states is "equalized to 10Hz."
The split woofer system, using a large infrasonic driver and the smaller midbass drivers, enables the VR-9SE to have both huge output at extremely frequencies and very high speed in the midbass;/lower midrange frequencies. You get the weight and power from the fast 15" and the clarity from the 9" midbass drivers - "minus the VR-11, if there is anything out there that can top this design, I haven't heard it" boasts Von Schweikert.

But bass isn't everything, the midrange is where the majority of the magic lies, of course, and of course "that's the real strength of the VR-9SE" says Von Schweikert. Due to the suspended upper cabinet and sophisticated drivers; four of them for the frequency range between 200Hz to 100kHz, the human voice is said to be absolutely dazzling. To begin with, VSA uses "Aerogel," a proprietary midrange cone material made in France. Composed of carbon powder, Kevlar threads, and a composite of ceramic liquid and paper pulp, this cone is amazingly thin, rigid, and light in weight. Albert says this midrange driver (in its sealed labyrinth enclosure), is a close match in clarity to his legendary FPS planar magnetic Japanese ribbon drivers; the first driver Von Schweikert claims beat out his Quads in transparency. However, the VR-9's cone midrange driver has 100dB of sensitivity, four times the sensitivity of the FPS planar or Quad electrostatic, enabling extremely high dynamic range and "punch" far exceeding any planar driver or cone driver on the planet. The human voice, trumpet, or piano, being very difficult to reproduce in a convincing fashion, is handled with incredible delicacy by the VR-9, perhaps the best midrange reproduction of heard from a Von Schweikert debut.

However, it is in the treble range where many high-end contenders stutter, and where the VR-9SE speaks volumes. Since the treble range spans from 2kHz to 20kHz (with some evidence that sounds up to 100kHz are "felt" by human listeners), Von Schweikert and crew split up this wide range between two different types of tweeters. The lower treble range is handled by a 1.5" Dual Ring Revelator, while the upper range is supported by a 5" aluminum foil ribbon up to 100kHz. Note that the two tweeters are Time Aligned mechanically to the midrange and midbass drivers, and are arranged on a very narrow baffle, enabling wide dispersion without baffle diffraction. The lower treble, crossing over from the 7" midrange driver into the 1.5" Dual Ring Radiator, sounds very thick and rich in harmonics, and is very lush, almost velvety. The top-end air, like the vertically rising sound from cymbals, is handled very delicately by the ribbon super tweeter, perfectly complementing the larger, lower frequency tweeter. The combined sound of these two units sounded quite wonderfully blended, with great power handling and extremely low distortion.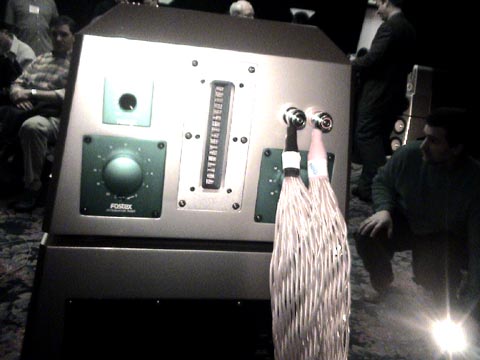 Naturally, if you are familiar with Von Schweikert's design theories, you know that his Ambience Retrieval System adds the concert hall depth that most box speakers gloss over. Albert designed his original VR-4 speaker to behave like a microphone in reverse, to achieve that omni-directional microphone spaciousness heard in classical recordings. The new VR-9 uses a 5" rear-firing ribbon driver and Ambience Retrieval Extraction network to reproduce the out-of-phase information that the rear of the omni-mic would pick up; this reverberant sound gives the VR speakers a unique depth and huge sound stage. This ambience system enabled the VR-9's to fill the huge ballroom with an airy, dimensional soundstage very close to a live orchestral performance. In fact, this may be the VR-9s secret weapon.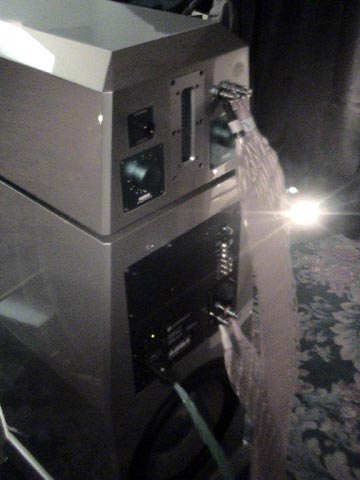 However, as we all know, even the best sounding speakers in the showroom often fall flat in our own listening rooms, due to a variety of reasons like lesser equipment, cables not properly matched, poor recordings - in short, poor synergy. To combat these problems, Von Schweikert and crew put on their thinking caps and provided the VR-9SE with tone controls. "Wait, don't laugh, responded Von Schweikert, these are not simple volume knobs with distortion." VSA provided extremely expensive Autoformers; each with individual windings for twenty different volume level settings. Von Schweikert says "these don't add distortion like cheap controls, so they're a real help and not a hindrance." Both the lower and upper range tweeters are fitted with these controls, and along with the amplifier controls for the 15" subwoofer, enable the VR-9SE to be fine tuned to any room issue or equipment scenario.

It was obvious that the VR-9SE's were fine tuned by Von Schweikert's crew for that large ballroom; although the bass was dramatically deep, loud and powerful, it was also highly controlled and incredibly tight. And the treble, what can I say? When you can relax to the sounds of massed violins and not cringe, the world is a happy place. Either the level controls, or hyper expensive tweeters, or perhaps the high quality of the electronics and cables, were the perfect match for the VR-9's. Or maybe Von Schweikert is on to something, and this idea of adjustable ribbon tweeters is the wave of the future?
Clement Perry