Cables
Dynamic Design Platinum Series Cables (various) This is a reference quality cable that I consider one of the best available for listening to and enjoying music. The Platinum cables will compete with the best that's available when it comes to neutrality, high and low end extension, and the ability to let you hear everything that's on the recording. This cable possesses uncanny transient capabilities and dynamics as well. It was a fixture in my system not only for the way it allowed me to evaluate equipment, but also it's ability to allow performers to sound more real and have an increased amount of presence in my listening room. [Mike Wright]


_____________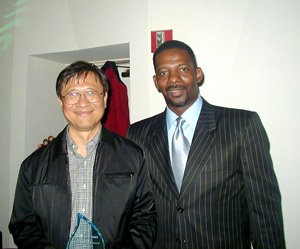 Publisher's Choice! Harmonic Technology Cyber Light Data Link Interconnects: [$1,500 per 1 1/2 meter XLR/EBU. Photo right Jim Wang] A very unusual hookup requirement is involved so be prepared but a delightfully full and open sound will result. This digital link surprised everyone that heard it by way of its very musical yet no-character sound. One of the better digital cables I've encountered.
____________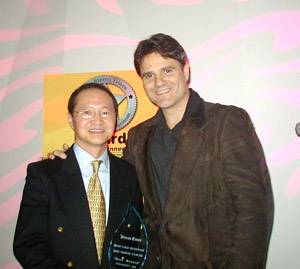 Sunny Cable Technology 1000 Series Cables [S1000X Balanced Interconnect $2,500/1 meter pair, D1000X Balanced Digital Cable $1,500/1 meter, SP1000B/SP1000C prices pending.Photo right marketing director Albert Au]. These cables really got me excited about their capabilities with both music and video sound. They are extended at the frequency extremes, dynamic and able to resolve inner detail and spatial information unlike I have heard before. At the same time, they are very neutral and worked wonderfully with both solid state and vacuum tube equipment. This is definitely a reference quality cable [Mike Wright].
____________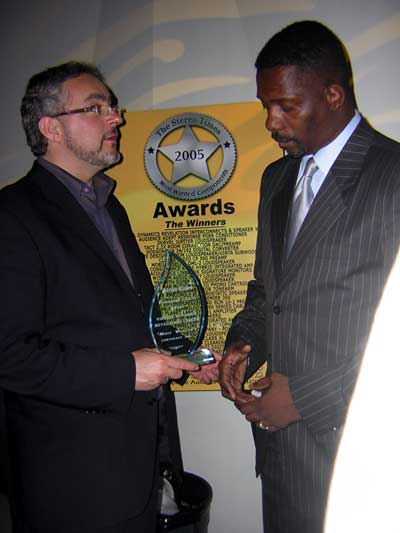 Editor's Choice! Publisher's Choice! Virtual Dynamics Revelation Interconnects and Speaker Cable [Interconnects $4800 1 1/2meter. Speaker wire $4800 6ft. pair. Photo left of Rick Schultz]:
As usual, whenever I get something that is both as exciting and as challenging as this cable, one has to try it out in other rigs, however similar. And of course, I offered Greg Petan and Key Kim to share their thoughts on easily the best cable to have graced my listening room. Greg swears that "if the music through the Master Series cable was water running through a garden hose, then the music through the Revelation is water through a fire hose. While similar in character as the Master, the Revelation offered much more by way of ease, dynamics, space and texture. I'm awaiting the speaker wire and will chime in once Clement completes his review."
Key Kim states: Virtual Dynamics' guru Rick Schults has taken the game to a new level with these Revelation Series cables. The cable incorporate a design advancement aptly called "Speed of Light" which uses strategically placed magnets to facilitate the speedy flow of current. The result is music that sounds startlingly natural and lifelike. [Greg Petan, Key Kim].