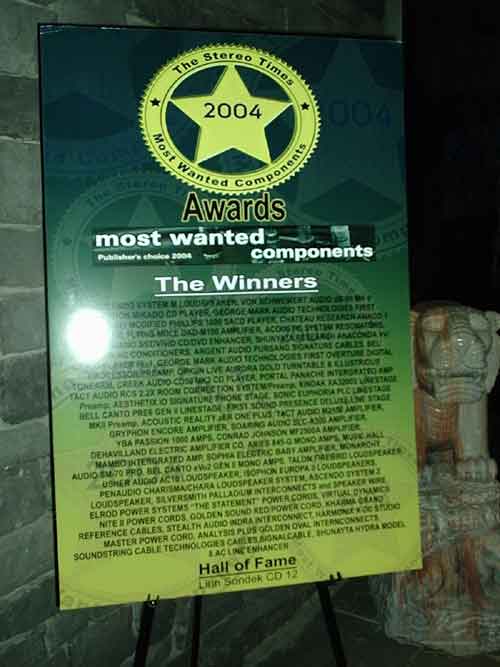 * HALL OF FAME
LINN SONDEK CD 12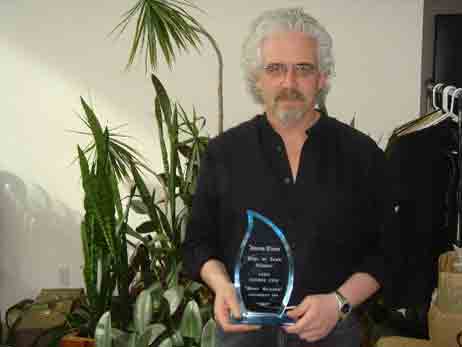 [Linn's Brian Morris, above, proudly smiles next to his award!] It's only fitting that with a product that stands against the winds of change: read DSD, DVD-A, 24/192, and whatever else and still remain the reference against which all are measured deserves an award as prestigious as ST's first Hall Of Fame Award!


Source Components


Publisher's Choice! GRYPHON MIKADO CD Player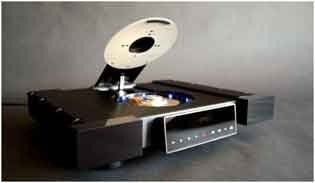 ($12,000): What else is there to say about this wonderfully built Danish product except that it is the only CD player I've heard to reveal sonic flaws in my reference Electrocompaniet EMC-1. (And bear in mind that the EMC-1 made me forget about SACD for almost two years, until I heard the modified Philips unit.) The sound is immediately vivid with equal amounts of transparency and dynamics, coupled with a midrange that rivals the Zanden Model 5000 Mk IV tube DAC. [Stay tuned for review.]

Publisher's Choice! GEORGE MARK AUDIO TECHNOLOGIES First Overture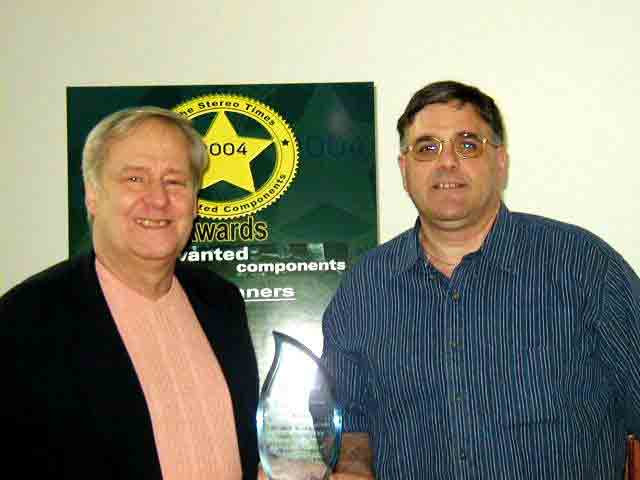 Dac/Preamp ($5,990): Remember the Melos 333? The SHA-Gold preamp? If so, then the name George Bischoff [posing left with partner Mark Moschella] should ring a bell. He's at it again, but this time with a new state-of-the-art, dual chassis, Class A biased, zero feedback, all tube DAC/preamplifier that upsamples up to 24 bit/192 kHz. The preamp alows an SACD analogue input if necessary. The sound of this unit is superlative right out of the box and gives the mighty Zanden Model 5000 MK IV a good run, but for almost half the price. It incorporates two separate power supplies for the digital and analogue sections, so two A/C cords are necessary. The only additional thing one could ask from a product so well thought-out is a remote control [Perry/Kim].


Publisher's Choice! The APL HIFI MODIFIED PHILLIPS 1000 SACD Player ($2200): I had essentially given up on SACD's once my former reference Sony SCD1 was sonically trampled by the Electrocompaniet EMC1, an overbuilt redbook player with upsampling capabilities. Out of nowhere arrives this long-discontinued Phillips player, heavily modified by Alexander Paychev, who (along with DSD guru Ed Meitner) has been seeking out these units despite their relatively high failure rate. I am absolutely in love with the performance of this tube-modified player and consider its performance State of the Art! Todd Mitchell did a review, with my comments added [Perry/Mitchell].

BEL CANTO PLAYER PL-1 ($9,490):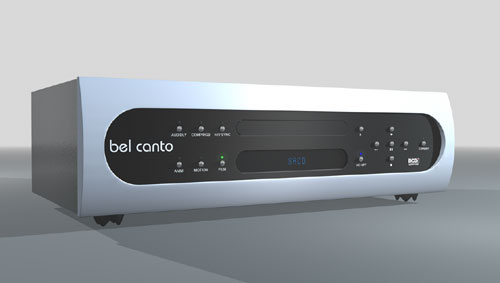 If you want your digits processed in a way that sounds very much like real music, then this new one-box digital player from Bel Canto is the ticket. Designed to handle multiple formats, including DVD, DVD-A, CD, SACD, MP3 and others, this player also has full multi-channel capability and includes the high-performance Faroudja processor for enhanced video reproduction. Fortunately, this unit offers two-channel playback that is absolutely stellar. Bass impact, definition and articulation are superb, the midrange is wonderfully rendered, highs are open, smooth, clear and totally extended. At $9490, it's not cheap but when it's full capability is considered, the price seems justified. Listening to this unit is a pure joy and delight. (Wells)


ORIGIN LIVE AURORA GOLD TURNTABLE ($2,335) and ILLUSTRIOUS TONEARM ($2,395):
[Mark Baker left, Origin Live's resident guru smiles proudly for our cameraman] Simply the finest LP playback I've ever heard. Rhythmic articulation, bass response and boogie factor that eclipses my long-time reference Linn LP 12. Top-notch detail, completely coherent stereo, and rendering of dynamics and musical phrasing that grasp the message of all music, from Captain Beefheart to Ralph Vaughan Williams. If the traditional high-end turntables have struck you as turgid, sterile, boring, and completely unable to dance, this is the answer: a new reference. Complete review coming by Paul Szabady

CREEK AUDIO CD50 MK2 CD PLAYER ($1,349.99): If you've despaired of CDs ever being able to communicate the energy, rhythm, phrasing and excitement of actual music in any reasonably priced player, despair no longer! Over twenty years on since the introduction of the CD, this is the first CD player I've actually ever wanted to own. Complete review coming by Paul Szabady.



PARTY/NEXT