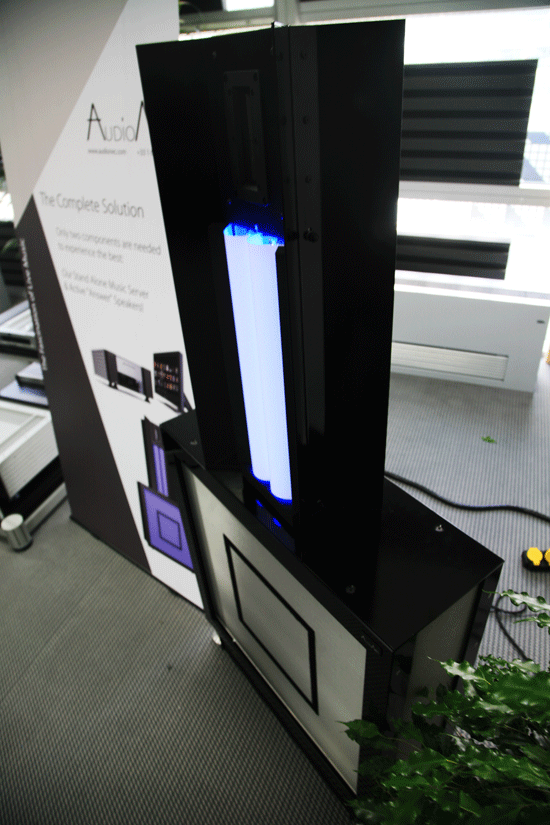 Best Sound? The Audio Consulting crew of Switzerland setup that featured a slew of battery-powered electronics and loudspeakers from Jean Hiraga did a number on me last year. That wasn't simply the best sound at the show, but among the best I ever heard. This year, I was very disappointed to find they were not in attendance at this year's event (my hunch is the terrible fire that occurred in their room probably left unresolved issues surrounding safety and insurance. See my report here). Their website shows some of the funkiest looking loudspeakers I've ever seen called the Rubanoide Dvaijnoy (which uses a midrange driver that's an off-shoot of Paul Paddock's Lineaeum driver technology). I could only imagine what something like this sounds like considering the quality of performance they achieved in Munich last year.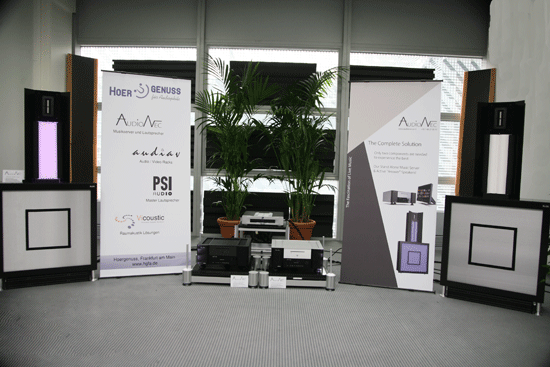 My heart skipped a beat when I saw a loudspeaker that closely resembled the Rubanoide upon first blush. Upon entering the room did I realize the company was an unknown company (at least to me), from France called AudioNec. I immediately asked Francis Chailett, AudioNec's designer if he or this design had any affiliation with The Audio Consulting guys of Switzerland. He answered "No, and they do not own the patent nor a monopoly over this driver technology." I then sat and listened intently to why a loudspeaker like this - aptly named the Answer - that if so excellent sounding, can be literally invisible here in the US. Essentially, the sound seemed possess no source much like real instruments. There was a freedom of colorations I don't remember ever encountering from any loudspeaker with the exception of perhaps open-baffle designed electrostats and maybe the big Magnaplaners. But those designs always sounded somewhat light in dynamic output and bass. No pun intended, but that wasn't the case with the Answer. This loudspeaker produced a bass that might have been its most impressive feature. The bass drivers are also quite unique in that their composed of four 75 cm square (and flat) panels with an operating range of 15 Hz to 200 Hz. And like those aforementioned breeds, this too is a dipole, box-less design that Chailett states boasts a sensitivity rating above 100-dB! The more I looked (and more importantly, listened) the more impressed I became. This system was an all-active system, open-baffle, dipole configured speaker system boasting amplifiers at each driver with their own dedicated active crossovers. Oh, I should also mention the system was also using their own version of room correction.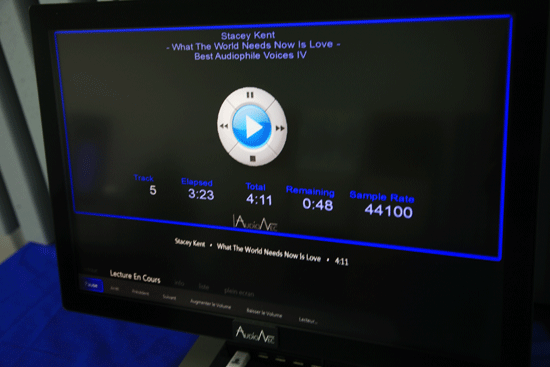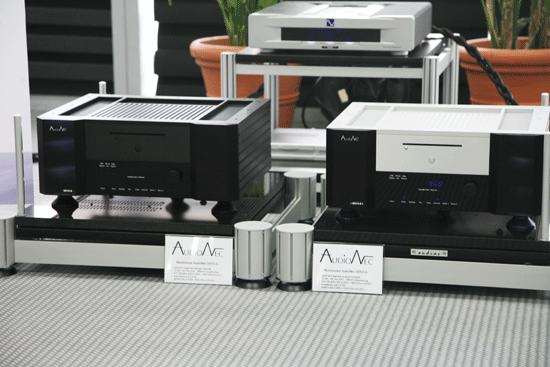 Not to mention their own (model SDV-3) music server ($25k) that was set up only to play their own music. Sad, considering the type of music I am familiar with I could not evaluate this otherwise remarkable sounding system on. Fortunately, I did recognize bassist Christian McBride's Night Train (from his Gettin' To it CD), which probably sounded better: faster and with more harmonics and articulation than I remember ever hearing it. Please visit their website for info at http://www.audionec.com/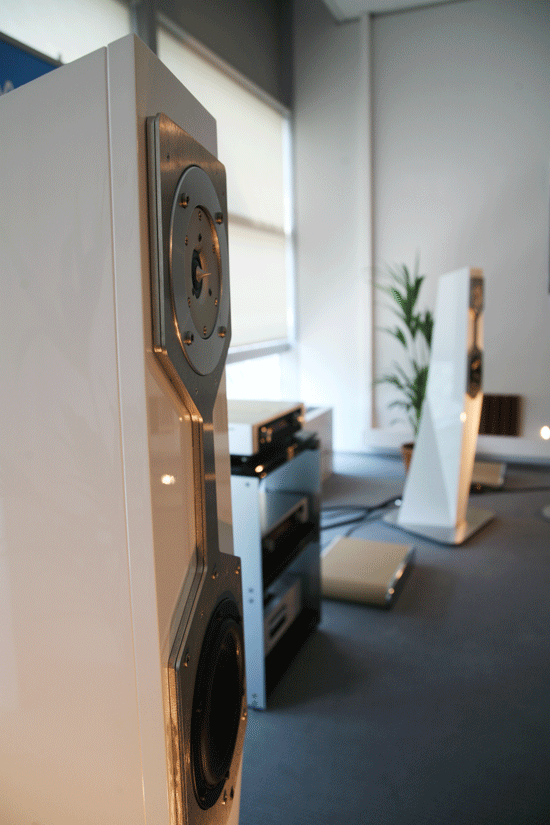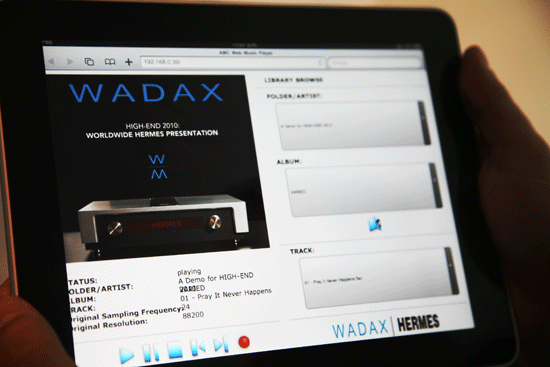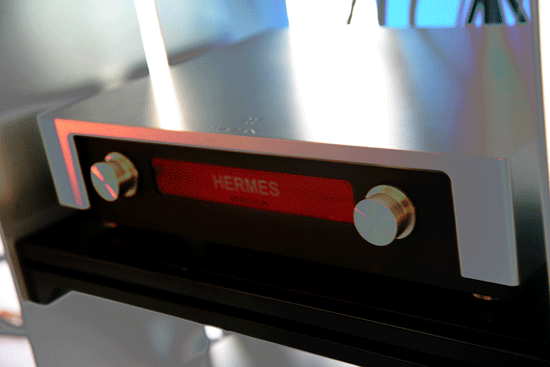 Ok, what are the odds that I would hear another excellent system employing their own media server in a fully active (800-watt self-powered loudspeakers) system? Wadax is high-end manufacturer from Madrid, Spain and their expertise is in designing fully integrated systems. Here on display was the Speak-1 active loudspeakers($70k), Pre-1 preamp (with built-in DACs) and the Hermes: a sophisticated and very handsomely built media server.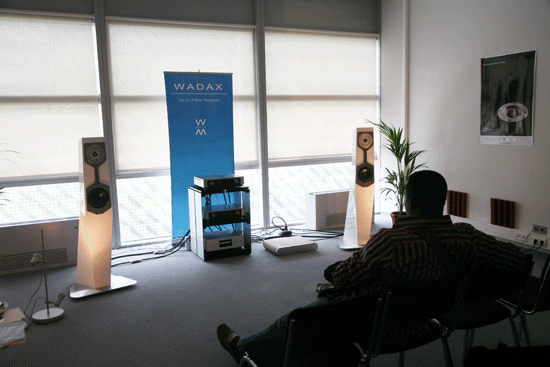 Their website info reads: As Wadax understands it, speaker design and manufacturing is an art that needs a synergy of different skills... The SPEAK1 is an active, two-way design that applies new acoustic loading principles; musIC chip, which performs all signal processing with unparalleled accuracy never achieved before; Mechalock* mechanical design and assembly that ensures vibration is channeled away from critical parts, customs drivers, etc. These unique performance abilities are mated with a top-quality design that should seamlessly integrate with different lifestyles and trends. *[20 custom-machined parts of different levels of hardness and materials that ensure vibration- energy - is released and channeled where it should be: away from critical places.]
Using all Absolare Echole cabling featuring their European version of the Bybee AC purifier, I was smitten by the overall naturalness that was immediately evident upon entering this room. Most impressive was the Speak-1's top-end extension which appeared to absolutely devoid of distortions. I don't know if this is the advantage of having zero cables between the amps and loudspeakers (and of course a very good media server), but I can personally attest to the end results/rewards: it was as believable and wonderful sounding as I remembered from my first experience with the all-active, all-aluminum Sonicweld Pulserod/Subpulse ($100k) loudspeaker system heard back at CES in '08 (here). In the end, the AudioNec system produced a sound that was more dynamic and thus realistic, not to mention their system I think was also less expensive. In the end, pick your poison because we're all going to die from something. These two systems, for me ushers in what is possible in the here and now from such no-fuss setups where you need nothing more than a listening chair and your own music. How simpler can it get?
See you next year!