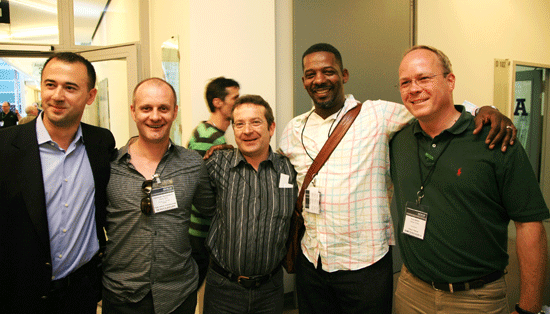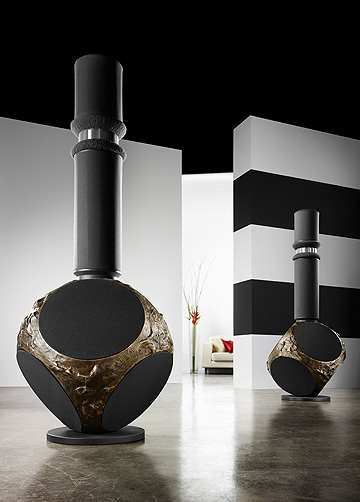 Ingo and I caught up with some rather ambitious high-end audio designers. Photo'd (from left to right) is Kerem Kucukaslan, managing partner of Echole cables and Absolare electronic, Aleksandar Radisavljevic, co-designer of the outrageous omni-directional Eternal loudspeaker (photo right) and Rainer Weber, principal designer behind the fabulous sounding Kaiser Kawero loudspeaker which got my nod as among the most outstanding at RMAF '08. Like the many designers I've witnessed walking this particular event prior to officially showing their products, I strongly suspect we'll be seeing these guys at High End 2010.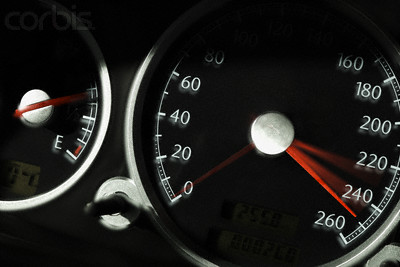 Rainer Weber formally invited to his showroom, located in Regensburg, about an hours drive north from Munich, for a listening session. What he failed to mention was the trip was an estimated one-hour drive if you're approaching speeds of nearly 240 km (that's about 150 MPH!) in an Audi A6 on the famous German Autobahn. To be honest, I had no idea we were going that fast until I looked over at the speedometer. I'm no adrenaline freak nor do I have a death wish but to be honest, I got a kick out of whole thing. In the US, we never get the chance to open our cars up on the road to these excessive speeds or anything remotely close. I drive a '06 BMW 750 that begs to be driven fast and I have gotten over 100 mph on rare occasions by accident - which serves as a testimonial to how powerful, smooth and fast these German machines are. That said, I would be writing this from a jail-cell if I even thought of approaching the speeds we traveled FOR ONE HOUR OR MORE on the world famous Autobahn. In a word: Exhilarating!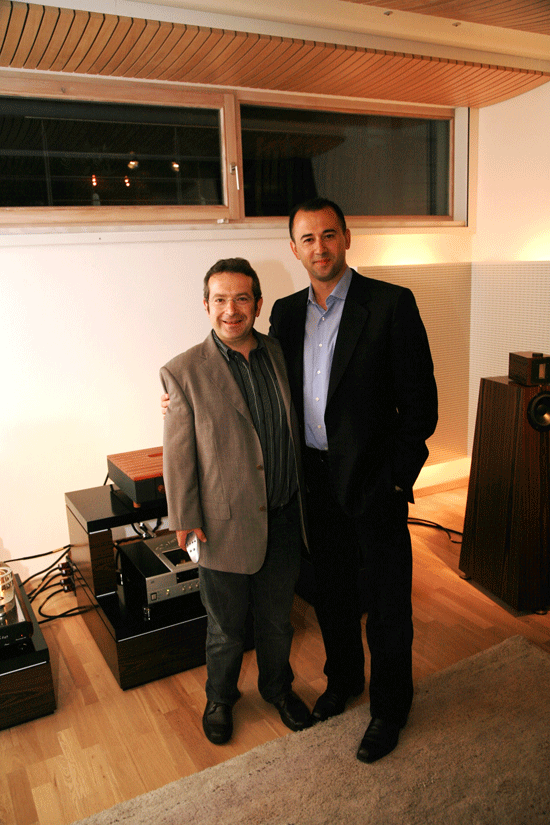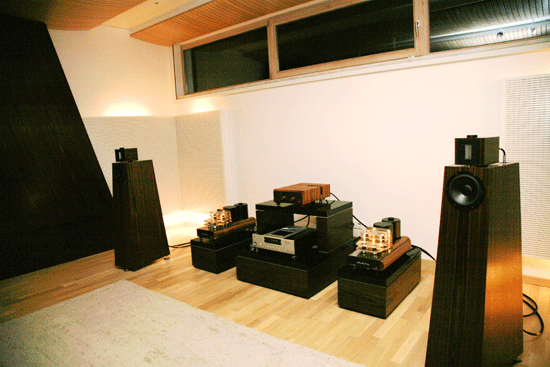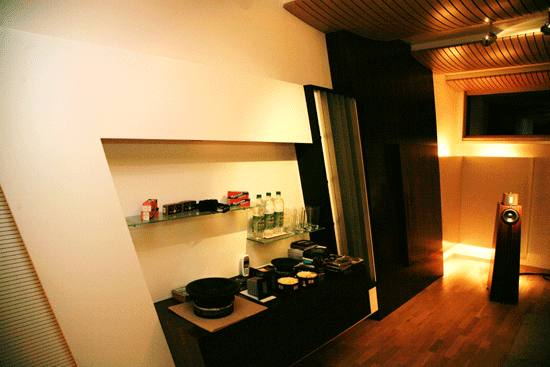 Just as exhilarating, well almost, was when I walked into Rainer Weber's dedicated listening room. Welcoming me was Weber and Kucukaslan in one of the most attractive listening rooms I've ever been in. Yet, here they were thanking me for coming! I, on the other hand, trying to settle down from the super-adrenalin induced trip, thanked God I got the opportunity to appreciate a dedicated space as tricked out as this once again (the other tricked out room belonged to Ken Ishiguro of Acoustic Revive. See my report here)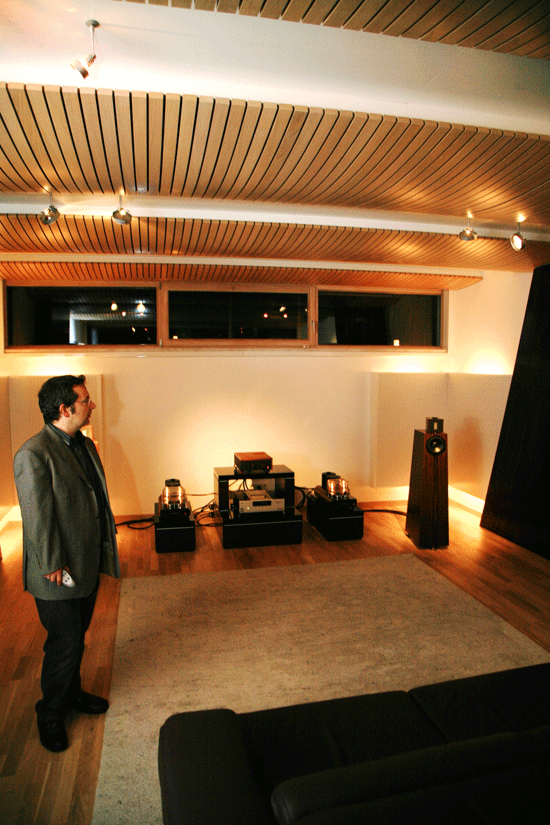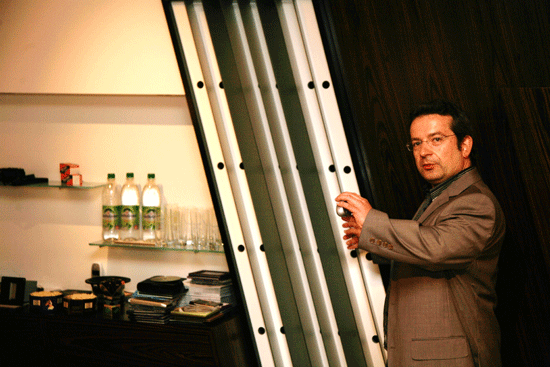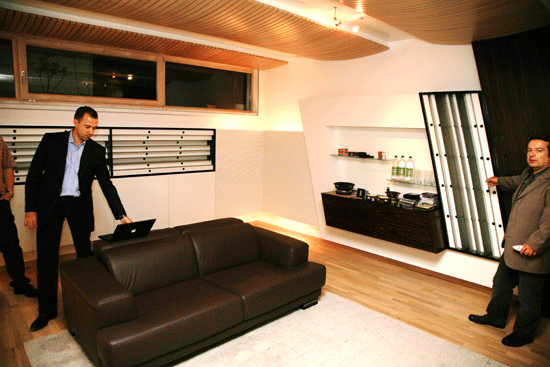 Simply from the look of these photos you can see how much emphasis was placed on the room's acoustics. Specialized Hemholtz-type treatments were used in conjunction with one-of-kind acoustic bass traps and specially designed diffusers. Weber, who designed and built the room himself, is also a partner of Kaiser GmbH, an acoustic architectural and design firm (see website here). Weber's experience and knowledge in applied acoustics and his artistic eye for design lends a great amount of credibility to his most stunning audio achievement to to date: the Kaiser Kawero loudspeaker.
In conversations with Weber regarding his Kawero loudspeaker, he went on to state "the Kaiser Kawero speakers are manufactured in Passau, Germany, within the Kaiser Acoustics 40,000 sq. ft. workshop equipped with the latest technology CNC machines and wood-conditioning equipment. The true expertise and know-how comes from three-generations of experience with wood and wood-machining skills. The main understanding behind the Kaiser team is a true cost-no-object approach for anything we do in speaker design and acoustics. No hurries, no rush, but passion is blended into thousands of hours of material and sonic research."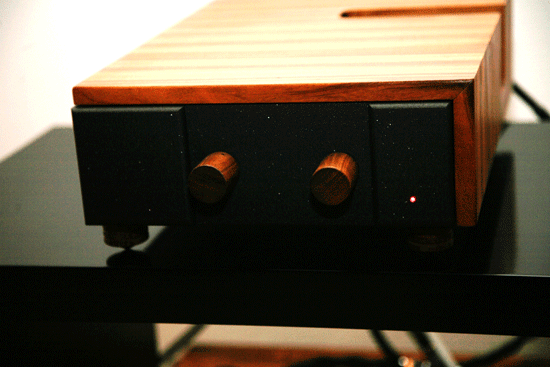 And of course, if the system doesn't sing, then all technical jargon becomes meaningless and is thus reduced to marketing hype. Well, before I begin discussing the sound of this otherwise lovely looking setup I want to mention that I also got the opportunity to listen to Kerem Kucukaslan's Absolare preamplifier (photo above). This preamplifier, built by the collaborative team of players behind the Echole series of cables, is set to debut at the 2009 Rocky Mountain Audio Fest.
The system, component-wise, was relatively simple. In addition to the Absolare preamp, this system featured a stock Reimyo one-box player while the amplification was a pair of modified Mastersound 845 mono amps. All cabling, which includes all internal wiring of the Mastersound 845s and Kaiser Kawero is Echole Obsession cables.
The first sonic impression I got from a series of sampler discs Weber played was that of neutrality. The Kawero loudspeakers sounded as if the room was built around the loudspeakers. Their soundstage capabilities - in terms of width and depth - belies their physical size and location from each other (they were really spread out). My fondest memories of the Kawero's amazing hotel room act at last year's RMAF was their ability to remove themselves the performance. They did this again, but with even a greater degree of tonal shading, balance and finesse.
The only thing that kept me from enjoying myself further was fatigue. I could hardly keep my eyes open. My watch read nearly 3:AM and I had a long drive back to Munich. I personally thanked both Rainer Weber and Kerem Kucukaslan for the rare opportunity to hear a system so musically involving and meticulously designed.
Time to get back on the Autobahn for yet another incredible adrenalin rush.