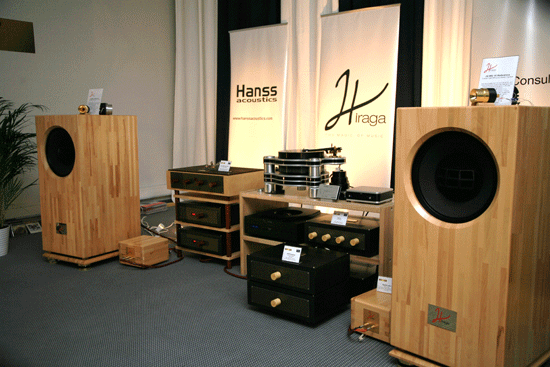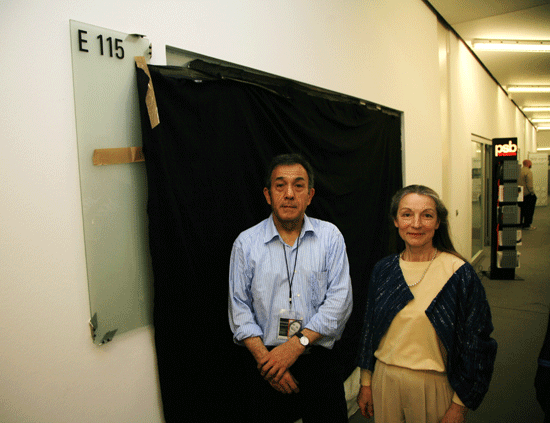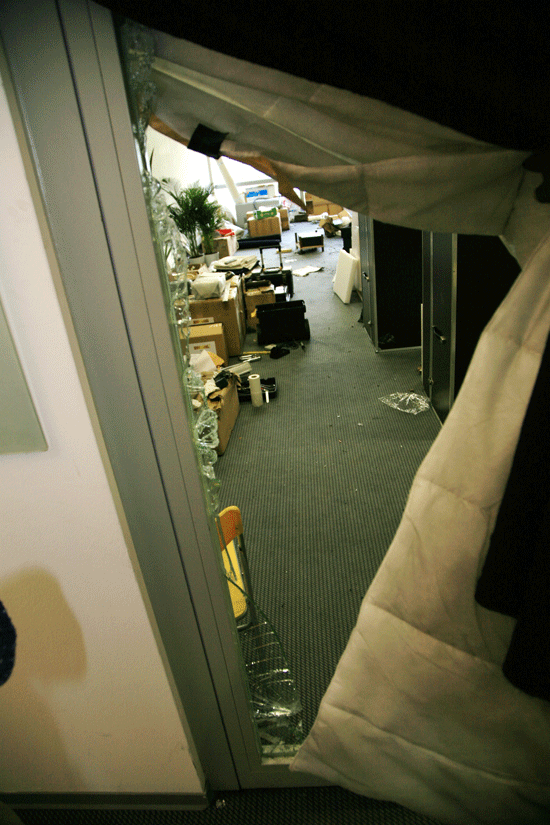 On Saturday morning, Jean Hiraga (photo above left) shared the terrible news of his battery power-supply overheating and thus causing a fire in the early morning after the show. This, of course, automatically ignited the sprinkler system which in turn notified the Munich fire-brigade. By the time they arrived the smoke was contained mostly to the room and adjacent hallway. You can see from the above photo that the plate-glass door was broken to gain access into an otherwise self-contained and quickly extinguished fire. My recent emails from Audio Consultant's Serge Schmidlin reminded me of the rather fierce thunderstorm that occurred the very same evening and its possible connection to the voltage and mains fluctuations reported.
Speaking with Hiraga he reassured me that this incident, regarding battery power-supplies catching fire, as a first in the many years he's been building systems. As a matter of fact, Hiraga seemed quite even-tempered about the situation when speaking with me. Of course, the show went on as usual while Hiraga went back inside to further assess the damages. We wish him well. In the short time I did get to hear this awe-inspiring system I now own an even greater respect for the few protagonists of DC battery-power and what lengths we AC users still have to go before we can match DC's inherently high purity levels.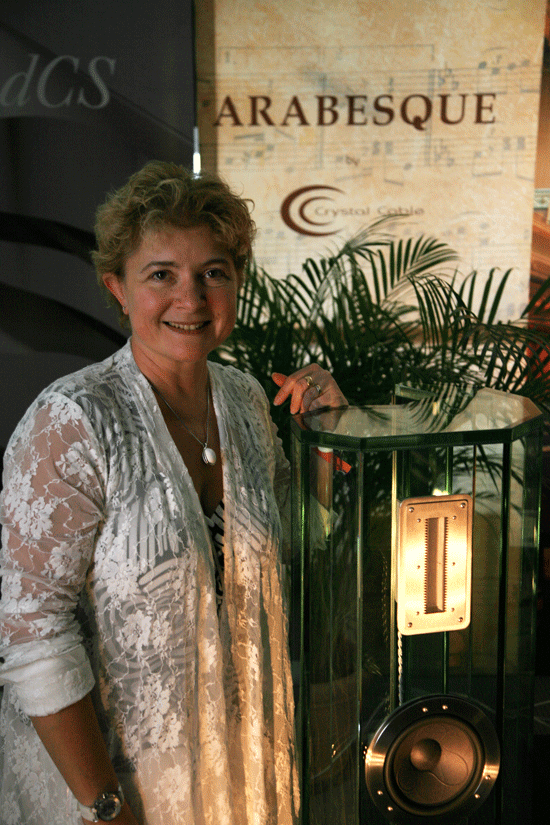 Does this loudspeaker come with a bottle of Windex? Crystal Cable's Gabi van der Kleij posing proudly next to her Arabesque all-glass (read: literally transparent) loudspeaker.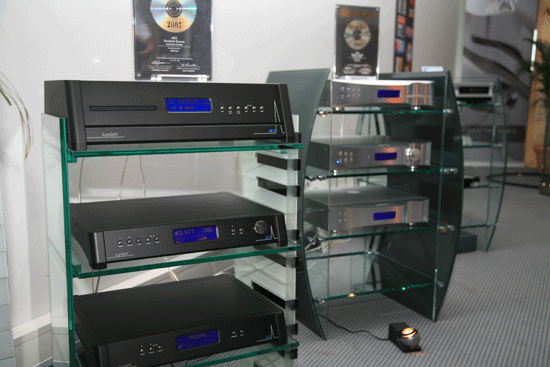 The Arabesque system was powered by VTL electronics with a dCS stack handling the digital play on a Crystal Cable all-glass rack. The sound was absolutely stellar and nothing remotely close to what our preconceived notions of what an all-glass enclosure ought to sound like: cold, bright and uninviting. If anything, it was the complete opposite in that the sound was warm, detailed and inviting with a significantly quieter than anticipated noise floor. Another outstanding setup.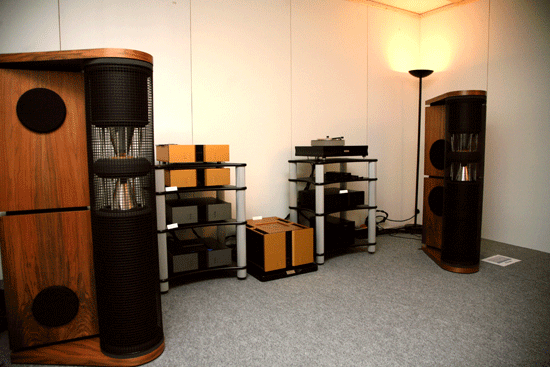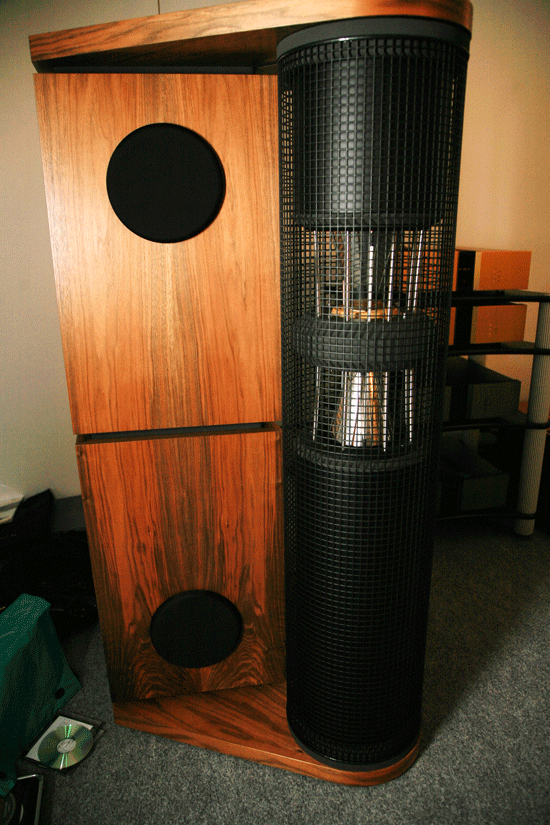 An entire rack of Vitus Audio electronics, including their SS-101 signature mono amps, along with German Physics' PQS 302 omni-directional loudspeaker left many show attendees speechless. The first thing they noticed, when lucky enough to get a seat, was how vast and realistic a stage this "bending wave technology" transducer threw while keeping images stable, centered and right-sized.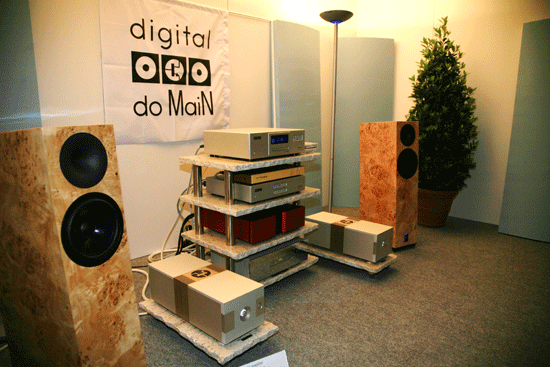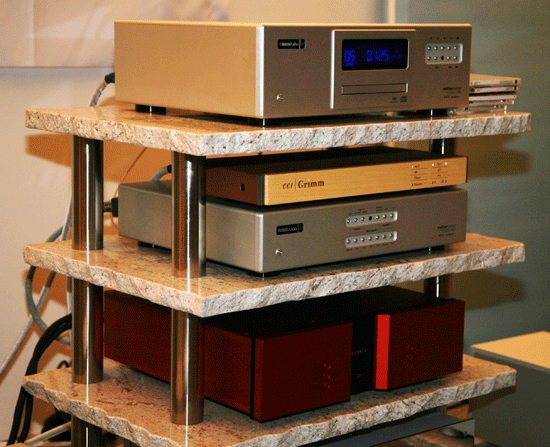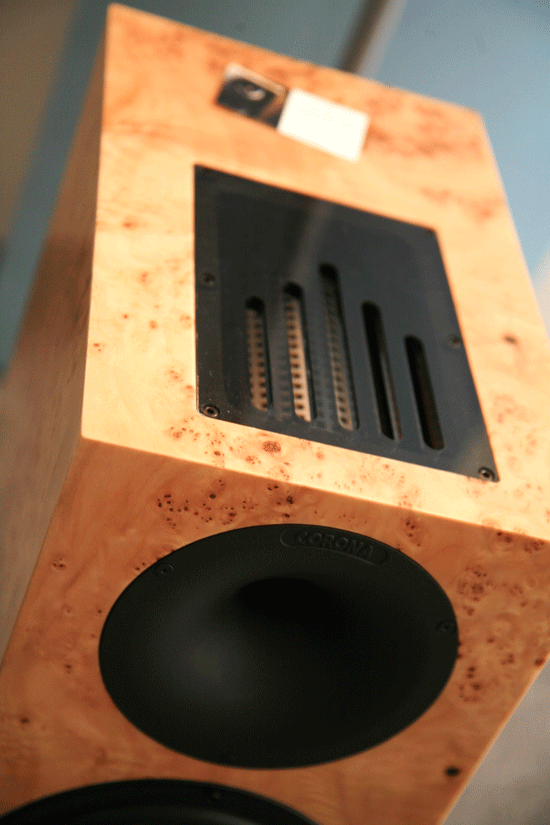 This particular setup included the Lansche Audio No3 loudspeaker and its ultra-noise-free plasma tweeter, Meitner digital separates, Grimm Audio's Master Generator/Ultra Low Clock Cleaner, Digital Do Main B-1a mono amplifiers and Vitus Audio linestage preamplifier. Witnessed nearly an identical setup at the previous CES in 'Vegas. Didn't get a chance to sit and listen long enough to form any new opinions other than what I've always admired about that plasma tweeter. It's arguably the finest tweeter available today!