Event - 2001 CES Show Report
My First Trip to the CES
Clement Perry & Henry Wilkenson
16 April 2001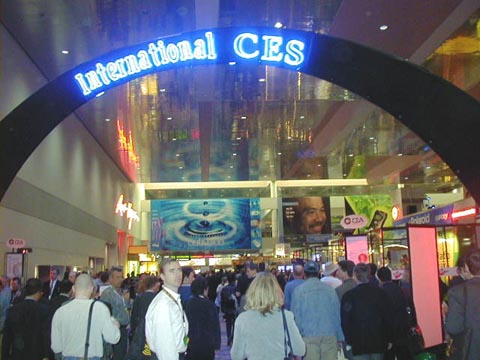 For ages now Iíve been reading about the annual Consumer Electronics Show. I never thought that I would ever actually attend one. Strange things do happen, however, and I finally made it to this yearís show. Also in attendance were STís publisher Clement Perry, Greg Weaver and Lew Lanese. In addition, Richard Harkness came in from Toronto. This was my first meeting with Richard. Iíve spent more time reading his reviews than I was able to spend with him in Las Vegas, such being the nature of a most demanding show. I hope to see him again in the near future.
The greater part of this yearís high-end audio exhibits took place at the Alexis Park and the St. Tropez Hotel, as well as the Golden Nugget Hilton. Interestingly enough, the Hilton is at the opposite end of town from the Alexis Park. Given the sheer number of exhibitors at these venues, I was only able to see a fraction of them over the three days that I spent there. And then there is the larger show held at the Las Vegas convention center, where the emphasis is on home theater, car stereo, and other consumer electronics.
As I see it, the great benefit of attending the CES, aside from getting to say hello to other Stereo Times writers, consists of seeing and hearing far more high-end gear than any one dealer in oneís part of the country could possibly carry. This advantage, coupled with the opportunity to speak to the designers and manufactures, provides an insight into high-end audio that I would not otherwise have had.
The most unusual amplifier in appearance has to be the Halcro. The dm68 monoblocks are rated at 225 watts per channel and are designed to work into any speaker load. The amps are separated into four heavily shielded compartments, thereby providing greater protection from RFI and EMI. Premium parts throughout with careful attention paid to optimizing each of the ampís stages.
The Halcros were driving a pair of JM Labs Metzzo speakers with the SONY SCD-1 as the front end. A great deal of care must be used when selecting components to be used with these amplifiers. Their very revealing nature will show up the flaws and character traits of anything connected to them. Simply put, these amps are among the best that I have ever heard. They are extremely transparent, yet never hard or overly detailed. They display a relaxed and effortless quality, presenting the music in a way that made you forget about the system. These mono amps are something that you will be hearing a great deal about. Their sonic goodness will set you back about $22,000 per pair.

I should point out that in this room, as well as the others that I visited, I saw no acoustic treatments or line conditioners in evidence. Overall, the rooms were less than sonically ideal. I was therefore impressed with any system that produced good sound under difficult conditions.

---

The last room that I visited housed the Lumen White / Viac setup. The Lumen White Light speakers are a five-driver, three-way monitor system in handsome 1.2-inch maple wood cabinets and are not cheap with a sticker price at $28,000. If you were to look down at these speakers from the top, they would appear to be somewhat bottle shaped. From the front, both sides are curved inward so as to form a small rectangle at the rear. This unusual shape is probably what accounts for the absence of any audible cabinet resonance done through a very unusually shaped cabinet. The claimed frequency response is 28 Hz to 35 kHz. The nominal impedance is 4 ohms with a sensitivity of 91.5 dB. Active shielding eliminates noise. The design calls for no other cabinet damping. The crossover is likewise kept simple.

Driven by the Viac 52B single-ended, class A, tube monoblocks, the sound of this system bordered on sonic magic. The speaker's coherence is amazing given the fact that it uses five drivers. The bass was the best I've heard from any one box system as well as a number of systems incorporating outboard subs. The midrange was quite smooth and transparent, with a sweet top. The overall tonal balance was just on the warm side, which is fine with me. Of course this sonic manna does not come cheap: the White Lights go for $35,000 and the Viac 52B's for $18,000 the pair. If you ever get to hear this combo, you will understand why.

---

At the Talon room, the Talon Khorus was performing double duty, serving as the main speakers in the home theater setup and two-channel stereo demonstrations. They were driven by the Roland Research pre-power combination and an Electrocompaniet CD player. This setup provided an open, musical sound. While listening to Miles Davis's "Kind of Blue," I noticed that the musical line of each instrument had better separation and was sounded more distinct than I am accustomed to hearing this number. The sound in this less than ideal setup gave a good indication of just what kind of performance these speakers are capable of producing in a sonically friendlier setting.
In Talonís second room, the new Peregrines were on display. The speakers feature a new cabinet design and several other refinements. The Roland Research preamplifier and the Electrocompaniet Nemo power amp and the Electrocompaniet CD player completed the acoustic picture. The speakers sat on a pair of serious stands designed by Max Coffey of Orchard Bay Acoustic, Inc. Constructed of steel and brass, the stands employ five sand-fillable columns. A set of Aurio Audio Isolation Media Bearings did duty between the stand columns and the speaker. While the current version of the Peregrines is still available, the new version will cost $11,000 per pair with the Orchard Bay Stands going for an additional $1,000. These new Peregrines sounded clear and open, and imaged very well. Here again, Talon has come up with a very musical speaker.

---

I found the Von Schweikert room of particular interest. During my first visit, I heard the VR-4 Gen IIIís driven by a pair of Bel Canto EVo 200.4 400 watt class-T Digital Amplifiers. The VR-4ís are a four-way system using a triple-chambered transmission line and two-piece stacking enclosure system. The impedance is 6 ohms average and the sensitivity is rated at 89dB @ 1w/1m. The overall tonal balance was a bit on the warm side with a solid low end and very good top-to-bottom coherence. The VR-4ís get my vote for the best sound for the money, far better in fact than their $3,995-the-pair price tag would indicate. The 200.4ís provided plenty of solid, clean power that contributed greatly to overall quality. While these amps are a bit hefty in weight and power, they run cool, seeming to generate no heat at all. At $3,795 for the 400-watt and $2,395 for the 120-watt models, they require a must listen.

On my second visit to the Von Schweikert room, the same amps were driving the VR7ís. These speakers provided a larger sonic picture and greater transparency. However, I did find them to be a touch cooler in tonality than the VR-4ís. I didnít get a chance to hear the VR-5ís. I hope to get the chance in the near future.

---

I found yet another good-sounding, unusual-looking speaker in the Impact Technology room. The Airfoil consists of two line-arrayed multi-driver towers with matching powered 200-watt subwoofers and a passive crossover. This speaker system is rather tall and consists of two narrow towers and two subwoofers that act as a base for the tower. While they are intended for medium-to-large rooms, they are not intrusive in appearance. The system included Convergent Technology's pre- and power amp combination which produced a very easy and natural sound. The good image stayed fixed no matter where you moved about the room. No tight "sweet spot" here. As always, this level of quality is quite dear: the complete system goes for $38,500.

---

The Eoss Soundpoles 2K also fall into the unusual looking/ musical category of speaker systems. These 6-foot by 3-an-3/8-foot "poles" are four-piece systems that include two downward firing subwoofers. The Soundpoles come in two versions, the Musiko and the Virtuso. The frequency responses of both are claimed to be from 150hz to 19Khz with a sensitivity of 87dB. The Virtusos have a slightly higher power-handling capability of 105 watts, as opposed to 95 watt for the Musikos. The subs have a frequency response of from 35 Hz to 220 Hz. They also differ in their power handling with the Virtuso at 150 watts as opposed to 100 watts for the Musiko. One of the design goals is to combine the transient response of planars with the dynamic capabilities of conventional speakers. I would characterize the sound as unobtrusive, fast, open, and transparent. The speakers blend well with the subs, providing a pleasing full-range sound overall. Once again, the word inexpensive does not apply here. The Musikos retail for $5,700, the Virtusos for $7,700.
As I have said, there were too many exhibits and too little time to take it all in. I could easily have spent a week and still not seen it all, and yet I have been told that this show was much smaller than in previous years! I can only imagine what those were like! While it can be argued that there wasnít too much in the way of revolutionary products, what I saw and heard provides a high level of sound quality. Even with equipment at the high end's entry point, the level has risen considerably.
The next show on the horizon is Stereophile's, and it will be held right here in New York City. Iím really looking forward to having another go at a high-end show. I also look forward to getting back to you about what I find there.
Henry Wilkenson

---

I want to apologize first, to all you readers out there that awaited our show report to publish sooner. The CES 2001 show was for me a sort of letdown and I guess it showed by my lack of enthusiasm to get it done right away. After my show report in Singapore, nothing came close to the climate, people, hospitality and show rooms, and it showed without my realizing. I again want to offer my apologies and promise to have this type of letdown never affect me to the degree that you dedicated Stereo Times readers bear the brunt.

Okay, so why was I so disappointed?

Jaded and possibly overworked, I just didnít find anything that floated my boat, or presented something that I would think would serve as news. It was typically, minus newcomers Talon Audio, Lumen White, and Sampo Corp., excuse the expression, sameíol, same Ďol. Also providing even more disappointment was the sound of most rooms. The sound was a best decent, but never did they commensurate with the prices. There seemed to a lose of product/price sensibility. This was especially difficult to stomach. I was also let down by the sound of my new reference loudspeaker in the Talon Tent. This well thought-out but otherwise acoustically poorly constructed room, did little justice to the outstanding Khoruses, hence my disappointment.

There was light at the end of the tunnel. And these products listed below should be considered highlights of my otherwise lackluster tripÖSee you at the Home Theater Show in my home town, New York City!

Clement Perry

Robert Lee of Acoustic Zen here smiling proudly next to his latest design concept, The Phoenix Grand horn-loaded loudspeaker ($50,000). Rated at over 100dB efficient, the setup here used both Zandan Audioís beautiful new tubed, single-ended product as well as solid state, the amazingly affordable McCormack Audioís line of electronics, including the all new ALD-1 Preamplifier ($1695), and the notorious DNA-1.

The Phoenix Grand displayed that distinctly open and incredibly pure output peculiar to the best horn-loaded, high-efficiency devices. The sound of this showroom, even with its limitations, given the size of these enormous speakers, was impressive, especially so when equipped with the Zanden Audio line.

---




Danielia Manger, president of Manger Loudspeakers, developed by her father, Josef W. Manger, gives Gerry Gladstein an earful on what makes the Zerobox 103/3 exceptional (priced at the show at $9,999). Gerry and I sat and listened to these omnidirectional side-firing drivers with nods of appreciation. The 103/3ís produced a light and detailed sound devoid of artifacts. Imagine what such a great transducer would sound like under better conditions!

---

This handsomely crafted Soliloquy 6.5 loudspeaker ($5,995), designed by the legendary Phil Jones, proved a knockout strapped to the new Cary Audio Design ($4,000) CAD-280-SA (V12) amplifier. This Class A/AB 100 watt ultra-linear (50 Watt Triode), stereo amplifier which, by the way comes equipped with standard as well as balanced RCA inputs, produced some of the best sound at the show. I had the added pleasure of meeting Srajan Ebaen, Soliloquyís rep. Mr. Ebaen gets thumbs up for his room setup, which included an assortment of tweaks, e.g., Aurios under the 6.5ís.

---

The Mastersound 300 B SE ($3,400) sandwiched between their all-out Reference 845 monoblocks (about $15000 pair). Tube heaven? You got that right. Using all Viac tube devices, the 300Bís a 20-watt single ended, Class A, stereo amplifier that possesses as charming a sound as ever Iíve heard. On the other hand, youíve got the best of the best in their 845 Reference, which at 40 watts per, isnít any pushover either. The Omicron room setup was so rare a treat and so nice sounding that, I found myself daydreaming and spending way too much time here. I visited a similar room in Singapore (see show report), and now felt even more confident about how good these components sound.

---

We stopped in the Wavelength room to hear the skinny about Gordon Rankinís Wavelength Cardinal amplifiers. Too bad that I didnít see the Cardinals, but Iíve got to tell you the companyís new 15-watt Tritans ($10,000), are simply gorgeous. With Nirvana Audio cables through a pair of JM Lab loudspeakers, the Tritan proved a delight. Equipped with a newer circuit design, the Tritan also sports a new input tube in the 6C45PI, and a high-transconductance tube that drives the 300B with authority. As to their new Sine New Century Edition preamplifier ($5,000), how much simpler can things get? With three inputs and one full tape loop, the Sine runs on batteries! That's right, batteries. This preamp is one of the quietest out there. An optional remote for the couch potato.

---

ĎIt just sounds good!í is what I said as I left the Merlin / Joule Electra showroom. New players this year included Joule Electraís ĎRight of PassageíVZN-220 Monoblock OTLís ($20,000), available also in plain stereo for a modest $12,000. Merlin also introduced, in a ruby-heart finish no less, their VSM-Milleniums ($5,500-$8000, depending on finish). Again, their paired performance, with the added support of Cardas cabling, was a sheer delight. The sound tantalized me so that I wanted to take a bite out of the candy-apple Merlins.

---

Another high-class pairing, the Lamm / Kharma room. Hereís the ($40,000) Ceramique 1.0ís, coupled with an additional pair of ($30,000) Lamm ML2ís, and wired throughout with Kharma cabling. The Silent Running ($10,000) equipment rack housed the new ($13,300) Lamm L2 preamp, DCS Elgar dac and Purcel upsampler among other ritzy items. The room did not disappoint, yet I did not feel this was anywhere close to the best sound at the show. It was, however, quite possibly the most expensive.

---

Who would have thought theyíd ever see a solid-state amplifier designed by so distinguished a tube designer as Tim de Paraficini? Glistening under the glow of spotlights is his pure-solid-state 312 Control Center ($18,000). The 312ís circuit is said to use only three transistors in a single-ended configuration and a power supply made to sound tube-like. The M100A ($35,000) operates as a single-ended solid-state device. Closely following the 312's design approach, this 100-watt monster delivered the goods in a way I came back to over the next three days.

---

We Come In Peace! "There is a fifth dimension beyond that which is known to man. It is a dimension as vast as space and as timeless as infinity. It is the middle ground between light and shadow, between science and superstition, and it lies between the pit of man's fears, and the summit of his knowledge. This is the dimension of imagination. It is an area, which we call... THE TUTANKHMAN ZONE."

This is the Sawada Audioís assault on Western ears. Japanís Tutankhaman Loudspeaker, priced at a dizzying $85,000 per pair, weighs in at a hefty 300 lbs. each, and is rated at staggering 99dB 1watt / one meter efficiency. Composed of four of the finest Lowther drivers per enclosure (list at $4k each), this loudspeaker sounded much better in Osaka ,Japan, where I first heard them. The problem is this small, boxy room at the Alexis Park. They sound incredible in my listening room. (pictured here) Stay tuned for a review coming soon!

---

Impact Technologyís AirFoil V Loudspeakers ($30,000) made quite stir at the St. Tropez strapped to a hard-to-get, harder-to-hold pair of Convergent Audio Technologies amplifiers. The photo cannot convey the speakerís odd dispersion characteristics. About this multi-driver line array, with coupling woofer, the productís website states in part: "This is a true line source with excellent imaging and extended vertical and horizontal dispersion. The panel takes advantage of the ultra-low distortion and wide bandwidth of the individual drivers to achieve stunning resolution and transparency. The array covers frequencies from 170 Hz to over 20 kHz, eliminating the need for crossover points in the critical mid frequencies. This insures remarkable reproduction of inner detail and preserves phase and time accuracy." Letís call it works in progress.

---

Remember the Titans

Reporters and industry folk taking a break in each othersí company. Fom my right shoulder, Mr. Kazuo Sawada of Sawada Audio, BMB reps Freddie Tham and Karen Kho. Jim Schaffer, partner of Jay Bertrand (seated next with friend), exclusive distributor of electronics from such dignitaries as Forsell, and Zanden Audio. At the other side of the dinner table, front, probably full and certainly happy, is Mr.Yamada of Zanden Audio. His dad, Kazutoshi Yamada, looks proudly on while another BMB delegate, Masao Fukata, looks into camera. Master of Ceremonies Robert Lee, formally of Harmonic Technology, now leading his own Acoustic Zen, is all smiles. Next to Robert is another Lee, Seng Tuan Lee, maker a new line of exciting loudspeakers, Mussť Audio. Peaking out for a smile is column tubeaholic Lou "Left Channel" Lanese. Henry Wilkenson, another ST contributor, lends his support next to Todd -- damn! canít recall his last name, our Direct TV-HDTV expert, and completing the circle, moi. Not shown is writer / audio maven Jim Saxon and Delve Audioís Oliver Solomon.

---

It never ceases to amaze me, these monsters of deep bass. Here are the McIntosh XR290ís, a triple line source column, 3-way speaker with its 40 drivers! The Rosewood edition looks very good and weighs very much (700 lbs). Their size did not intimidate yours reporter, but their sound certainly did.

---

Just when you thought it was okay to score that cute little floor-stander with high WAF appeal, here comes the 600 lb. Exotica Grand Reference loudspeaker system from Alon by Acarian. Designer and President Carl Marchisotto obviously went all out when he created this monster. Itís priced at $120,000! I donít know what else to say, except that itís strapped to a pair what looked like VTL Wotan amplifiers. They sounded incredibly huge in the image / depth departments. For more, go to http://www.alonbyacarian.com/

---

Sim Audioís Lionel Goodefield attempts to catch a breather outside his Alexis Park room. Now hereís a man who knows his jazz. We could have talked for days.

---

David Chesky of Chesky Records takes time out to smile for the camera.

---

Analysis Plusís chief honcho Mark Markel offering support to potential dealers.

---

Mike Kochman the man behind the popular Echo Buster Room Treatment once again in the Alexis Park. Ever the jolly bun-buster, Mike is one of the nicest guys in this business, and he doesnít do a bad job of tuning oneís room. I mention this as a very happy customer.

---

AudioGonís owner and audio philanthropist Arnie Chinta smiles behind his slew of giveawayís at The Show.

---

Hereís long-time loudspeaker designer Shane Tenace posing proudly next to the renowned Fried Eros loudspeakers ($3,900). Shaneís taken the ropes on their new line and has some interesting plans. Stay tuned.

---

Hereís StereoTimesís Lou "left Channel" Lanese, and Henry Wilkenson taking a break from the action.

---

Ross Wagner, one of New York Cityís elder audio-society statesman, attempts to keep dry. Henry looks on in a strange sort of way, seeing no rain at all. Perhaps too many beers?

---

Reference Recordingís Professor Keith Johnson again produced amazing music through the usual trio of Avalon / Spectral / MIT hardware in the Golden Nugget. The sound of this room bested virtually all of the rooms I visited again, as it did the year before. Bravo!

---

Mr. Arcici, Ray Shab (right), while taking a break at The Show, smiles for your reporter beside his Suspense Rack.

---

I had the shock of my life when I ran into this hip cat. Itís none other than the star of Laff records and film, Rudy Ray Moore, a.k.a. Dolomite. Ray was in the Convention Center hoping to find where he was supposed to sign autographs for his distributor, Xenon Int. Group. As luck would have it, they were unlisted in the directory. If you were at the Convention Center, you knew what a disaster that spelled. I grew up listening to Dolomiteís slapstick humor and legendary storytelling. Imagine Dolomite and Richard Pryor classics played through a pair of Bose 901ís powered by the famous Bob Carver Phase Linear 400 amplifiers.

---

Todd Lauderman of Argent Room Lens fame takes a break from the action to let me know whatís going on with the company. Todd recently sold Argent to partner Ric Cummings, who by the way is president of Rosinante Dark Matter Isolation products.

---

Here I am posing with my idol, jazz pianist extraordinaire Herbie Hancock. Man, considering how far back he goes, the brutha looks good! I admit I felt blessed to chat with one-fifth of what many jazz aficionados, including your reporter, consider the greatest jazz quintet of all time. Oh, in case you wanted to know who made up the rest of that historical band: trumpeter Miles Davis, saxophonist Wayne Shorter, drummer Tony Williams, and bassist Ron Carter.

---

Classť Audio showed its sleek and sexy prototype SACD player due this spring. Priced at about $12,000, this baby looked good enough to take home. Itís paired with their newest line of rather Levinson 33-ish amplifiers strapped to a pair of B&W 801ís, making for a very musical system.

---

To a background of controversy swirling about the Internet, Talon Audio showed their wares at the St. Tropez. Note the reference Talon Khoruses ($14,000) and Roc subwoofers ($4,000) in a maple finish. Electronics featured all Jeff Rowland and Theta Digital, cabling by way of Kimber Select. This was without question a most visually attractive room, with its walls hung with huge photos of the great outdoors. Unfortunately, the sound was less than good. Because I chose this speaker as my new reference, I really wanted to see it shine. Moral: how difficult it is to achieve a satisfactory result in a poor acoustic setting in less than one week.

---

The Great Wall Of Talon.

Thereís Talon Audio designer Tierry Budge sitting along the Great Wall waiting to greet press and dealers.

---

I found relief!

Here are the prototype Peregrine X (about $12,000 with stands) strapped to a pair of Cary monoblocks and Electrocompaniet. The sound of this makeshift room was much better than their room next door exhibiting the Khoruses with Rowland electronics. Go figure.

---

Sony displayed its SACD players via cozy headphones. A nifty idea!

---

The Au24 Modular Line Array looked alluring and sounded inviting. John McDonald, partner, and Richard Smith, designer, sat Henry and me down for a listening session. The Au24ís are stackable loudspeakers, with an incredibly low moving mass of 1.8 grams each, allowing for rise times similar to electrostatic designs. Starting prices begin at $7,000 for a powered pair and $3,500 for the un-powered version. An all-out, fully stacked array of Au24 Modules ($55,000) brings distortion levels down to whatís normally expected from amplifiers. Each Au24 Module is powered by two 100-watt-continuous RMS, audiophile quality, minimalist amplifiers built specially to power the Au24 Modular Line Array. The amps do not limit performance in any way. For further info, go to http://www.audience-av.com/speakers.htm

---

The Convention Centerís main auditorium is huge, with hundreds of displays clamoring for oneís attention and, if your not careful, your walletís contents. The futuristic Panasonic flatscreens were beautiful, aesthetically and picture-wise.

---

A sight for sore eyes -- grown-ups at play and a souped-to-the-max VW Beetle.

---

Finally, Best Sound at Show!

The award had to go to two rooms, Halcro and Viac / Lumen White. They were just too good for one to be judged against the other. The solid-state Halcros created the same sound I heard at Singapore Show. It was quite a relief to be able to prove to the guys that I wasnít fantasizing. The Viac / Lumen White room was a pleasant surprise. Here was a sound, all tube mind you, as good as it gets. Considering the roomís pinched dimensions, distributor and key setup man for Lumen White, Hartmut Roemer, provided gobs of space and depth to what would have proved to less skillful souls a near-impossible feat. No small credit go to the Viac 52 monoblock SE amplifiers. This combination sang -- time and phase coherency and freedom from electronic artifact combined to a stunning result. Our own Lou "Left Channel" Lanese has the amplifiers in-house for review and will give you his impressions soon. I am trying to get the Lumen White speakers for review. Stay tuned.