2006 CES/T.H.E. Show
Dave Thomas

After the cold, rain, and snow (yes snow) that made last year's Consumer Electronics Show very forgettable, it would not take much for this year's show to be an improvement. But when you consider sunny skies, average temps in the mid 60's, and knowledgeable crowds that were neither too big nor too small, the 2006 CES and T.H.E. Show in Las Vegas were simply fabulous.

Let's do away with the obvious things that come with most of these shows like the fact that it is so hard to get a room set up properly in order to get great sound. Small rooms get overwhelmed by big speakers, mini-monitor/subwoofer combos fail to adequately fill large spaces, and there is always some poor guy who either has part of his system held hostage by customs agents or obliterated by a shipping company. Despite these things, most companies still managed to put together some really impressive sounding systems. Also, please bear in mind that I did not get to visit every room and some rooms had wonderful individual components but the overall system may not have been among the best I heard. In future reports I will focus on individual pieces of merit. But since the first question people usually ask me about a show is which rooms did I like the best? I though I would start there. So in alphabetical order, here are the best of the best of what I heard during that weekend:


Top Ten Rooms at the 2006 CES/T.H.E Show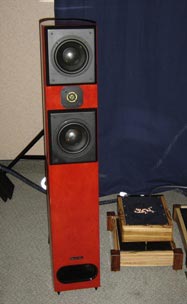 Acoustic Zen/Red Dragon. Acoustic Zen/Red Dragon. Easily the biggest surprise of the Show for me came from the Acoustic Zen room. I had heard all the whispers in the industry about a new Acoustic Zen loudspeaker called the Adagio but immediately blew it off by believing that Acoustic Zen chief Robert Lee was just taking a brief step away from making cables and trying his hand at building a loudspeaker. So when Acoustic Zen's Director of Marketing and Distribution, Frank Kraus dragged me into their showroom at the end of the first day, I was ready for his sales pitch. But coyly Frank sat quiet as he played the disc that I had been using in most of my listening, the soundtrack to the movie Space Cowboys [Malpaso/Warner Brothers]. This splendid disc features the classic Sinatra hit, "Fly Me to the Moon," and was reproduced with a tremendous amount of detail and jaw-dropping dynamics. Frank knew how good this system sounded and wanted an honest reaction from me without any guiding from him. Now about the system: the Acoustic Zen speakers are gorgeous looking and a flat out steal at $3,700/pr. The digital front end was a Great Northern Sound Company - Resolution Audio Opus 21 CD player ($3,500.00 GNSC modification $1,500.00 extra) and the excellent Acoustic Zen cables were used throughout. Also in the system was the ModWright SWL 9.0 SE linestage ($2,200.00) and the attractively styled, ICE Power module-based Red Dragon Audio Leviathan monoblock amps ($5,995/pr) which I have to say are a "must hear." Another must hear is the story behind how Red Dragon Audio got its name. Ryan Tew, the company's owner and chief designer may take some persuading to tell you. Here's a hint: Ryan's not Chinese. By the way, Frank, through his own company FLK Marketing & Distribution, is also the distributor for Red Dragon Audio and Escalante Design. He is also a working consultant for deHavilland and in his spare time he is a new father. The boy gets around.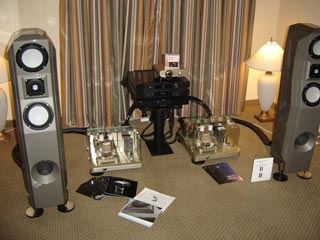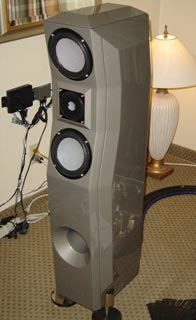 Audio Acoustics. A relative newcomer to the U.S. audio scene, Audio Acoustics is a U.K. based builder of loudspeakers that, quite frankly, are as beautifully built as any loudspeaker that I have ever seen. I mean we're talking Tiffany jewelry quality here folks. And what's even more interesting is that of the models they had on display, the price of the speakers went down as the size of the speakers went up (the Sapphire Ti-C is 1226mm tall and costs $56,000/pr, but the Fundamental K2 is 1271mm tall and cost $22,750/pr). How often do you see that in high-end audio? The demo system featured the $69,000/pr Sapphire Ti-C SE speakers which were finished in a stunning color called Titanium Metallica. They were driven by the Wavac 833 1.3 monoblock amps and a Wavac linestage. The dCS Verdi SACD transport and a Weiss Medea DAC were the source components and Audio Acoustics' own Wow Resonance cables ($69,000!) were used to connect the system. Also used were Nano Puck energy removal and isolation systems ($1,289 set of 3 or $1,699 for set of 4). The sound of this system was well balanced and extremely enjoyable. Equally as enjoyable was the discussion that I had with designer and chairman Shabir Bhatti. He is very passionate about music reproduction and a perfectionist in the design and construction of his speakers. He and they were a joy.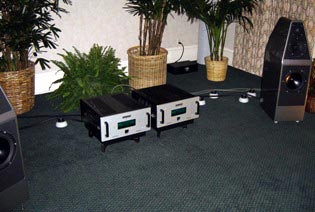 Audio Research/Wilson Audio. A match made in Heaven. I was actually drawn into this room from out in the hallway because of the crisp dynamics that were noticeable even from outside of a closed door. Once inside,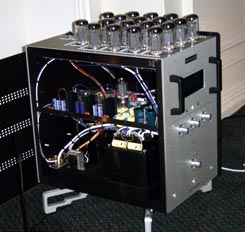 I saw a pair of the wonderful Wilson Audio Sophia 2 loudspeakers being driven by a pair of Audio Research Reference 210 mono amps ($19,990/pr) and a Reference 3 line stage ($9,995). The digital source was the ARC Reference CD7 CD player and the analog setup was the VPI Super Scoutmaster Signature turntable and Dynavector DRT XV-1S cartridge. The system was wired with Shunyata and Cardas cables. The soundstage this system threw was large and convincing while maintaining wonderful dynamics and musicality. Standing on the sidelines were the awe-inspiring Reference 610T mono amps ($39,990/pr). They removed the chassis cover on one side to reveal the magnificent build quality of their flagship amp.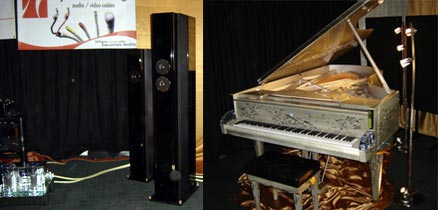 Bosendorfer. Talk about attention-getting, Bosendorfer New York's lovely Lisa Feldman displayed a $750,000! Swarovski crystal encrusted piano in their showroom entrance (This is a limited edition piano. Only one left, so hurry!). Unfortunately, it wasn't being played so you could only appreciate its visual beauty and not its musical prowess. Initially, the same thing might have been said of their audio display as well. This was one of those rooms that had some difficulty getting the room acoustics just right at the start of the show, but eventually they made some changes to their over-damped room that resulted in a wonderfully balanced and exciting musical presentation. Bosendorfer's elegant flagship VC7 loudspeakers ($22,000/pr) were the focal point of the setup but they were aided tremendously by Dynamic Design "Nebulas Series – TBK" cables throughout (speaker cables $10,000/8' pr, power cords $4,000/6', and interconnects $4,000/1m). Amplification came from the always good Art Audio Adagio monoblocks amps ($20,000/pr) and Gill Audio Alana preamp ($4,500). Einstein's excellent Last Record Player tube CD player ($7,500) was the front end source. These speakers are the ultimate in spousal acceptance. They have a small foot print and are extremely well built. But they will also satisfy the most demanding audiophiles who prefer large-as-life soundstaging, musicality and dynamics. The Dynamic Design cables are known for their ability to uncover the truth in recordings and they certainly helped to pour every bit of music through these excellent speakers.