Dynamic Design Platinum Cable System
One of Chicago's contribution to the state of the art
August 2005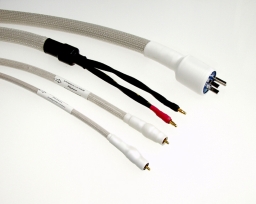 For those of you who may remember, Joe Lamano (December 2002) and later Dave Thomas (October 2003) brought to our attention some cables from a Chicago-area company called Dynamic Design. Both Joe and Dave did a good job giving us a glimpse into the cable's designer, Mr. Olufemi Sonuga, and the performance of some of his designs. Dynamic Design's U.S. distributor is another Chicago company called Sound Marketing Unlimited, which is run by Don Smith who I've known for more than 15 years. For as long as I've known him, he's always been looking for cables that could perform at a high level in his system. When I heard that he had finally settled on the Dynamic Design cables, I knew that they had to be good because he's never been easily impressed with any cables and the fact that he was going to market them spoke volumes to me.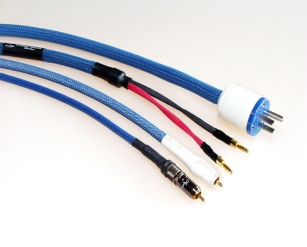 I called him up to arrange for a little impromptu listening session and he came by with the Dynamic Design Lotus Blue Series (their next to least expensive cables) interconnects, speaker cables and power cords. I was floored by what I heard. The music was clear, open, and dynamic, yet natural sounding while his cables were in the system. I listened to these cables for about a week, and when I went back to listening to my system with my old cables, it took me a few days to re-adjust to the sound. I missed the Lotus Blue power cords on my Martin-Logan Quests the most but had to let my ears go back to hearing music that now seemed to be lacking in all of the attributes I mentioned before. That was my first introduction to what the Dynamic Design cables could do. It's been gratifying to know that someone right in my own back yard was building a cable that was good enough to be compared with the best available anywhere.


A reference quality cable
Shortly after my Dynamic Design Lotus Blue cable experience, I came to own a pair of Dynamic Design's Lotus White speaker cable and felt it was clearly, one of the better speaker cables I had heard to that point. Still, I felt uncomfortable asking Don about allowing me to use to some of his cables when I started doing reviews. Besides, I had my own stable of cables and access to others such as Nordost, Sonoran, Terra Song, and Synergistic Research and some homebrew cables made by a friend. Dave Thomas offered me the use of the Virtual Dynamics Nite II and Soundstring cables, which were all a step up from what I had to use while doing reviews, and this worked out fine. It wasn't until I actually spoke with Don at the Winter CES in Las Vegas that the possibility of getting some of Dynamic Design's cables to review was discussed. In the mean time, our fearless leader, Clement Perry was arranging to do a full Dynamic Design Platinum system review (which is one of their higher end cables). Well it just so happened that Clement became bogged down with his reviewing commitments so I asked if I could do the review. I was thrilled when he said I could. Before I get into the heavy part of my review of the Platinum, I have to give you a little preview of what I'm talking about.

We have a beautiful, newer audio salon near Chicago's famed Magnificent Mile called "Glenn Poor Chicago". This shop is truly, a high-end audio paradise replete with the complete lines of Halcro, BAT, Linn, Wilson, Aerial Acoustics, Avantgarde Acoustics, and many others. Don was doing a presentation for the store manager and asked if I would help him. Trust me, I didn't want any part of having to work that hard on my off day, but a friend is a friend so I went to be a helper. In the main listening room, which at the time featured the Halcro and BAT equipment connected with Kubala-Sosna cables, the music sounded wonderful. But as we started to swap cables, things began to get very interesting. In each instance, when we replaced the K-S cables (which have to be some of the prettiest cables ever made) or the expensive Nordost with Dynamic Design Lotus White interconnect and power cords and Silver Meidland speaker cable the sound very noticeably improved. I mean the sound was not just different but clearly better. I was even embarrassed enough to ask if we were listening to the same electronics because of the improvement bought about by installing the Dynamic Design cables. We hadn't even gotten around to inserting any of the Platinum cables. This gave me a grand introduction into what would soon be coming into my system for evaluation.


Dynamic Design Philosophy
Dynamic Design cables are designed to be the best available at their different price points. The Platinum cables reviewed in this article are very expensive and made for the individual who wants the very best performance out of their electronics. They have other lines of cables that are less expensive but designed to perform optimally in your system. Not wanting to give away any of the company secrets, the combination of materials they use in their conductors, pushing the envelope with their dielectrics and the different types of shields gives them the edge when it comes to cable performance. Great care and attention goes into the choice of connectors they use and the design and construction of their jackets. In terms of their construction, the use of proprietary materials and their execution is what sets the more affordable cables apart from their high performance cables. Dynamic Design's cables are designed to have very wide bandwidth. No matter what the source is, Dynamic Design's cables are designed to deliver the signal with as little change as possible. They strive to make the sound as pure and faithful to the source as possible without any degradation of the signal. There is no compromise at each step of the cable constructing process and you can rest assure that each Dynamic Design cable you use will perform as they claim it will.

According to Sonuga: "Dynamic Design was founded with the primary goal of designing products that push the envelope in terms of performance and utility. We recognize that cable design choices or processes and results are plentiful and vary from one designer to the next. The one constant goal in cable design is that of transmitting a signal. There are several components that will affect the ability of a cable to transmit a signal: the conductor, insulation, jacket, shielding, grounding, and connectors. The use or implementation of these components affects the signal in ways that are dictated by the quality of materials and methods used. This is a given regardless of whether the cable type is an interconnect, speaker cable, power cord, or digital cable. The wide-ranging amalgamation of these design choices or processes is what yields the widely differing performance of the many products available today. The best products are always the ones that give equal weight to all components of cable design, as opposed to one or two of the many choices available. Dynamic Design products undergo extensive research and development to maximize the performance of all cable components in any given design. The results bring you closer to musical and visual reality. The unique transparency of our products deliver a low noise floor, realistic instrumental timbre, natural attack and decay, clear instrumental focus, and unrestricted dynamic range. As a result, our products deliver an unaltered signal that nourishes your system and your desire for pure, natural sound and images."

So what do the cables sound like?

The Dynamic Design Platinum cables are the 3rd highest priced cables that they make with the THB and TBK being their most expensive. You can feel the quality of the cable when you hold it and when you connect it to your equipment. Speaker connectors slide on smooth and tight, but not too tight. I like to torque my connections down on my speakers but have never had any of their spades bends, break, or get out of shape on me. Both the RCA and XLR connectors go on smooth and are never loose or ever feel cheap. In terms of stiffness, let me just say that you'll need at least a foot of clearance from the back of your equipment in order to avoid any problems hooking up these cables. The same could be said of the Virtual Dynamics cables as well. Also, when I used them on the Linn Klimax Kontrol preamp, which poses its own set of ergonomic connection issues (e.g. part of the thick aluminum chassis overhangs the input connections), I had no problems at all. If you have a dedicated listening room with shelves that can be easily moved, then stiffness will not be a problem. But if you're working within the confined space of an entertainment center, you may have some difficulty. So be careful. Also, stacking CD transports on top of your DAC could prove to be cumbersome as well.

The cable system I received was comprised of a meter pair of Platinum interconnect for the source, a 10-foot pair of what they call "PAAPI" interconnect cable (which is a cable they design specifically to be a preamp to amp interface cable), a pair Platinum speaker cables for the tweeter/midrange drivers and a pair of cables specially designed for bass drivers that they called "bass bi-wire" cables. I also received Platinum Power Cords for the amps and preamps (except in the case of the Linn Klimax Kontrol) and their dynamically shielded Digital Power Cord, the Challenger, for the CD player.

Now, I have tried each of these cables by themselves in conjunction with other cables and they always brought an improvement in clarity and musicality over the cables they replaced. When listened to as a whole, the improvement was mind-boggling. These cables do not have a sonic signature of their own. They will not tone down bright sounding solid-state gear and they will not give tube gear greater high end or bass extension. What they will do is allow your equipment to perform to its best ability. If you consider your equipment to be musical, it will sound even more so. If you feel your gear is extremely detailed, it will let you hear even more musical detail. If you think you have good bass and high-end extension, the Platinum cables will give you more, and deeper bass with more extended, airier highs.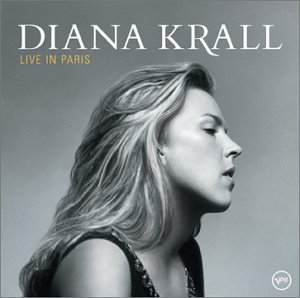 Time and time again, I have plugged in gear, electronics, and speakers that I received to do reviews on and in all cases, I am amazed at just how much these cables let me hear. This was especially true after I switched back to the Platinums after trying something else. The equipment that you use, your setup, and your room have a large affect on the sound you get when you listen. The Dynamic Design Platinum cables are what I like to call an "optimizer." They optimized my system and helped to give me more of what I'm listening to. On live recordings, such as Diana Krall Live in Paris [Verve] on the track "A Case Of You", and "Summer Wind" by The Ray Brown Trio on their Live at the Loa disc [Concord], you get much more of the room noises that the patrons make.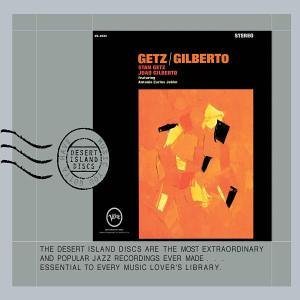 The coughs, conversations, glasses being gathered from off of tables, but more importantly, you get more musical information as well. On Stan Getz', Bossa Nova [Verve], when they perform, "The Girl From Ipanema", you feel like you're right there on stage with the band, just as the microphone intended you to be, but with much more presence with the Platinum. On the Victor Wooten & Steve Bailey collaboration, Bass Extremes: Just Add Water [TC 40192], the eerie but sonically entrancing track, "Music of the Spheres," not only can you hear the chords these two bass-playing geniuses play, but you can also hear the transient response and decay once the percussive instruments have been struck. You get more of the low frequency information and more of the decay with the Platinum. On Antonin Dvorak's, Slavonic Dances, as performed by Antal Dorati and the Royal Philharmonic Orchestra [Sony #48161], the opening sequence has all the air and upper frequency presence of the hall. You can also hear the drive and impact of the piece as the work conveys the feeling of the slaves doing their dances.


A final word
I haven't even come close to being able to hear all of what others may extol as being state-of-the-art or "the best cables available". I do know that I can say confidently that I am listening to one of the better cables available. If musical enjoyment is your bottom line, Dynamic Design Platinum should not be overlooked. It compared favorably, and in a lot of instances, better than a lot of pricier contenders out there. These cables make listening to music a temporal and emotionally satisfying experience that will take anyone's system to that next level of performance. These cables are highly recommended.

Michael Wright
_______________
Manufacturer's Response

RE: Stereo Times Dynamic Design Platinum System Review.

Dear Michael:

Thank you for your kind words and wonderful review of our Heritage Series flagship products, it is very gratifying to know that our design intent were realized during your use of these fine products. We take great pride in our products and feel validated when industry experts like you agree that we are achieving our design goals.

At Dynamic Design, our sole purpose when designing cables is that of superior performance. Superior performance over the competition in areas that we feel is critical to enjoying reproduced music, accuracy and musicality. You cannot truly immerse yourself in the music if these two areas are mutually exclusive.

As music lovers and cable designers, we feel that cables and equipment should not editorialize the true intention of the musicians when they record to media, after all, that intention is what makes them unique and is the basis of their identity. The ability of a system to relay the information (or intent) as presented to it is what makes for a long lasting realization and enjoyment of the music. At Dynamic Design we do our share to preserve and accurately relay the information (or intent) as presented to us.

As you mentioned in the review, the Platinum series are expensive but represent a great value when their performance is taken into account. We have more affordable products that also perform at a high level like our PAAPI™ cable that save our customers a lot of money when they need long lengths as well as other value oriented programs such as our 'customer reward' program of affordable upgrades within our product lines. We offer excellent customer support as can be attested to by our 100% no product return rate on all sold products. We believe in treating our customers right and keeping them in the Dynamic Design family.

We thoroughly enjoyed reading your review and hope that it will compel your readers to take advantage of our 30 day free home trial offer to put our products to the test.

Gentlemen, thank you for the opportunity and support.

Bill Artope and O. A. Sonuga
_____________
Manufacturer:
Dynamic Design

Models and Prices:
Platinum Balanced Interconnect: $2095/1m pair
Platinum Speaker Cable: $3550/6ft pair
Platinum Analog Power Cord: $1600/6ft
Challenger Digital Power Cord: $1200/6ft
Long Run Analog Interconnect (PAAPI): $900/10ft pair
Bass Bi-Wire Speaker Cable: $800/8ft pair
Website: www.dynamicdesignav.com
Contact: Bill Artope - Dealer/Distributor
Phone: 310-466-1040 Phone: 847-570-0370
E-Mail: bill@dynamicdesignav.com or mail@dynamicdesignav.com