Ray Samuels F-117 Nighthawk Phono Stage
Great Performance with Lithium-Ion Battery Power
August 2010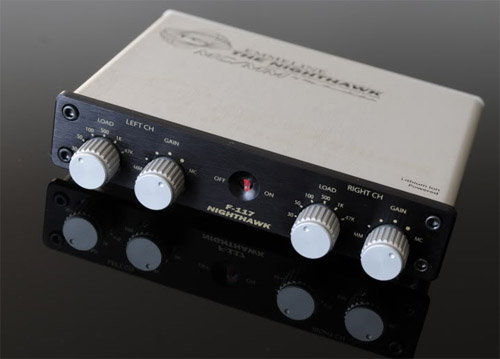 Ray Samuels Audio has been marketing high performance headphone amplifiers for many years and they have since progressed to building preamplifiers, phono stages and portable amplifiers. Through speaking with Ray Samuels I developed the impression that Samuels is a very "hands-on" designer who not only knows circuit topologies but likes to listen to different IC chips and other component parts in his various products. And I admire the type of designer who not only knows what looks good on the scope, but what sounds good to the ear as well.

The F-117 Nighthawk is a rather diminutive phono stage measuring a scant 4.4" wide by 4.24" deep (tip of RCA's to front of adjustment knobs) and a mere 0.8" high. It weighs less than one pound. The heart of the Nighthawk is a military-spec IC chip and circuit board, which is powered by a Lithium Ion battery. The battery will play the Nighthawk for roughly 48 hours before needing a recharge. When the unit is powered up, the clear power toggle lights red; and when the battery starts to run low, the red switch light extinguishes and it must be recharged. The charger itself has a red LED that lights while charging and after a full charge is reached, in less than 2 hours, the LED turns green to indicate the fully charged status. I must say that after dealing with other battery-powered phono stages that use more conventional batteries, the 48-hour run time of the Nighthawk is amazing. Of course if you turn the unit off between sessions the battery lasts even longer because it only drains when the Nighthawk is powered up.

The benefits of using a battery supply cannot be denied. Because there is no RFI or EMI interference riding in from the power source, (not to mention no stray power spikes or surges) battery-powered units have inherently low noise and you needn't stress about which aftermarket power cord to use—because none is needed. In an active phono stage that has up to 75dB of gain to handle even the lowest output Moving Coil cartridge, ultra-quiet battery power is a particularly apt choice. Indeed, my listening tests confirmed that the Nighthawk was the lowest-noise active phono stage I have ever used in my two systems. Even with my low 0.24mV MC cartridge I had to crank the volume way past my normal listening level (with my ear up to the speaker) to hear the gentle hiss the Nighthawk generates. This is to say it not only beat my battery-powered Musical Surroundings Nova Phonomena, it also bested my Whest Audio PS30.RDT in terms of lowest inherent noise. Impressive!

Here's where it gets even better: Most other phono stages I've used that have had variable gain and loading adjustment switches have had them either inside the chassis, where they were difficult to access, or on the rear panel—which was better, but still a bit of a pain to get to and adjust. The Nighthawk has multi-position rotary switches for each channel right on the front panel. One knob is for gain and the other for resistive load selection (a total of 4 rotary knobs all together). What could be easier! The gain range is from 40dB to 75dB in six increments, and the six resistive load choices are 30, 50, 100, 500, 1k, and 47k-Ohms.

The Nighthawk is available in 4 chassis finishes. In addition to black on black or silver on silver, you can order the black faceplate with silver case, or the silver faceplate with a black case. In addition you can specify black or silver front panel knobs for whatever chassis finish you pick.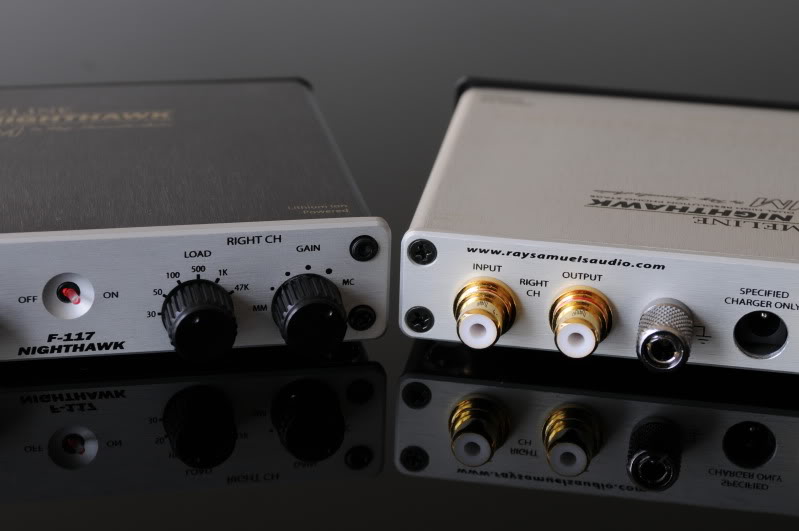 Installation
Swapping the Nighthawk into my system was a snap. I hooked up the RCA inputs and outputs plus the ground wire, then dialed the gain back one notch from the 75dB maximum. The resistive load was set to 100 Ohms, which I dialed up to 500 Ohms while listening to the high-frequency balance and then left it there. Simple, very simple!

Early Impressions
I first installed the Nighthawk in my Magnepan system with the Michell Orbe SE turntable and Benz Micro Ebony L cartridge. I was glad that the installation was quick and even happier when I found out how low in noise the Nighthawk is. The PS Audio GCPH was objectionably noisy in this same system while the Nighthawk was quiet as the proverbial church mouse.

My first impressions of the Nighthawk's sound were very encouraging. It seemed dynamic, very linear and very musical while still retaining a lot of musical detail. The first few days I had it hooked up I spent pouring through some of my old favorite records just because they sounded so natural and musical. No matter whether I played classical or pop or my favorite 80's dance cuts, the Nighhawk let the Benz Ebony shine.

I later installed the Nighthawk in my Michell TecnoDec turntable in my large-room system with the ZYX 4D-G cartridge I had just reviewed and it sounded fabulous. When playing Suzanne Vega's Solitude Standing (A&M SP 5136), songs like "Wooden Horse," and "Language" were better focused than I had observed previously using the Musical Surroungings Nova Phonomena phono stage. The guitar cords rang out in a manner that was more harmonically complete and righteous, and the drums on "Wooden Horse" were more taut and articulate. That said, the Nighthawk did not have quite as much bass weight as the Nova Phonomena or the Whest PS.30RDT. The Nighthawk had just a touch more presence in the upper midrange that acted to enhance lyric comprehension without having any negative effects.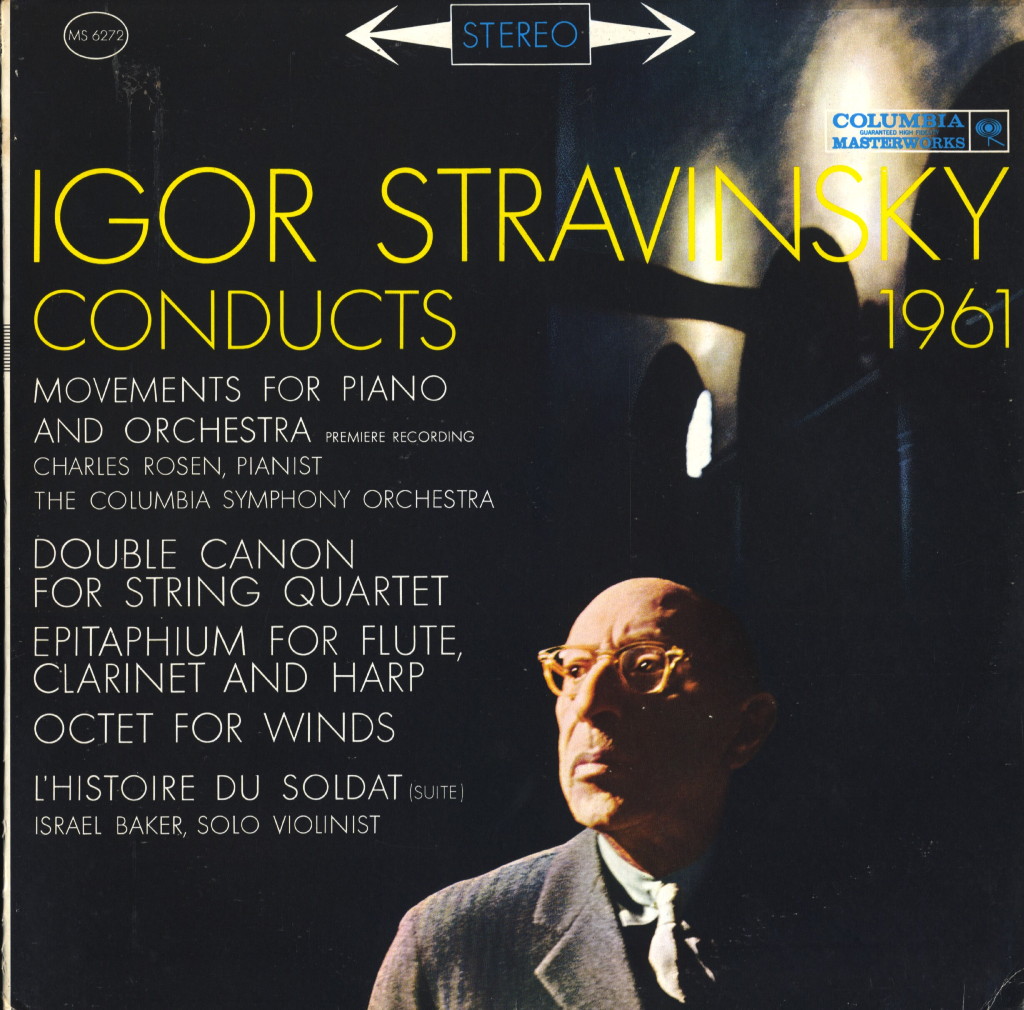 Playing Stravinsky's Triumphal March of the Devil from Stravinsky Conducts 1961 (Columbia MS 6272) was quite an ear-opening treat. The clarity of the instruments combined with the ambience from the drums and cymbals lit up the hall and brought the orchestra more into precise focus than I've ever experienced. It was a joy to sit and listen to the different instruments enter and exit the stage during L' Histoire du Soldat because the various horns, strings, and drums seemed to pop up out of nowhere, do their thing, and then exit without complaint.

Caveats
There is almost nothing worth criticizing regarding the Nighthawk's performance if one compares it to its direct competition. It performs so much better than most phono stages in its price range that it's almost criminal.

However, if we consider units like the Whest PS.30RDT at about $4k, there is some room for improvement. The Whest seems to reach deeper into the soundstage and pulls out a little more low-level detail than the Nighthawk. The Whest is also more dynamic and has greater bass articulation with superb agility. It is also five times the price of the Nighthawk and will require the owner to buy a decent aftermarket power cord to realize its full potential. And optimizing a hyper-critical, purist beast like the Whest is not nearly as easy as dialing in the Nighthawk.

Those who require balanced XLR outputs won't find them on the Nighthawk. There is not enough room on the diminutive chassis. But to be sure, the signal path is quite compact and direct.

'Philes looking for a large eye-catching chassis won't find that in the Nighthawk either. That said, the compact Nighthawk sure is a lot easier to place and install where physical space is in short supply. It will fit just about anywhere.

Conclusion
The Ray Samuels F-117 Nighthawk phono stage is quite an impressive component. It features long battery life with fast recharging, front-panel rotary knobs for making gain and loading adjustments, and fantastic low-noise performance.

Yes, it can be outmaneuvered in terms of soundstage depth, ultimate resolution and bass extension by phono stages costing multiples of its price, but I suspect its focused and natural demeanor will win over many audiophiles' hearts.

Factory-direct pricing eliminates the typical middle-man mark up and allows this unit to compete with more expensive phono stages than would otherwise be possible. Also please note that the Nighthawk is a hand-built component, made right here in the USA.

In my opinion, everyone who is serious about achieving affordable vinyl bliss should own at least one of these. I am buying my review sample because I surely don't want the Nighthawk to leave my listening room anytime soon. It has worked its stealthy magic on these ears. Highly recommended!





Ray Samuels Audio F-117 Nighthawk phono stage
Factory-Direct Price: $795


Manufacturer
Ray Samuels Audio
8005 Keeler Ave
Skokie, IL 60076
Phone: 847-673-8739
e-mail: rsaudio@raysamuelsaudio.com
Web: www.raysamuelsaudio.com