Equarack "Shelfless" System Model DW
A Top Shelf "Shelfless" system
September 2005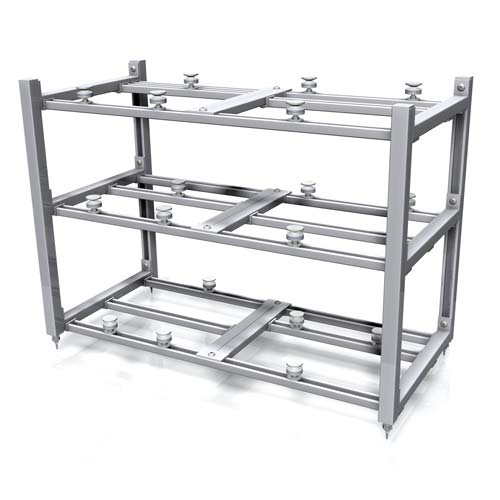 As more components make their way in and out of my listening room, one thing that has remained constant is my need for rack space. And rack real-estate has become even scarcer since the addition to my system of an Apogee Big Ben external word clock, a Boz Audio 216 digital amplifier (with external power supply), and an Audience Adept Response AC line conditioner. (The latter takes the grunge away from old friends such as my Tact Audio 2.2X preamplifier, and from newcomers: a Combak Reimyo CD player and a Bluenote Belvedere turntable with its oddly soda-can shaped phono-stage. All told, that's seven components in need of rack space. What's an audiophile to do? Fortunately, I have the answer.

Equarack Inc. is owned by Joe Ciulla, an audiophile and music lover (we've had some very enjoyable listening sessions together) with a passion for design and engineering. Ciulla's EquaRack "Shelfless" system, which he started manufacturing in 2001, reflects his engineering background and intense musical and audiophile ambitions into one ambitious package.

The Equarack system features "damping/isolation" mounts that support components without the use of conventional shelves. This system accomplishes what Ciulla calls the "three essential provisions" for ultimate component performance: efficient means by which to drain and damp harmful component-generated vibrations, air-to-component vibrations, and air-to-rack/ floor-to-rack vibrations.

The component mounts offered at the time I received my rack were VectorMounts and BearingMounts. The more expensive mount is the BearingMount which employs a sophisticated ball-bearings as its centerpiece. My rack has the less expensive VectorMounts which share the same advanced viscoelastic polymer in a constrained-layer design, but lack the bearing of the more expensive mount.

In addition, I chose optional Vector Rack Mounts (in place of floor-spikes) to de-couple the rack from my wooden floor.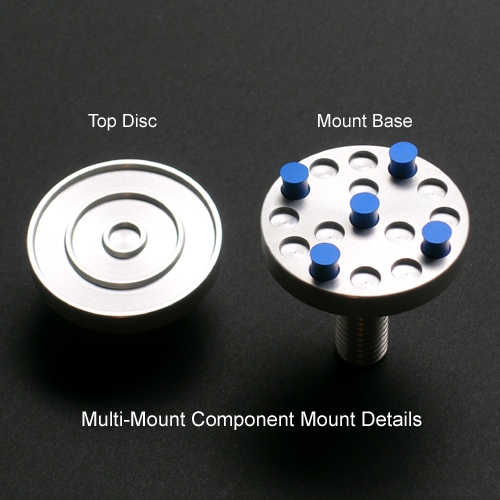 Joe Ciulla informed me that both versions of these component and rack mounts have now been replaced by user-adjustable, weight-optimized "Multi-Mounts" (photo right) for which I hope to provide a follow-up on upon their arrival.

Ciulla goes further and makes the claim that, "These provisions are prerequisites for ultimate component performance - Isolation alone, is simply not sufficient!"
Enter the Rack…

The physical columns that support the Equarack system are
constructed of cold-rolled, 12-gauge steel channel with 1/4" welded end-fittings, assembled to create a strong, rigid unit. The "rack", in the Equarack system, is configured by choosing column height, number of levels, and type(s) of component mounts. Three mounts are fine for most components, but some components may require, and/or benefit from, four mounts.

Connections of the modular elements are made by threading a single 1/2"-13 alloy steel button-head hex cap screw through each end-fitting into a hardened "channel-nut" placed anywhere in the "slot" of an intersecting channel element. When the cap-screw is tightened, the end-fitting and channel are pulled together and the "in-turned" edges of the channel engage the channel-nut's serrated grooves. These grooves "bite" into the in-turned edges, creating a strong vise-like joint. This connection ties the open channel sides together in a 4-sided box configuration for added joint strength and enhanced structural rigidity. The Model-DW has horizontal Tie-Backs that can be positioned anywhere on the columns.

Columns are available in heights of 28-3/4", 34-3/4", 45-3/4", and 56-3/4", inclusive of (retracted) floor-spikes which are standard and provide an additional 1-inch of adjustment. Stainless-steel floor-protectors are also included.

The rack will accept up to ten components on five levels when the tallest columns are used! The Model-DW will accommodate all but the very largest components, and each level has a weight capacity of 400lbs!

Ciulla took time out from his busy schedule to assemble the EquaRack in my listening room. He admits assembly is a bear. (He's currently working on a formula to make setup quicker.) Cosmetically, the EquaRack is, in my opinion, built for performance rather than looks. Once assembled and loaded with components it is very easy to forget this rack since it is visually non-intrusive.

It is very hard to hear the differences in racks. Reviewers have the task of introducing new components on a regular basis which makes gauging the sonic qualities of a rack that much more difficult. My downstairs system remains in a state of flux due to the constant comings and goings of components. My upstairs reference system is an all digital one. Few components I've heard have given me a reason to change and as a result this system has remained stable and intact for more than five years (give or take a product). That said, swapping out equipment racks proved undeniably effective in this setup and that's where the EquaRack shined.

I am not sure if it's the shelfless approach or isolating the AC conditioners on dedicated EquaMounts, but one thing is certain: if there is any legitimacy to the argument that isolating ALL components in an audio system improves the sound, the EquaRack is the system on which to verify it.

The EquaRack provided an eerily quiet presentation no matter what the listening level, music or mood. A level of silence I had not experienced using the fabulous Acoustic Dreams isolation rack (this impressive rack simply ran out of physical space). This impacted my experience of the music in a way I had not anticipated.



I noticed this on Sarah Vaughan's "How Long Has This Thing Been Going On" [Pablo PACD-2310-812-2]. Your Blasť is my favorite on this hypnotic disc, which features Oscar Peterson, Joe Pass, Louie Belson and Ray Brown. Sarah, in my opinion at the peak of her vocal capabilities, seemed more there and yet a tad laid-back and controlled. Her thickly textured vocals throughout sounded more life-like and sensuous, while guitarist Joe Pass appeared noticeably clearer and distinct to the left and behind Sarah. Previously, I was left with the impression of an accompanying guitar, this time it wasn't just a guitar accompanying a singer. It's now a guitar performance that sounds like Joe Pass.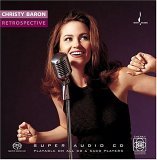 Christy Barron's rendition of the Thelonius Monk immortal tune 'Round Midnight on her "Retrospective" CD proved an ear-opening experience. I am quite familiar with this song as I've heard it over and over again on numerous systems over the years. Hard to explain, but Christy sounded refreshingly new and improved. There was an undeniable, see-through quality the EquaRack system brought out in Christy's voice that gave her presentation something that I hadn't heard before.

Once again I am discovering how resonances and vibrations masks, smears and ultimately destroys a system's overall performance. I cannot say the EquaRack provides better bass and top-end performance than other racks appear to do. I can say however, that across the entire musical spectrum, everything got better, quieter, more relaxed, and more musical.

The Sistrum Isolation rack was my reference before the Acoustic Dreams arrived. And to be honest, the only reason I switched was due to the absolute drop-dead gorgeous look of the Acoustic Dreams rack compared to the industrial looking Sistrum. I'll be the first to admit that beauty won out over performance. But where the Acoustic Dreams is a beautiful piece of furniture to look at, the EquaRack's performance is what gives it its beauty.

Ultimately, I needed an EquaRack DW system. It's quite durable, can support literally any component's weight, and provides excellent sonic improvement. Lets not forget, it too is upgradeable. It may not be the most attractive rack in the world but thus far it has outperformed all that have come before it. So much in fact I've purchased the review sample.
The EquaRack is a serious contender for anyone seeking to take their system to the next level. It has upped the ante on what to expect from an isolation rack. A Publisher's Choice! Most Wanted Component indeed!
Clement Perry
Manufacturer's Reply:

Dear Clement Perry:

I am quite delighted with your evaluation and enthusiastic endorsement of my Model-DW rack. You have paid me the very highest compliment by buying the review sample for use in your formidable reference system.

Your most notable comments validate my design goal of providing an
"open window" facilitated by vibration control, through which the music is delivered without coloration or exaggeration.

With Warmest Regards,
Joe Ciulla
EquaRack
________________

EquaRack Model-DW Component Rack

Current Prices:
2-Level (base model) supports 4-components: $2,200.00
Clement Perry's rack (review sample) 4-levels + Options: $5,360.00

Equa Corporation
109 East 36th. St.
New York, N.Y. 10016 USA
Tel: 212-481-0071
Fax: 212-481-7813
Email: info@equarack.com
Web-Site: http://www.equarack.com