ROCKY MOUNTAIN AUDIO FEST
Part 1

Bill Wells
Hey folks, guess what? I believe the reason they call the Rocky Mountain Audio Fest (RMAF) an "Audio Fest" is because that's exactly what it is. This year's show was truly an audio fest and one that provided a wonderfully warm, friendly environment along with lots of good sounds. Basically a feast for the soul and the ears.

Obviously, these folks know how to plan, design, organize and deliver a really fun high-end audio event and one that meets the needs of most everyone who attends – including exhibitors, audiophiles, general public, curiosity-seekers and other. For me, having the opportunity to reconnect with long-term friends, audiophile colleagues/acquaintances, manufacturers as well as being introduced to new friends is always a treat. Additionally, and most importantly, getting to see/hear all the new products is always a big part of the fun of this type of show.

My departure from Minneapolis was on a gray, overcast morning but only after a couple of hours in the air and then landing in Denver – I was greeted by a bright, sunny day with blue skies overhead. From there, a bit of a ride to the Denver Tech Center/Marriott Hotel and adjacent Convention Center, located in south Denver, and I was ready to start my day. As has been in the past, arriving at the show and getting registered was again basically straightforward. No long lines, warm smiles and greetings from everyone – including the hotel doorman helped the day get started. Perhaps my good editor Clement Perry is right and could be that the high altitude of the Mile-High City affects folks in a most positive way. Whatever the reason, it works.

Unable to check into the hotel at that time, basically I dropped my bags off with the front-desk, grabbed a quick bite to eat with several good friends and then I was off to start checking out the many exhibits. Armed with the show directory and a batch of my favorite CDs, I developed my plan of attack. As such, my first stop was at the Wilson Audio suite where they had on display both the Watt Puppy 8s and their flagship MAXX 2s.

Whereas I've had numerous opportunities to hear the bigger speakers, my high real interest was in finally getting to hear the company's much talked about Watt Puppy 8 speaker system. Mated with Boulder electronics (i.e., Series 1000 – 1012 DAC/Preamp at $18,000 and model 1060 stereo amp at $21,000), Accuphase digital playback and Tara Labs cables throughout (speaker cables were run in shotgun configuration), the sound was very good. Listening to a selection from Clark Terry's CD titled Trash Talking, my notes read like this: great midrange, strong, powerful bass with deep extension. Additionally, the vibes from this recording were clear and clean, the trumpet was crisp with a strong blat quality, no smearing and the overall snap and attack was on point.

Although the room wasn't helping and seemed to cause a slight warmth in the bass region – it was fairly easy to tell that both the placement of the speakers and room was causing this effect. Moving on to a Joey Defrancesco CD, the overall resolution and detail retrieval was excellent. For example, it was very easy to hear Joey D's footwork on the pedals of his Hammond B-3 organ along with subtle shuffling. Added to this – the vibes were totally solid, organic and clear as was the drum work, percussion and especial the brushwork. All were outstanding. All in all, the Watt Puppy 8 speakers made a very good account for themselves. I was impressed.
Usher Audio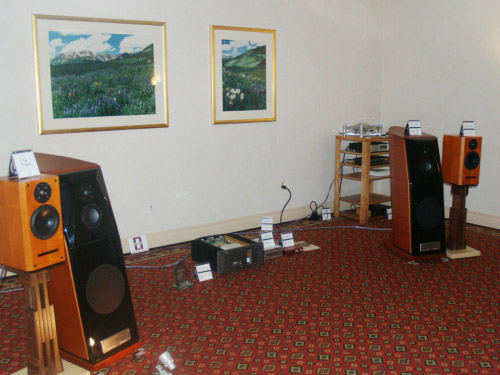 Next I checked out the Usher suite where I was able to catch their new, 3-way model BE-10 loudspeaker. Finish was very nice and similarly so was the sound which is not a surprise for speakers coming from the Usher folks. Selling for $14,000 – this speaker was actually shown for the first time earlier this year at CES 2006. Somehow I missed them at that show. Anyway – what I heard caught my ear. Their sound was very open, clear and overall highly musical. Interestingly, the system was powered by relatively low-cost Usher electronics including their CD player at $800, mini monitor ($800), preamp (P307A, new this year) for $2280 and the R1.5 amplifier for $2520. Everything was connected with Analysis Plus cables.
Audio Limits, Colorado Springs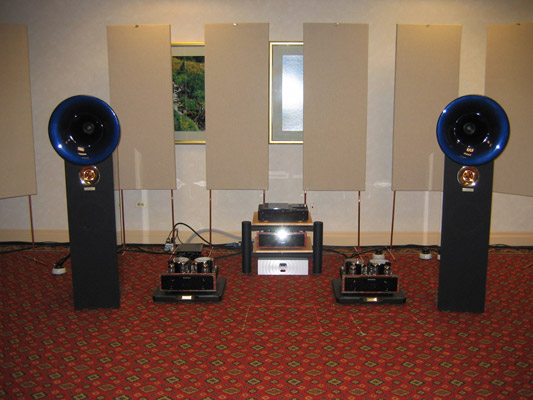 Getting a tip from several other show goers, I then moved on to hear what had to be one of the highlights for me at this year's show. What I heard next was the absolutely sensational sounding and handmade Acapella Violon MK III loudspeaker from Acapella Audio Arts, in Germany. At $48,000 this is a serious speaker and being powered by Einstein tube electronics (i.e., The Final Cut MK60 mono block OTLs - $25,250 pair, The Tube Preamplifier - $14,5000), Lector CDP-7T MKII tube CD player - $4,490, Purist Audio Cables (Musaeus and Aqueous 20th Anniversary Line) and Adept Response power line conditioning.

The fit and finish on this speaker was something to behold (no pun intended) and the dark, rich metallic blue was quite striking. This is not your conventional 3-way speaker system and instead employs a large spherical horn and special ion plasma tweeter. What I heard playing Mary Stallings CD - Manhattan Moods (You Go To My Head), wow – big, big sound however not over blown and the image placement and size were totally realistic. Tonally, the sound was warm, rich, detailed, open, clear, clear, clear with a solid, tactile feel and great depth. Piano was stunning with power and tons of delicacy, seamless integration and totally coherent across the audio frequency. Overall the sound had a very lifelike quality and the music seemed to be right in the room. Cymbals and other percussion were naturally bright, shiny and metallic with a wonderful shimmer and floating quality. I was stunned and returned to this room numerous times.
Blue Circle/Selah Audio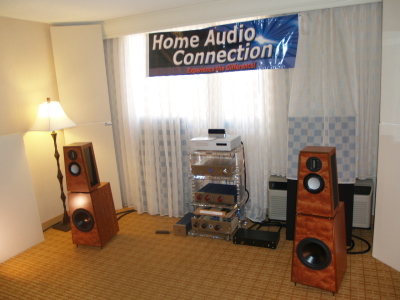 Needing to catch my breath after this experience, I headed off to where I thought I could hear something more down to earth and accessible to the average audiophile, music-lover. This is where I caught up with my esteemed Stereo Times editor, CP for short, and proceeded into a room full of surprises. This is where I met Rick Craig of Selah Audio and was treated to a very good sounding system. What I heard was the Selah Audio Model Three DiPole speaker selling for $5,000. See Clement's Show Report for technical specs and details for this speaker. Essentially it is a three-way design featuring a ribbon tweeter. The sound was excellent and quite engaging. I know 'cause they tolerated me listening through much of my Mary Stallings and Keith Jarrett CDs. Basically, I had a hard time tearing myself away from this room but finally moved on at the urging of my editor who encouraged me to visit as many other rooms as possible so I could also do a show report. Hmmmm – almost thought for a moment that I was there just to have fun, check out the exhibits and enjoy listening to the music. Anyway, thanks Rick – I'll catch up with you at the next show!!


Another room that I visited and was very pleasantly surprised was the Verity Audio suite. Here they were featuring their new Verity Audio Rienzi speakers at $7,995 retail powered by Nagra electronics and digital playback gear (i.e., PL-L line stage - $8,495, PSA amplifier - $6,595 and totally brand new CDC CD Player - $14,995). Everything was connected with the wonderful Silversmith Palladium interconnects and Silver speaker cables. These relatively small speakers were set up in a fairly large room and what I heard was shockingly good. The overall sound was solid, balanced, smooth, open, dynamic, full and with decent bass and good punch.

Not only did these speakers fill the room, the bass had excellent extension, power and impact. Along with this the imaging was typical Verity style being precise and spot on with good lateral spread, depth and focus. This was a speaker that I, and others in the room, all felt could provide hours of endless listening enjoyment. Beyond that – they were essentially a no-brainer and I would purchase a pair of these in a heart beat.

Moving on to the Escalante suite and greeted by the distributor, Frank Kraus of FLK Audio – there I found a very cozy room setup with the sound being excellent. Featuring their flagship 3-way speaker (i.e., The Fremont at $18,990 retail with stands) they had all Pass solid-state electronics, Esoteric X-01 Limited CD/SACD player all hooked together with Shunyata cables. Listening to one of my favorite jazz performers, Milt Jackson, his vibes came through with a wonderfully rich and textured sound along with sparkling, solid piano presentation from Monty Alexander and nicely articulated acoustic bass from Ray Brown. While this recording was playing – I noticed others in the room were having a similar reaction to the music with their toes tapping, heads bobbing and shoulders swaying back and forth. The Escalante Fremonts are a favorite of our own Dave Thomas, and based on what I heard each time I visit their exhibit(s) - it's quite easy to understand why. These are really good speaker and are definitely worth checking out. Highly musical and highly recommended.

My next serious visit was to the Sonicweld suite. Truly, with a name like that – I had to go check it out. Right? What I found was a total speaker system that was both stunning visually but also very, very, excellent sounding as well. Here I found myself intrigued with the overall design and where I spent quite a bit of time. Not only did I play a variety of music, I also had an opportunity to chat at length with the designer, Josh Heiner. Josh is a very engaging person and quite willing to converse about his very special product.

Essentially what Josh has designed is a total system where he completely does his own design work, performs his own machining, develops his own circuits (w/ICE power modules), etc. The total system costs a cool $64k and features a unique machined aluminum. According to Josh, his design is geared for not only high sonics but also high domestic compatibility – also known as Wife Acceptance Factor (WAF).

The system consists of 2 separate speaker towers, speaker construction is relatively compact (i.e., not requiring a large amount of space), beautiful and with precision machining. Each tower consisting of: 13 drivers each – six four inch mid bass drivers configured with 3 firing to the front and 3 firing to the rear). In turn, these drivers are powered by their own dedicated, internal 200-watt amplifier. Along with this, there are six other drivers covering the midrange and high frequencies. These include two-inch titanium dome midrange drivers and one-inch tweeters. Again, they have their own dedicated internal amplifier. The grill for each speaker is made of photo-etched stainless steel.

The two subwoofers each sport 15" drivers and its own internal 1100-watt amplifier. Another unique feature of the system is the Preamp/DAC unit that includes DSP processing for EQ and listening room calibration. Basically this is a complete system package and all the user has to do is provide their preferred digital source. The sound of the system is excellent and engaging. Very open, dynamic, solid deep bass, clear mids, open extended highs, transient attack and impact were superb, and overall sound was very detailed and pleasingly smooth. Imaging was outstanding. Josh and I listened to many tunes with the Gonzalo Rubacalba CD, The Blessing, capturing the heart (and ears) of everyone who visited this room. No doubt, the Sonicweld system is likewise something special and for whoever goes this route – they too will have a blessing in their home. Hmmmm - is that a review coming that I feel Josh?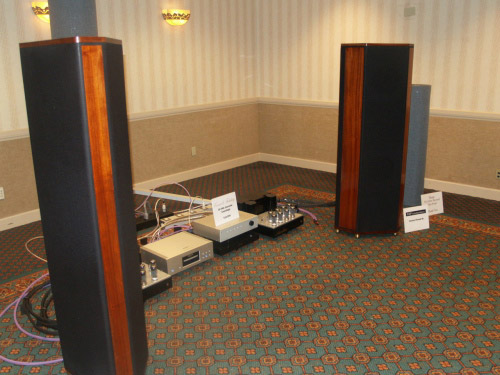 This next report has more to do with what actually happened on the final day of the show since the ESP suite finally managed to pull it all together and produce one of the finest sounding rooms at the show. Featuring their flagship Concert Grand Si speakers ($40,000), powered by the incredibly musical hand built Shoreline 300 watt tube mono block amplifiers ($42,000 pair), Concert Fidelity line stage ($14,995), APL modified Esoteric X-01 ($21,000) and Concert Fidelity cables. Throughout the first two days at the show, this room had various problems and seemed to be particularly plagued with some sort of power gremlins. Unfortunately, the sound varied and had everyone scratching their heads. Fortunately, with lots of effort - it all came together and on Day Three the sound was essentially transformed. Much credit goes to the revised cabling that was used on the final day.

In particular, installing the Nordost power cords and Thor power conditioner very effectively addressed the power situation and helped to stabilize things considerably. However, things really got interesting when Jeff Smith provided some of his highly regarded cables. In doing so, the Silversmith Palladium interconnects and Silver speaker cables were installed and the level of improvement was nothing short of startling. The sound was now totally cohesive, powerful, absolutely effortless, fully dynamic, detailed, transparent, open, wonderfully rich, textured and with tremendous layering. There was also a wonderfully organic feel to the music and basically the system rocked. Also, it didn't matter what type of music was played. Whatever went into the CD drawer – came out was authentic and musically compelling. To my ears (and many others) – the sound was now outrageously good and close to what I've come to expect from these speakers. Also much credit goes to the wonderful electronics feeding the speakers. All I can say is – I'd sure love to have a pair of those Shoreline amps (i.e., either mono blocks or stereo version) in my reference system. Hey John (McCormack) are you listening and can we talk? Needless to say, as a result of the final outcome, speaker designer Sean McCaughn, distributor Mike Verretto and all the members of the supporting cast were finally pleased. Wow – what a treat coming from the ESP suite.