2006 Rocky Mountain Audio Fest
Denver, Colorado. The 2006 Rocky Mountain Audio Fest put on one dandy of a show this, its third consecutive year. As a matter of fact, it turned out to be one of the best shows I've attended EVER! Consider my reasons too numerous to enumerate. Attendance seemed better than last year but I wouldn't consider this an event packed with visitors. Nor would I prefer it.
This show was, in my opinion, perfectly balanced. Especially if you're a music lover. Exhibitors may not agree with me. I certainly am understand why.
There was plenty of sweet-spot availability the very moment you walked into a room with none of those CES tire-kickers that normally walk into a room while you're listening, interrupt your session with loud talk about everything in the room except the music playing.
Sigh.
I was in what can only be described as a perfect situation with which to judge the music via all these good sounding systems...that is, until my beloved pack of CD samplers were stolen. Oh well, thank god they were only samplers or I would have thrown a S...fit. Those new Andy Bey discs I had just purchased only days ago would have definitely been the death of me.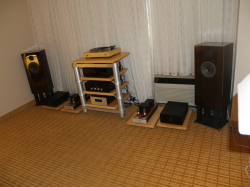 Ad designer Carlos Sanchez accompanied me on this, his first audiophile show road trip, and may I say for a first, he was quite lucky because this was one of those events I doubt anyone in attendance could easily forget. The show's overall atmosphere appeared infused with a positive energy that went from room to room, person to person. Everyone looked in a festive mood for some reason. Was it me? Was I (and everyone else I ran into) adversely affected by Denver's high altitude? Nah, don't think so. This was simply a very good show that turned out better than anyone expected. So much in fact, Audio Note (photo above right), who earned my "worst setup" at CES a few years back, and who's infamous at demonstrating their super expensive gear under hotel tables, made a statement by employing one of my favorite iso-racks in Acoustic Dreams' 4-tier rack and amp stands.
First things first, I must take my hat off to all those well setup rigs that seemed to call out to me at every stop and every turn. The price of the setups seemed only secondary or merely incidental to their performance. In fact, most of the rooms that sounded extremely good were real-world oriented and thus affordable.
Speaking of real world....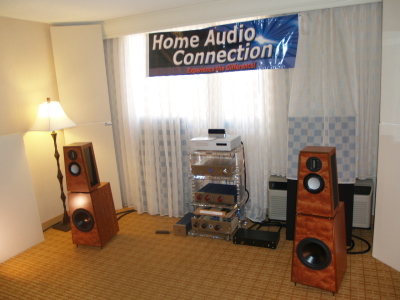 The Blue Circle/Selah Audio Room put Bill Wells (photo right) and I in a virtual sonic spin-cycle. Here was a full blown Blue Circle setup composed of a (soon to be announced) Blue Circle BmPH integrated and BC501 D to A converter strapped to a Stello transport. Blue Circle BC92 (shotgun, bi-wire configuration) speaker cabling, BC95 interconnects, BC62 AC Cords and AC conditioning (BC602 and BC606). Loudspeakers were the surprisingly involving, open and musical sounding Selah Audio 3D loudspeakers($5k) employing an open rear baffle design reminiscent of my old Von Schweikert VR4.5s. Supported by a 10" woofer housed in its own separate enclosure, this ceramic mid-driver and ribbon tweeter had me revisiting this room again and again. It was this room in particular that threw me for a sonic loop. Considering the cost of this entire setup, the sound was absolutely stellar regardless of price. The Stello transport, very affordable at $995, performed quite impressively with Blue Circle's new prototype BC501 dac. I considered this room as my reference in affordability/performance.
A Scandinavian feast on the mezzanine...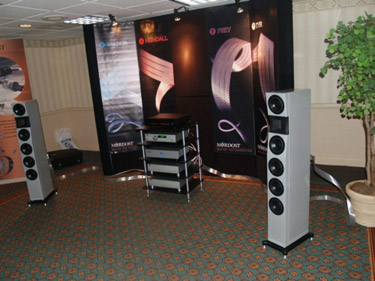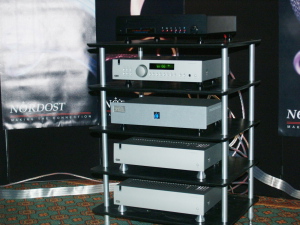 The dCs P8i one box Player ($14k), along with the Raidho Eben X3 loudspeaker ($17k) driven by an Arcam pre and mono amps ($3,600) via Nordost cabling through and through put on another great demo in the same room as last year. The sound was cool, clear and concise with oodles of harmonic bloom. Nordost cable has always been a curiosity of mine. The overall neutrality of this system was another good reason why. The one thing you've got to give those folks on the mezzanine is their very nice sized rooms. Among the best at the show.
Boulder in Denver?....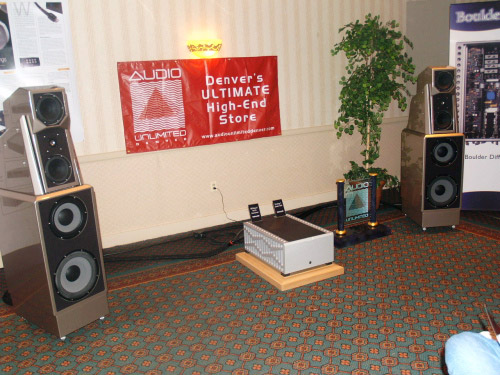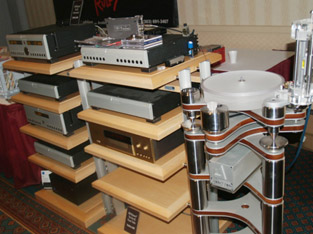 Audio Unlimited of Denver put on demo that featured all top tier products such as Wilson Audio's Maxx 2 driven with Boulder's 2060 stereo amplifier, 2010 pre, 2020 dac, and 2008 phono stage. The Accuphase DP78 SACD/CD player was steadied in case the need for hi-rez was called on. Depressed yet? To further humble Us With Little Paper, they employed the Clear Audio Master Solution turntable fit with that amazingly musical Graham Phantom tonearm while the cartridge was the Koestu Onyx. Running Springs handled all the AC pollutants while Tara Labs 0.5 cables were used throughout. I'm not going to even try explaining the sonics of this room. You can think what you want about Boulder electronics but I've heard them both under ideal and not so ideal conditions and they're world class no bout adout it (sic). Consider using this big rig 'table from Clear Audio and again you push the envy-lope still further. Tell you what, I've always been impressed by Boulder no matter what it was driving (appears to be Wilson at present) and you know, there's plenty to like in those Maxx 2s as well. 'Least from my vantage point here in the sweetspot!