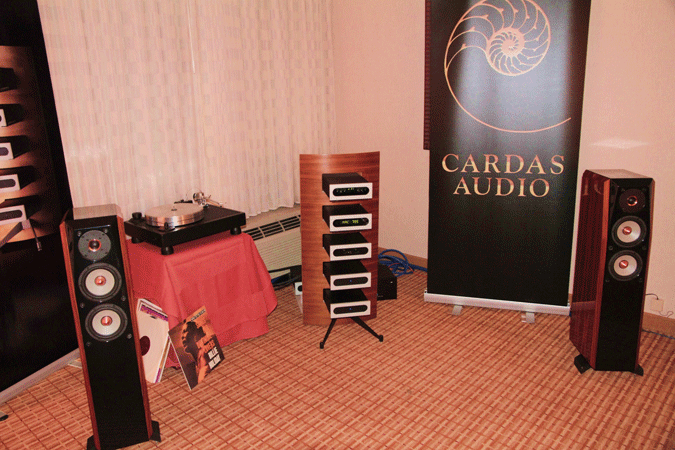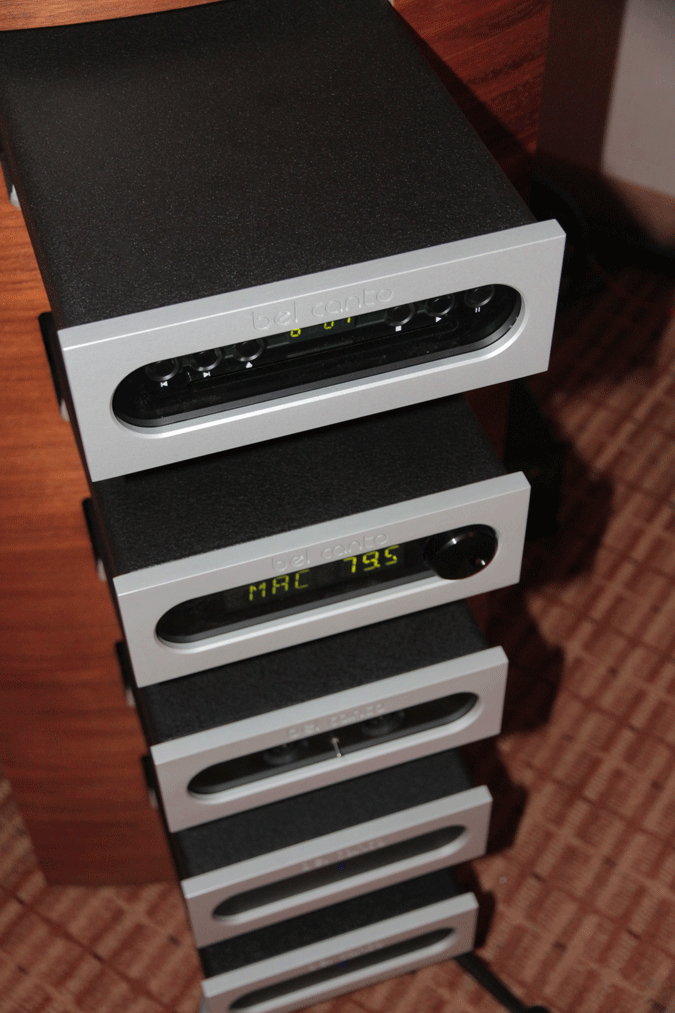 One of my more enjoyable listening sessions at last year's RMAF was in the Joseph Audio room, and this year was no exception. Instead of the diminutive stand mounted Pulsars, Jeff Joseph debut the much larger Perspective loudspeakers ($11,800 pair). Driven by a bevy of Bel Canto electronics, plus a WideaLab Aurender S10 music server and everything wired by Cardas Clear cables, the music produced by the system was very, well musical. This is the type of sound which appeals to my heart.

This is the year of the beautiful speaker! Denver dealer, Hear No Evil, debut the KEF Blade ($30,000 pair) with electronics by Parasound. According to KEF, the Blade is the world's first single point source loudspeaker, resulting in very precise imaging. Unfortunately, when I was in the room another pair of KEF speakers was playing, so I will have to hear the Blade another time.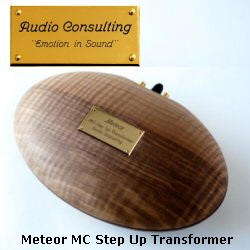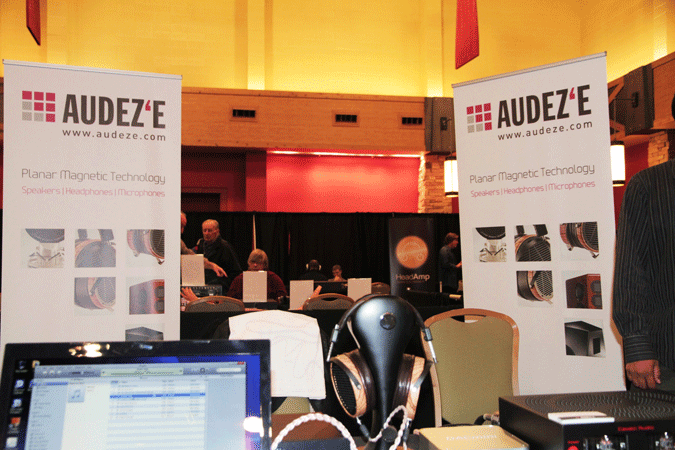 With restrained enthusiasm, I entered the Audez'e room. I have heard very favorable impressions of their planar magnetic headphones and read that Audez'e has expanded to manufacturing loudspeakers, of which two models debut at this show. The Reality-1 ($6,000 pair), a smallish monitor, is designed for near field listening and aimed for studio use. They can be use at home as well. For the well-heeled listener, the Ether-1 is a large floor standing speaker, employing some 30 planar magnetic and cone drivers. Each pair of Ether-1 will be custom made for $100,000.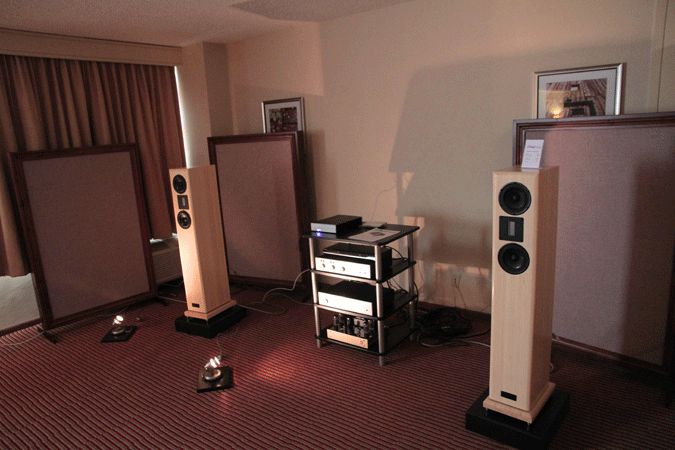 One of the venerable giants of audio is Frank Van Alstine. Mr. Van Alstine introduced a complete new line-up at RMAF. Frank has finally stepped into the 21st century with wrapping his electronic components with modern enclosures and controls, instead of sheet metal that scream "vintage." The new components look elegant in an understated manner. Making its debut were matching hybrid (mosfet/tube) preamplifier and DAC components at $2,500 each. The preamp employs no global feedback, with six line level inputs and many other features and functions, while the DAC upsamples to 24 bit/192 kHz (24/96 for USB). Both units have two 6CG7 tubes in the circuit. Two hybrid amplifiers were also introduced, the 400R (200 wpc, $3,000) and 600R (300 wpc, $3,500), using the same mosfet and tube technology. Salk SongTower speakers were being used with the Van Alstine gear when I was in the room. At past RMAF shows, Van Alstine electronics have always partnered with Salk speakers, and the sound range from okay to pretty good. But this year, I thought his new electronics really elevated the sound quality to a higher level.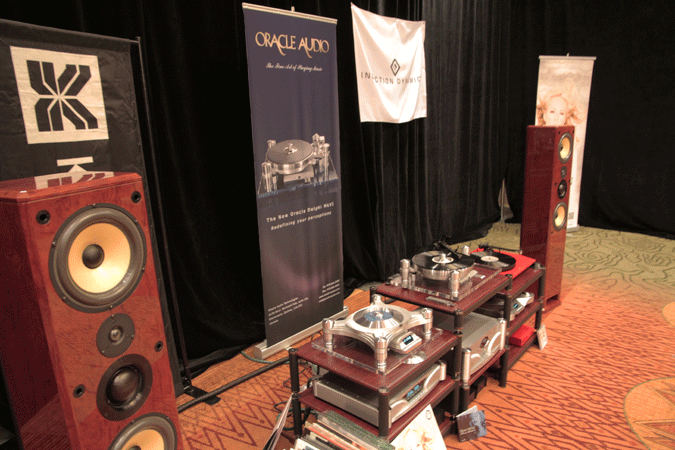 Another company that I hadn't known until this show is Induction Dynamics. The company debut their S1.8T tower speaker ($13,029 pair - $11,040 pair in Black Satin), in one of the large rooms (Evergreen D) on the ground floor, and partnered with Oracle Audio components including one of their beautiful turntables. The S1.8T employs one 1.125 inch soft dome tweeter, one soft dome mid-driver and two 8 inch Kevlar woofers in a tall ported cabinet. Playing a couple of records on the Oracle turntable, it was easy to become enchanted by the music.

Before I wrap up this show report, I would like to nominate my candidate for best sound at RMAF. In my opinion, there were a greater number of top sounding rooms this year than in each of the three previous RMAF shows I've attended, though there were fewer good sounding rooms. Whoa, isn't that a contradiction? No, because there were also a greater number of mediocre sounding rooms this year as well. In past RMAFs, the number of decent/good sounding rooms was certainly greater and conversely fewer mediocre rooms, but there were also fewer top sounding rooms that I would pick for inclusion as candidates for top dog. It is always difficult for exhibitors to make a hotel room sound excellent given the little lead time for setup before the show opens. I applaud all exhibitors for even trying. And I give extra applause for all those who succeed.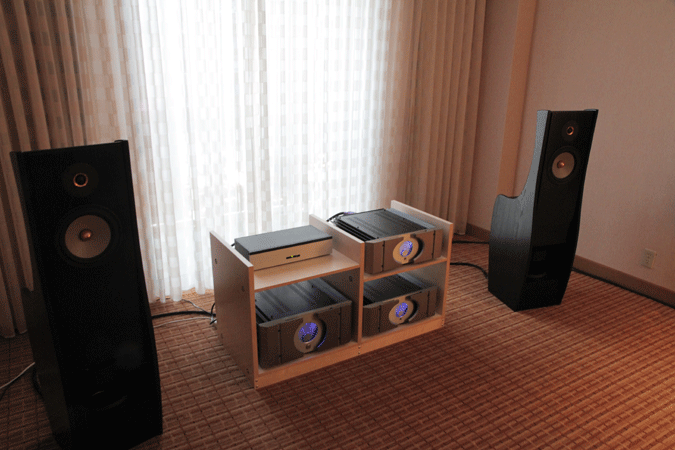 For this year, some usual suspects made my list of top rooms again, Linkwitz Lab/Orion/Pass Labs,...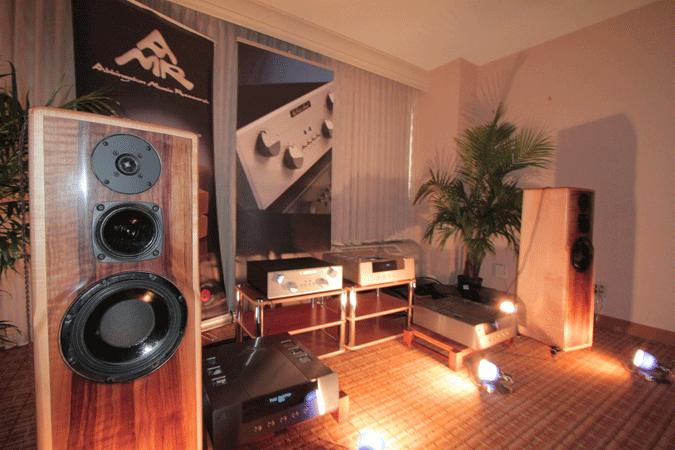 Deadalus/AMR/First Sound,
TAD, and Joseph Audio/Bel Canto/WideaLab. A few other rooms like Venture loudspeaker/B.M.C. electronics/Silversmith cables, Lakeview Audio/Artisan Fidelity, and High Water Sound made the list for the first time. What all my favorite rooms have in common is not the best transparency or resolution, or the most extended frequency range, or even the most exacting detail. What these rooms have in common is the ability to make me forget about the equipment and allow me to only hear the musical message. And what separates the top dog from the other candidates? It is the ability of the system to bring me to a greater emotional involvement level than any other system. After all, I'm a music lover and not a recording engineer.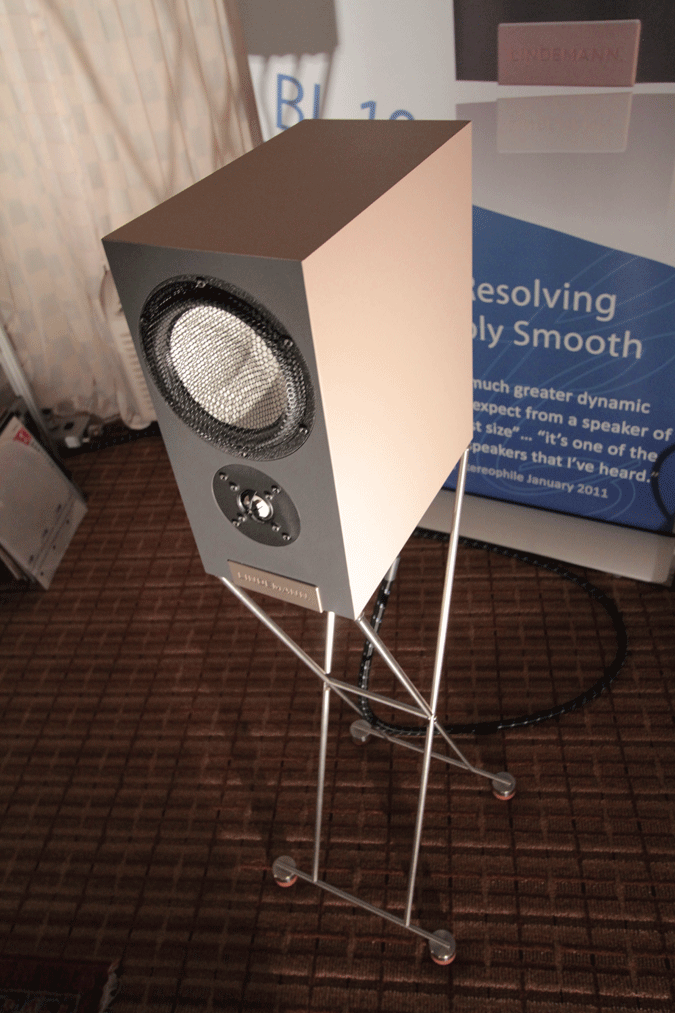 My choice for Best Sound at this year's RMAF 2011 goes to Lindemann audiotechnik/One World Audio/Zesto Audio room (Video). The music produced by this system was closer to the emotional impact of live music (I attend between 30-40 concerts each year), than any other system I heard at RMAF.
Happy listening.