The Good, The Bad and The Ugly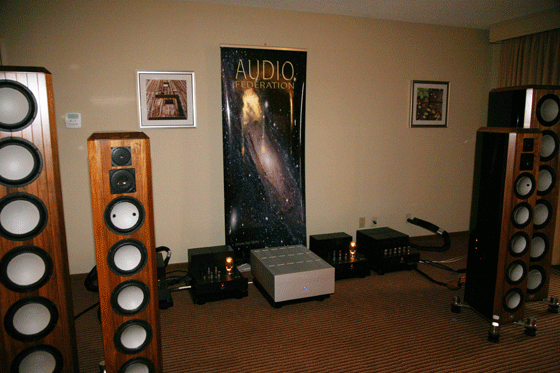 The Bad. Don't know why this super expensive setup always sounds so drab and disappointing to these ears each of the four years I've sat and listened to this demo. I blame the room and rather cavalier moods of the Audio Federation exhibitors more than the electronics. The $295k Marten Design Coltrane Supreme loudspeakers might be considered sacrilege as they've never came close to sounding anything remotely close to what Coltrane, the MAN sounds like. The gorgeous sounding but ultra expensive $135k Lamm ML3 Signature amplifiers didn't come nearly as alive as I've heard in previous iterations.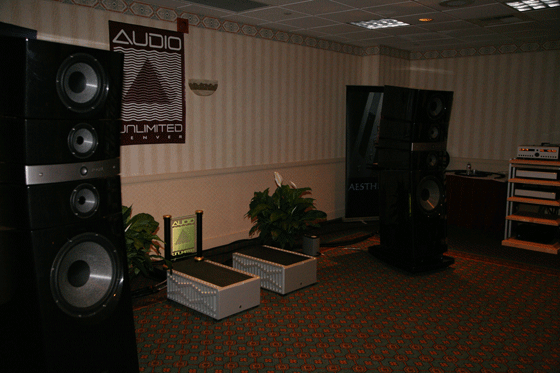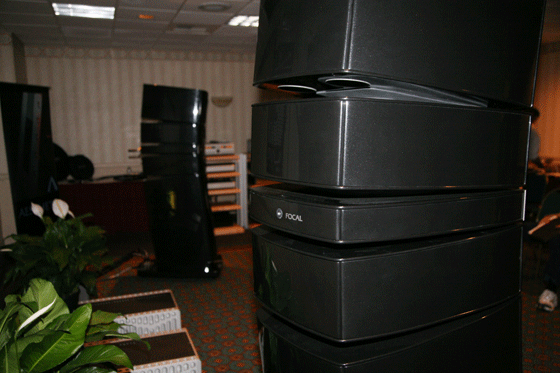 The Ugly. What I heard coming from the new JM Lab Utopias and Boulder electronics made me scurry for the exists as fast as I could after taking these photos. Personally, I would never blame the products as I've heard them in too many instances sound utterly delightful. My guess is you just never know what you're going to get when putting together an assortment of gear under worst-case-scenarios such as hotel suites. Also, at the time of my visit I had to endure tons of what sounded like Grunge music. On vinyl no less!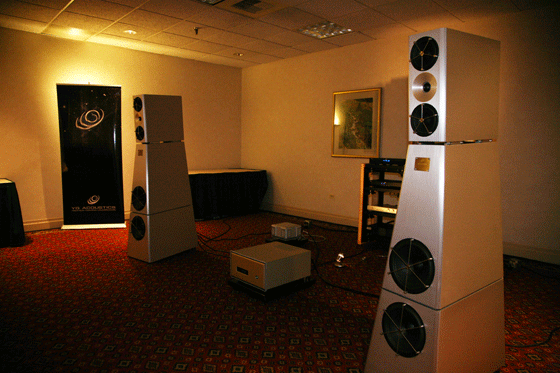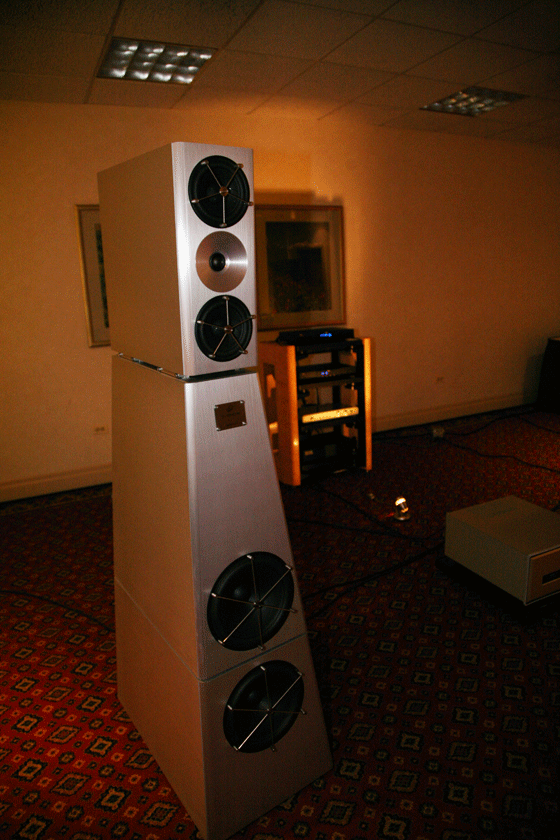 The Good. Go figure! In literally every instance I've heard the YG Acoustics loudspeaker, I felt them to be cold and analytical. I've never had the luxury of hearing them with my own music until now thanks to the keen ear of Darrin O'Neill, owner of Audio Limits. The Anat Reference II ($106k) serve as the company's reference and let me say here for the record, using the Weiss Medea digital electronics along with FM Acoustics model 811 amplifier ($125k) and model 255 preamp, I heard arguably the best sound at this year's RMAF show! You know this must have come as a surprise considering how unimpressive they performed in the past - not to mention all the other great sounding setups heard at this RMAF. This time the YG Acoustics Anat Signature IIs vindicated themselves handily. With my very own compilation sampler CD in one hand and the Weiss Jason CD player's remote in the other, and through dozens of my favorite tracks, contributor Moreno Mitchell and I walked out convinced the Anat Signature II loudspeaker may be the "World's Most Accurate" as YG's advertising campaign boldly claims. The Anat Signature II is one of the fastest, cleanest and most accurate sounding loudspeaker I've heard whether in a show or home. Outstanding performance! In essence, this is a system that will appeal to the accuracy nut.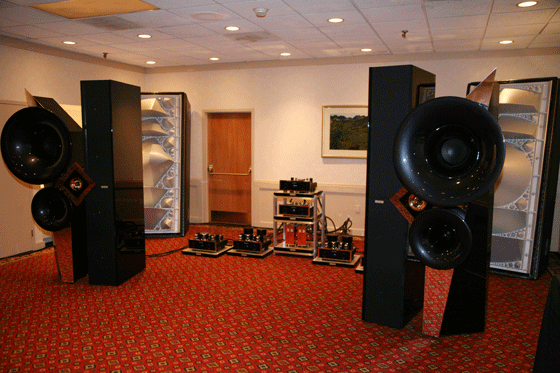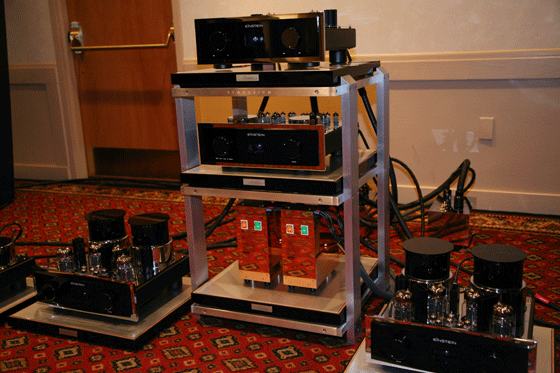 "Artistic Audio Imports garnered perhaps one of the best sounding rooms at the show that featured the outrageously huge and expensive Acapella Triolon Excalibur loudspeakers ($170,500.00). Einstein electronics provided the source as well as amplification and I have to admit as cost prohibitive and vainglorious as this system certainly looked, it nevertheless produced a sound that was utterly magnificent. This was the second time I've had the opportunity to hear that ion-plasma (ozone free) tweeter and I've got to admit it is perhaps one of the purist sounding top-ends I've ever heard."
The Good Continued. I wrote that about the Acapella/Einstein room last year! Apply the exact same accolades only this year without question proved to be BEST SOUND AT SHOW! This room was directly next door to the YG Acoustics/FM Acoustics setup so doing a quick A/B was a cinch. The one advantage the Acapella/Einstein system had was with regard to all the room acoustics that were used again this year. This is a system that plays with your heart rather than your head and never makes apologies for its sweet, luxurious and tubey sound. If forced to live on a deserted island...I'm taking horns. For all their misgivings and colorations they still know how to pluck at my heart strings like nothing else.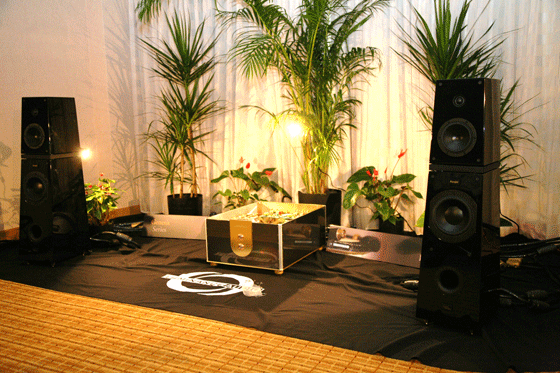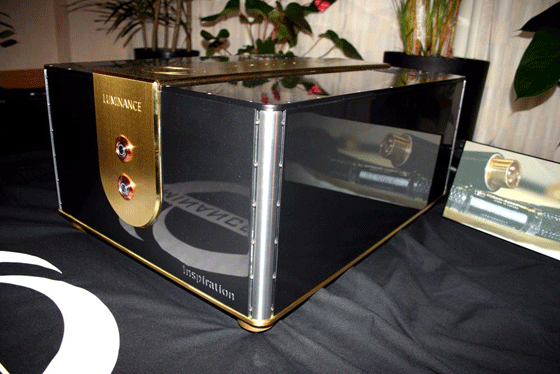 The Good Continued. Rick Schultz of Virtual Dynamics had me shaking my head and scratching my wig at the same time. Having owned, reviewed and referenced Schultz's Virtual Dynamic cabling over the years, I've come to know him and his designs quite intimately...or so I thought.
What I heard coming out of this room that featured the Audio Parsifal loudspeaker and Schultz's latest $100k Luminance Audio Reference amplifier was nothing short of astonishing. How Schultz plans to justify making a conventional designed solid-state stereo amplifier, rated at only 165 watts per side, at that price and expect any sales is beyond me. But then again, this room sounded much better than the other far more expensive aforementioned setups in the same less-than-ideal hotel room. Maybe we've gone a little whacky chasing behind all the big and powerful gold-plated badges while the real winners continue to remain undesirable and anonymous but to their credit - and most importantly - unrepentant.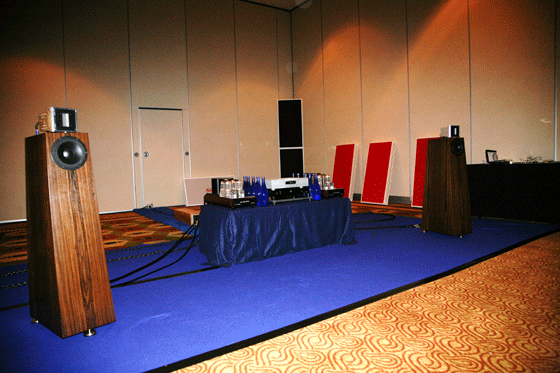 The Good Continued. Speaking of anonymity, it's going to be very hard for German loudspeaker Kaiser Kawero to keep a low profile, along with LessLoss cables and electronics. Together, they put on a performance that easily won me over as among the Best & Affordable setup!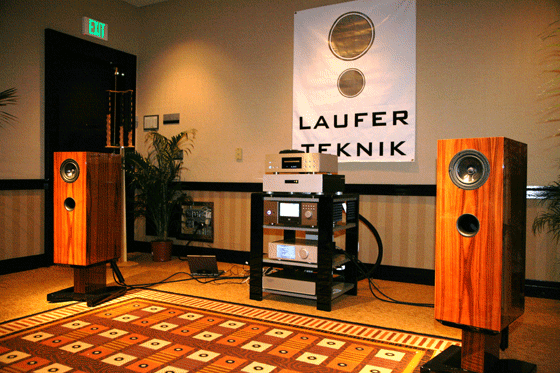 The Good Continued. The Ascendo System C8 ($10k) driven by the behold Gentile Integrated (prices start at $18k) along with the Nova Physics Memory Player showed what is possible in a more modest and simple system. This system sounded far more sophisticated and expensive than its sticker price would have otherwise indicated. Another Best & Affordable winning setup!