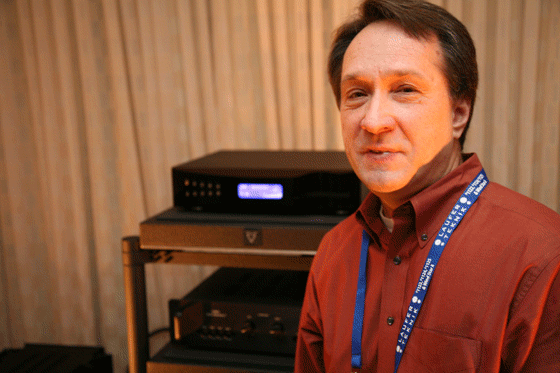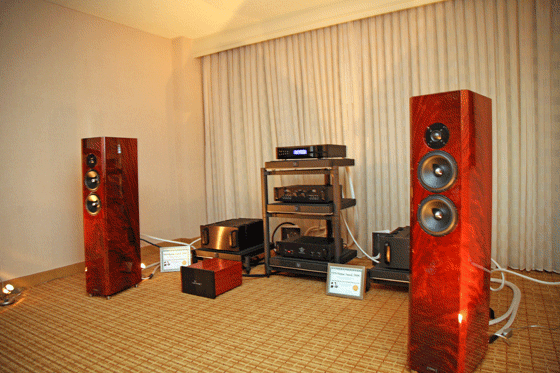 Critical Mass Systems' designer Joe Laverncik (above) offers us a self-assured grin standing next to his newest series PXK Isolation rack ($9900) and amp platforms ($3300). Sitting atop this exquisite looking device is the dCS Puccini SACD/CD single-box player ($20k), accompanied by the mighty duo in the Lamm L2 Ref preamp ($15k) and M1.2 mono amplifiers ($22k). Loudspeakers, shown in beautiful African Pyramid Mahogany, are the Tidal Piano of Denmark ($40k). The room was being represented by The Voice that Is proprietor Doug White, east coast distributor extraordinaire and Tidal importer Daniel Barnum of Half Note Audio.
The sound, as to be expected from previous events, was open, detailed and, yet harmoniously rich. Yeah, I thought to myself "I could easily live with this setup." Nicely done.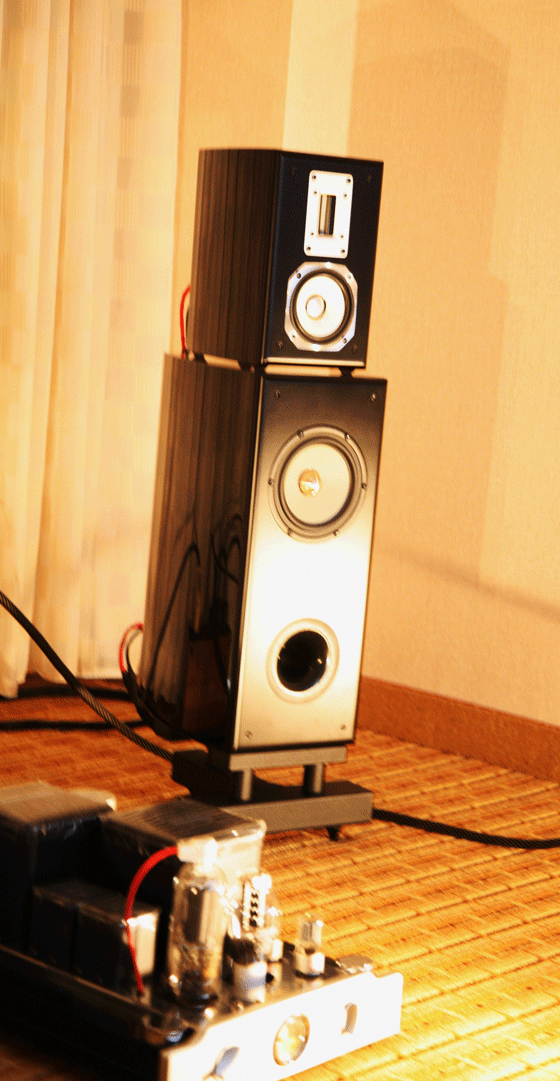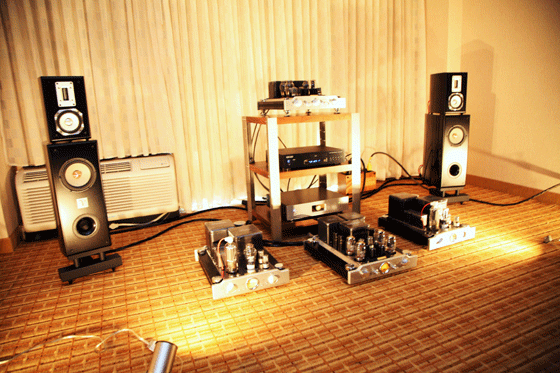 Von Schweikert Audio debuted their new, smaller and handsome (piano gloss) Unifield Model 3 loudspeaker ($15k) here at RMAF. Driven by Audio Space Ref One 50-watt monos, which teams a single 300B (driver) and an 805 (output) on the same chassis, the sound coming out of this room was alive and vibrant. Physically, the Unifield 3s are small and the 7" woofer, on paper, doesn't look like it could keep up with the big boys. Yet, this room sounded remarkably full-bodied and rich while taut and fast at the same time. Von Schweikert has built himself a winner in the VR Unifield 3.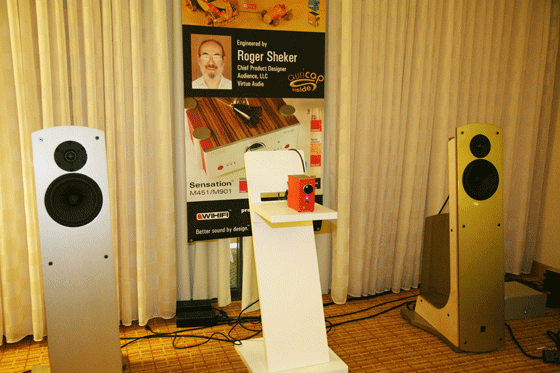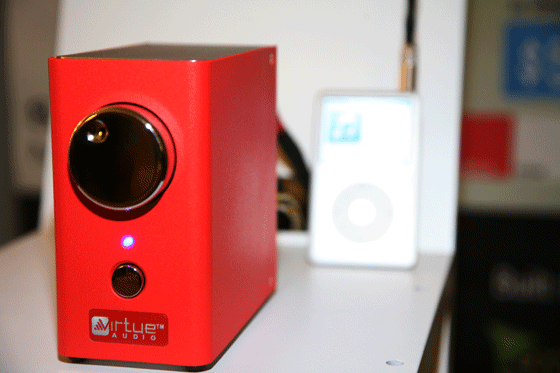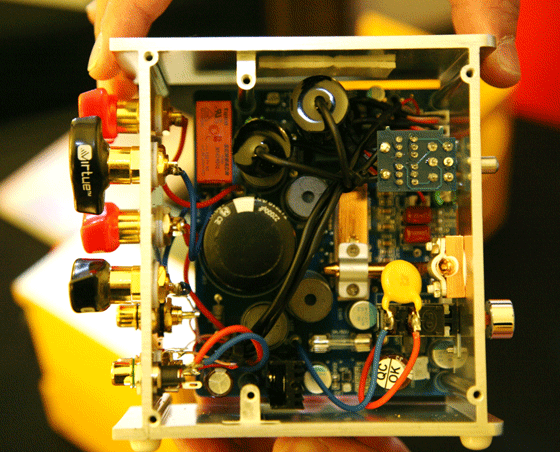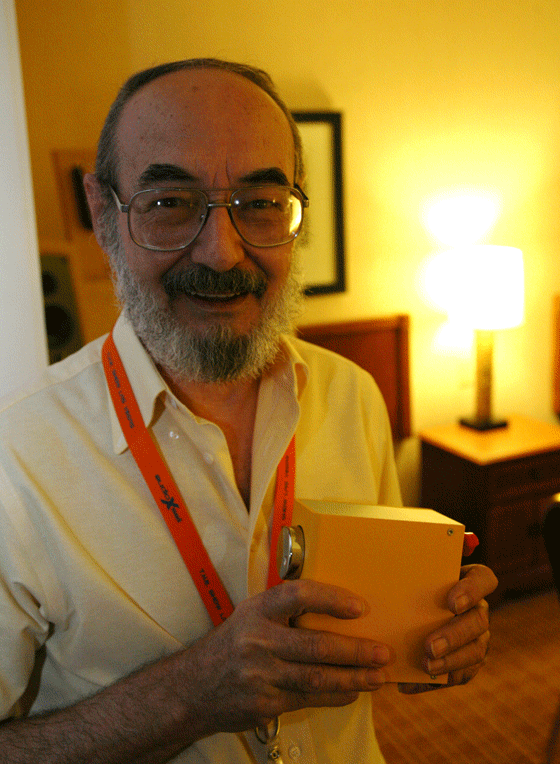 There's plenty to admire when you walk out of a room that boasted audiophile-quality sound using a dreaded IPOD! and a new Tripath-based amplifier that retails for less than $500!
It's true! I not only saw but actually sat, listened and completely forgot what the asking price was or what I was looking at. Just as hard as listening is looking at something so well, little and hold much respect. Yet, the Virtue Two kept my toes tapping for the duration of my stay. Remarkable when you consider the size and cost of the amplifier.
The Lucid Acoustics Custom 7f ($6k photo above) employs a tilted baffle design for correct impulse response and phase. Drivers used are from The 7f come equipped with a 30-watt self-powered side-firing acoustic suspension subwoofer. They also can be purchased in a variety of piano finishes and exotic colors.

"The Virtue Two, says company prez Seth Krinsky, is a Tripath-based amplifier, similar in architecture to the Winsome Mouse and the Red Wine Audio Signature Series. The TWO is a rugged, all aluminum unit with steel/chrome volume know. It comes in sand-blasted and annodized black as well as a texture painted white, red, blue, or yellow. Roger Sheker (photo above), Chief Product Designer from Audience, LLC designed the circuit. The Virtue Two includes dual bridged 200 watt power chips and a heat-pipe so that the enclosure functions as a heat-sink. With the external, switching regulated, power factor corrected, 130w power supply, it delivers more than 60 watts per channel RMS, with under 0.5% THD. Parts selection was crucial in the design and in addition to a huge 22,000 uF power capacitor and high amperage shielded drum-core inductors, it includes AuriCaps and cryo-treated Auric hookup wire, from Audience LLC, throughout. Hardware on the TWO is 99% pure copper. This is a world-class unit which can be bought for just over $500 with every bell and whistle."

Virtue also sells a slightly less decorated ONE model, which has mostly brass hardware, slightly less powerful output chips, and an OEM capacitor from Audience LLC called the VirtuCap (cheaper and nearly as good as the AuriCap). They are selling this unit for $249 with upcharges for the 90w ($29) and 130w ($159) PSUs. The physical and sonic qualities of the unit (and obviously price) are so compelling that Virtue sees it as something of a 'classic' gateway product (like the Dynaco A25) that will 'hook' the next generation of audiophiles."