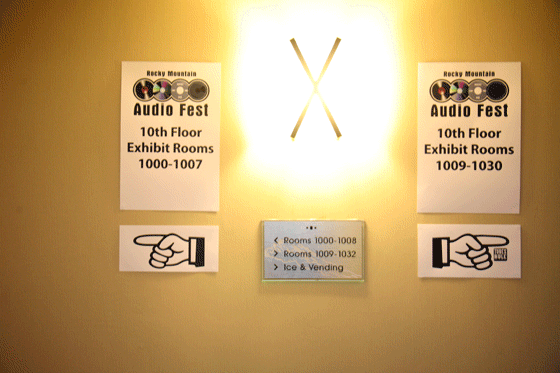 This is what I would call well lit signage!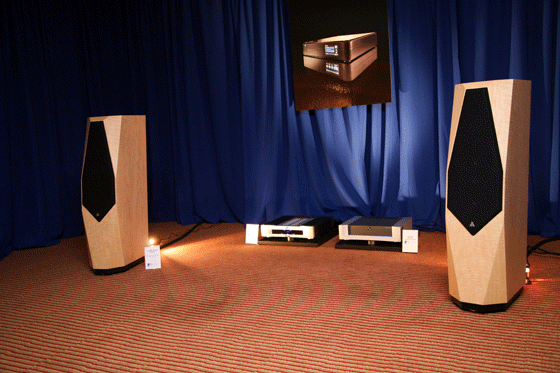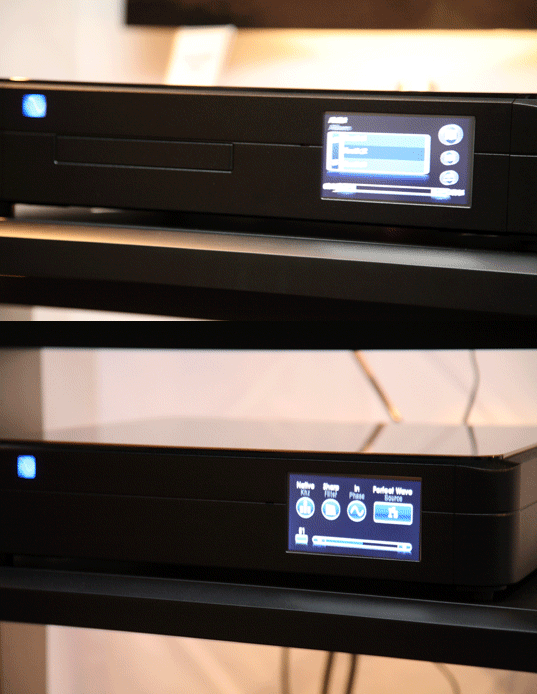 Unfortunately, I didn't get the chance to listen to this setup that featured Avalon's Eidolon loudspeakers and PS Audio electronics. Instead, I spent too much time admiring PS Audio's newest digital prototype transport and D/A converter that looked quite different from the first prototype they showed last year. PS Audio predicts mid-spring of 2009 as release date.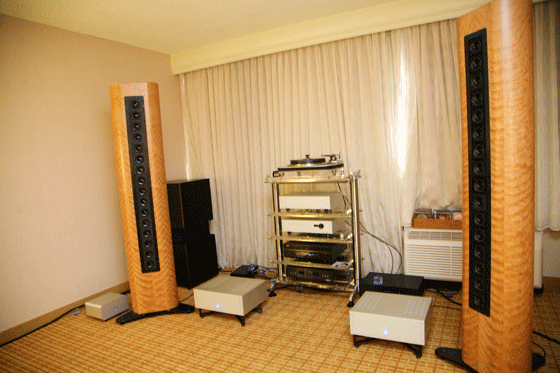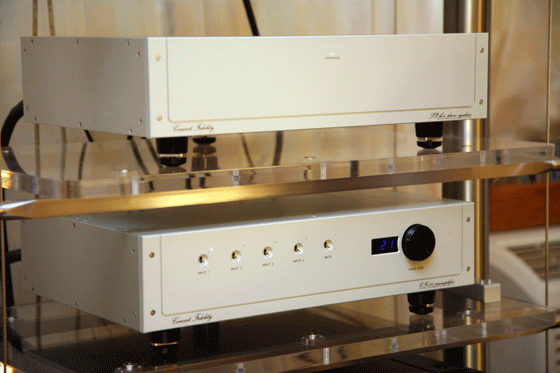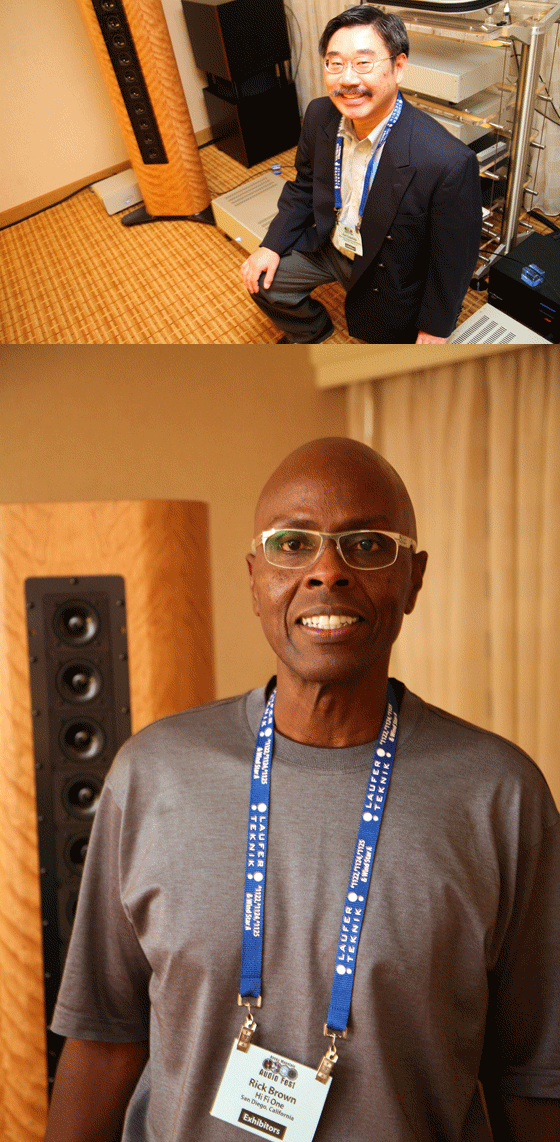 Silicone Arts Design/Concert Fidelity electronics of Japan and the Audience ClairAudient 16 Line Source Array ($33k) demonstrated all the intangibles in what I've come to admire about line arrays. Savvy west coast retailer and distributor Rick Brown of HiFi One, Silicon Arts/Concert Fidelity's Norihisa Sayanagi (photo above left) and John McDonald of Audience were all on hand to gladly show their wares.
Electronics included the Concert Fidelity SPA-4B solid-state phono equalizer ($14k) and CF-080LS hybrid line stage ($18k). The Silicone Arts Design ZL-120 solid-state mono amplifiers ($24k pair), shown atop Stillpoint iso- platforms and iso-rack, needed little muscle to get the 95 dB efficient ClairAudient's to sing.
The self-powered ClairAudient dual 12 subwoofer ($9k) looked as impressive as its performance. Attempting to get any corner-loaded subwoofer to blend seamlessly with whatever's in front of it is a trick rarely executed correctly. But listening to Renee Marie's exhilarating Dixie Land/Strange Fruit from her Vertigo CD provided nary a hint of whether a sub was being used. Lastly, because this wasn't one of the larger rooms only made the ClairAudient sub's disappearing act that much sweeter. Cabling throughout was by way of Audience.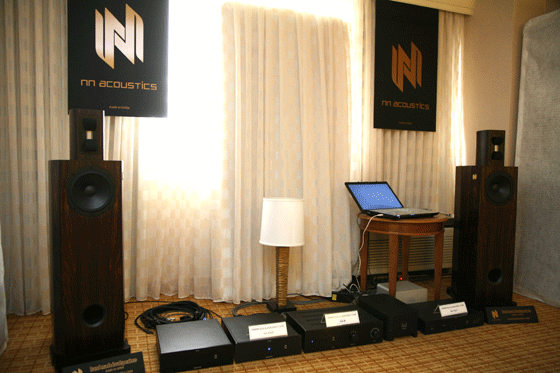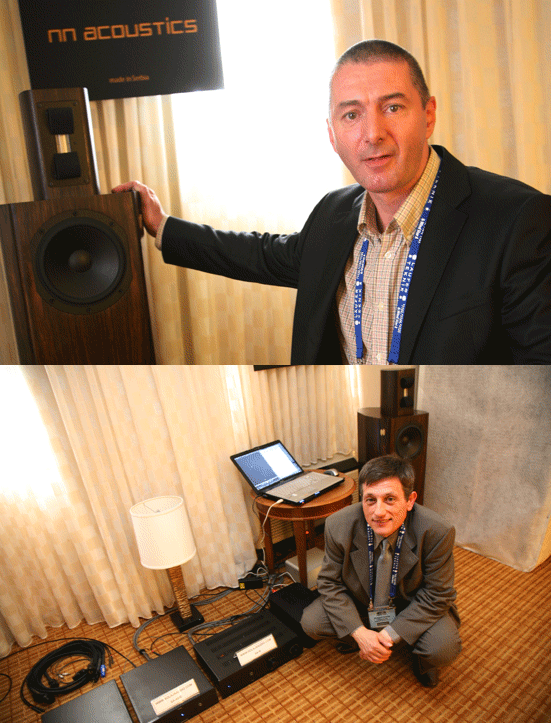 Seldom have I witnessed this much love and enthusiasm over this beloved hobby as when I entered this room. Hand-built in Serbia, NN Acoustics' affordable ribbon based 2-way Xenia loudspeaker ($8k) is designed around the RAAL midrange/tweeter ribbon driver by Nenad Napijalo (photo above). The look, substantial feel and exquisite build quality had me guessing about three times its sticker price. After a short listen, I would have to consider this loudspeaker a steal. This of course must have something to do with fellow countryman Dragan Solaja's well executed electronics (second photo). With little information to go on except the amplifiers are said to be designed using digital power supplies, I was intrigued by the overall sound which was fast, articulate and very tuneful. I hope this RMAF serves as a promising and successful launch for such promising products and designers.