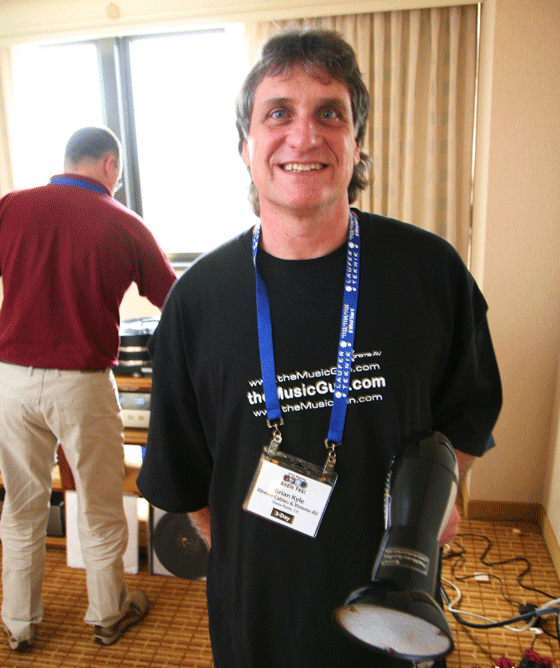 Brian Kyle of Xtreme Cables and AV was hanging out in the Avatar Acoustics room proudly showing his new series of Music Gun CD/LP demagnetizers (prices starting at $239). Employing ample amounts of Tourmaline beads which are said to emit negative ions that claim positive results. Hopefully, I'll get a sample to try out and compare to other CD-based tweaks.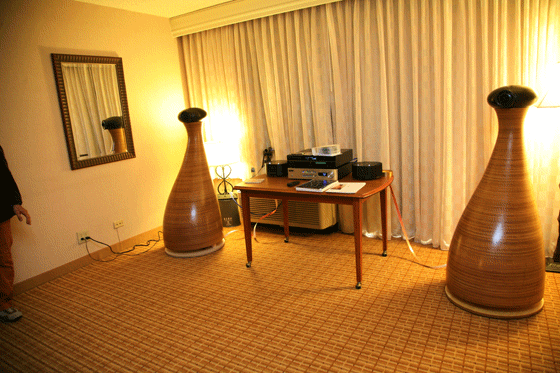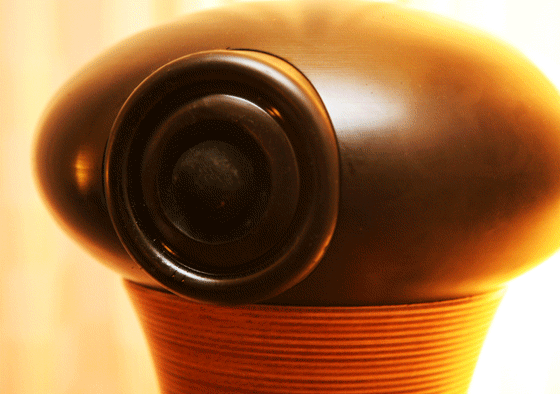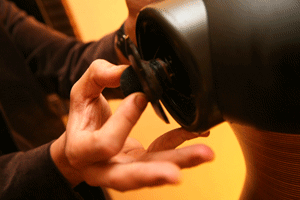 They came from far and wide. Though it may look alien in design, the very unusual looking Viv Laboratory Evanui Signature loudspeaker ($60k) is built in Yokohama, Japan. Its rather unusual enclosure tells only part of its story. The Evanui Signature's wood cabinet "works as a short back-loaded horn" says designer Koichiro Akimoto. If that isn't odd enough, the Evanui Signature's Floating Diaphragm Mechanism or FDM technology uses a single full-range evolutional 3" driver that bares no rubber surround and diaphragm makes zero contact with its 40 lbs. oval enclosure (photo above left).
Well, obviously the concept would be nothing more than novel if the Evanui Signature didn't produce. Surprisingly, I found myself enjoying a very rich and pure sounding presentation that was full-bodied as well. In the end, I found myself forgetting about outer space and alien life and enjoying the music.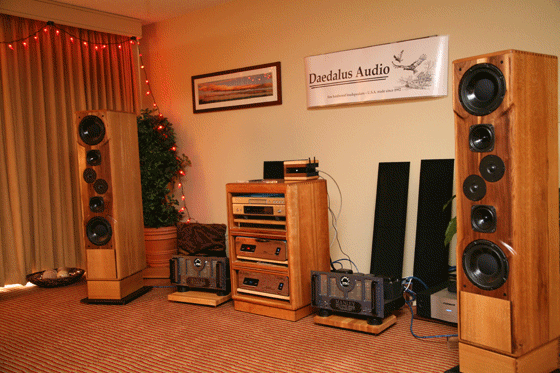 Lou Hinkley's Daedalus Audio Ulysses loudspeakers ($11k) were shown in a couple of setups, which is always good news. Shown here strapped to set of Manley 250 monos ($9k), in a very spacious room provided an immensely open and three-dimensional sound. Once more this setup featured another Squeeze box computer-based system that sounded buttery smooth with great detail and image specificity thanks in part to the Gill Audio Design Elise D/A converter ($6k). Cabling through and through was compliments of Dynamic Design's affordable Lotus series.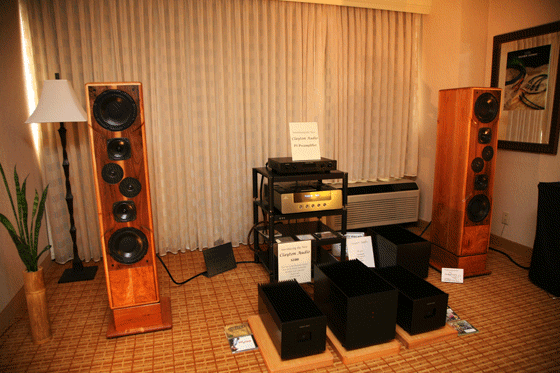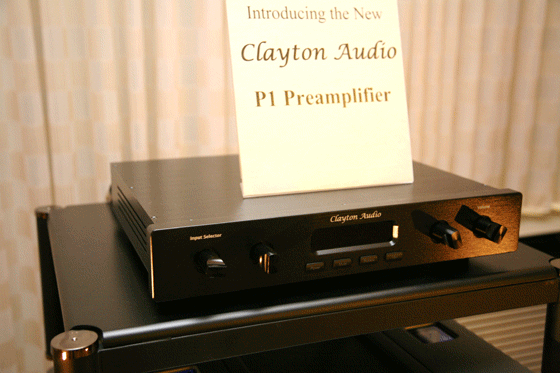 St Louis based Clayton Audio also entertained us with the introduction of their newest P1 preamplifier (price TBA) and a completely revamped version of their S100 mono amplifiers. The Daedalus Audio Ulysses loudspeakers seemed to provide a very inviting sound that made want to sit and listen. I've always been a fan of Clayton Audio products and this wonderful setup served as a perfect argument for my reasoning.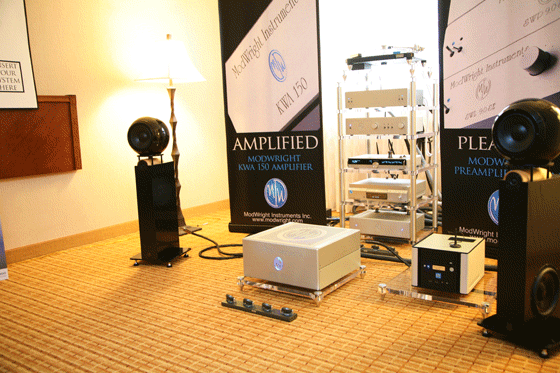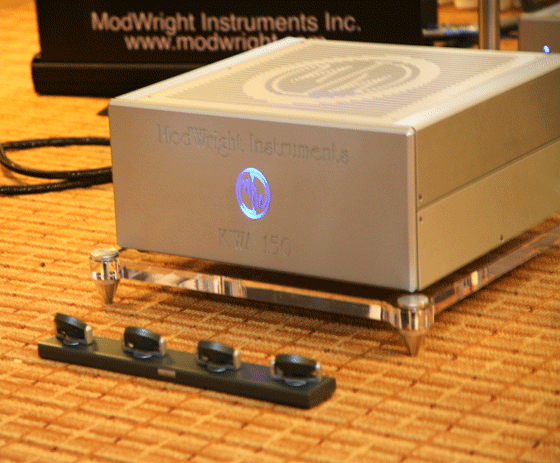 Mod guru Dan Wright of Modwright Instruments Inc. introduced a new family member in the KWA150 stereo amplifier ($6k). This fully balanced, pure solid-state design and dual mono design has a most impressive chassis. From the short time spent in this room listening, the sound was impressively detailed and yet full-bodied too. Interestingly enough, playback was by way of a fully modified Slim Devices Transporter ($3800), which was being fed FLAC files from a server via Ethernet cabling. A fully modified Sony 9100ES CD player that Wright dubbed "the Signature Truth" employs an external tube-rectified power supply ($3500). Loudspeakers were the Studio Electric T3 ($7900 pair), while all cabling throughout was by VooDoo.