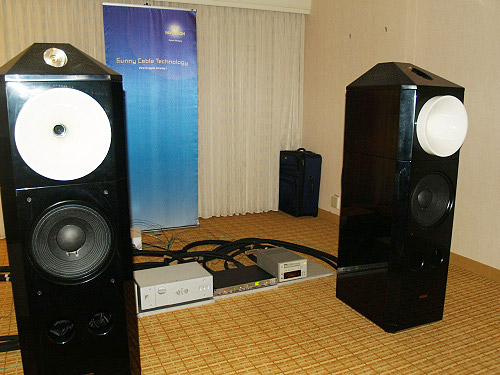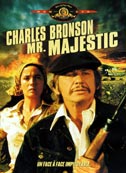 Sunny Cable Technology showed a scaled down version of their Majestic horn series loudspeaker in this, their model H3W12 ($26,800). Using a horn Sunny Lo designed himself from the ground up with a 12" bass driver in a reflex enclosure with a domed super-tweeter (employed at 17 kHz). This 'baby Majestic' had ST stalwarts Bill Wells, Moreno Mitchell and myself literally applauding its sonic capabilities. A longtime fan of Sunny Cable products, I've been using their Time Accurate Cables for well over three years now and still consider them my reference.
Like the 1974 movie, starring Charles Bronson whose only wish was to live in peace - was forced to restore order in a chaotic world. I hope the Sunny Majestic loudspeaker does just that to the high-end community where badge-name, property and prestige have become increasingly more important than performance.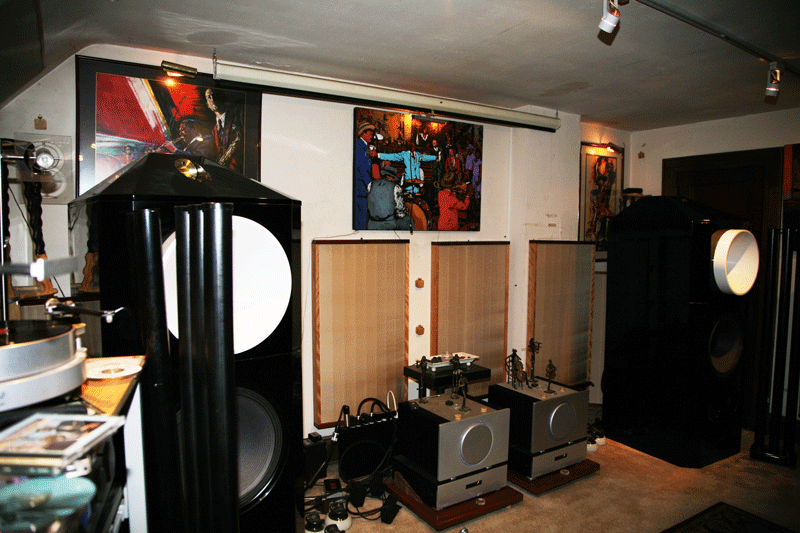 Only recently I too took the plunge and now am listening to their reference 800 lbs Majestics up in my third story listening room (yeah, I know what you're asking, how did I get them up there? Trust me, months later, my body's still recovering). The Sunny Cable Majestic are easily the best loudspeakers I've owned period. And, I'm not ashamed to state, they've introduced me to what is possible from two-channel audio in the home. As impressive as they are however, it was shocking to hear this smaller model perform so much like its much larger sibling - lacking, only in, that utterly complete sense of ease and dynamic shadings the bigger models have (c'mon, the bigger model uses 18" woofers). What separates horns in general and Sunny loudspeakers in particular from others, to me, is their presence factor. They have an incredibly uncanny way of transporting the listener to the recorded venue.
_____________________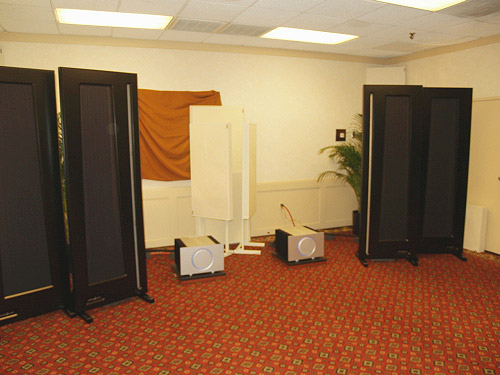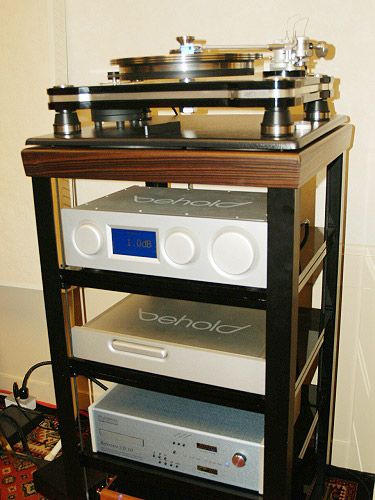 US importer Michael Kalellis of MK Audio, located right here in northern NJ, demonstrated his top of the line Analysis Audio Orion planar/ribbon loudspeakers ($52k/including reference grade outboard crossovers) alongside a pair of Behold BPA768 amplifiers ($45k/ea) with very impressive results. The most obvious obstacle for any potential owner will be space since the Orion is composed of four panels: each one reaching nearly three feet in width. The a primary high/mid panel and dedicated woofer panel that operates at 80 Hz. The Orion planar woofer is unique because it perfectly mimics the high/mid panel's back-wave dispersion characteristics maintaining a seamless integration.
I really liked the sound of this room and so did many of the people I talked with. Personally, I felt a bit too far away from the loudspeakers initially and would have placed them further into the room. Moving my chair up a couple of feet seemed an easy fix. Kalellis knows his stuff and did everything he could to combat room issues using Real Traps to great effect. The Arcici 5-shelf isolation rack ($5k) was used to support all source electronics, including the VPI Aries 3 turntable. Phonostage preamp was the Soundsmith Strain Gauge ($6k) while all cabling was HGA, Inc. Lastly, Behold's Audio Processing Unit (APU768) and accompanying Behold CD player provided digital playback.
_____________________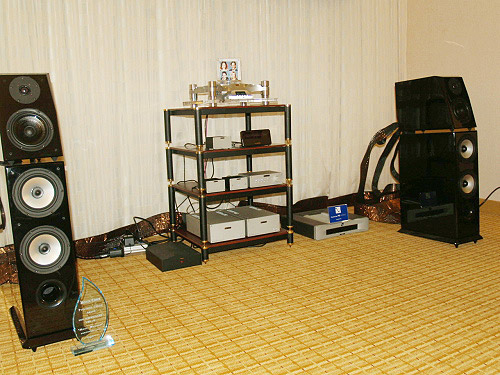 Albert Von Schweikert of Von Schweikert Audio (VSA) introduced his new VR-4 Anniversary Edition, Signature Series ($7,500). The model shown was painted in a beautiful Steinway hi-gloss black. Von Schweikert says this 'Anniversary' edition sports European drivers and hand built in California. I love the look on the Oracle CD player ($7,500) used in this setup as well. In addition, an affordable SqeezeBox music server ($300) mated to a Channel Island Audio Upgraded Power Supply ($179).
The Channel Islands Audio Passive Preamp with Power Supply ($800) and the
Channel Islands Audio DM500 500-watt mono amps ($4,500/pr).
The sound was typical of what most of us have come to expect from VSA: detailed, open, smooth with lots of musical vitality for such a small product. Cables and interconnects were prototype VSA "Signature Anniversary" Interconnects, $350/m and VSA "Signature Anniversary" Bi-wire Speaker Cables $1,500/pr per 10-feet.
_____________________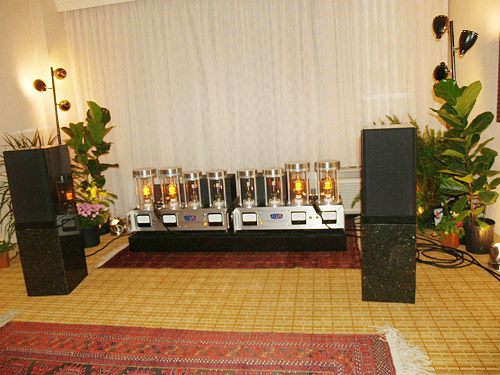 Dale Pitcher of Intuitive Design loudspeakers was at it again this year producing another stellar sounding room. Working in concert with the Amber Wave 'Frankenstein tube' amplifiers ($44k) the Delta Summit loudspeakers always sound very impressive especially at $7,500.00 retail. I only got a chance to sit off center because this room had lots of people in it each time I came back to listen again. After three attempts I simply gave up.
_____________________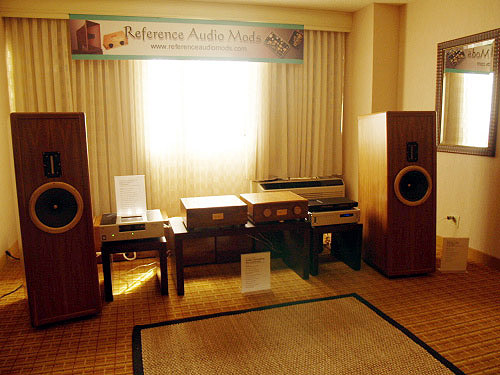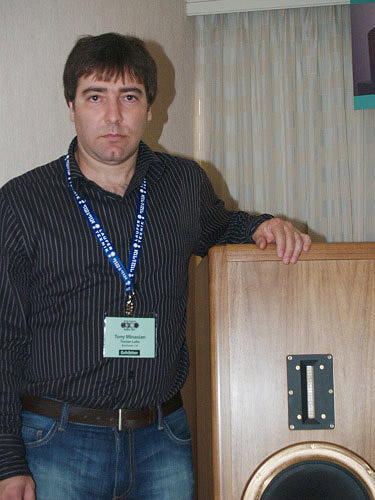 When I walked into the Reference Audio Mods' (RAM) room I honestly wasn't familiar with any of the electronics other than the Harmonix Reimyo CD player, which was a former reference of mine. Personally, I thought the Tonian Labs TL-M1 Mk II loudspeakers ($37,500 designer Tony Minasian photo left), using the rather unusual PHY-HP driver from France, were quite interesting as they're a high-efficiency (97 dB) crossover-less 2-way using a ribbon tweeter that kicks in at 10 kHz . After taking a seat, RAM's expert techie Kyle Takenaga played one of my sampler CDs I carry around just for such occasions. The sound was absolutely remarkable, in that it was totally devoid of 'noise' normally heard everywhere else, causing me to get up and take a much closer at these electronics asking more specific questions on what they were actually doing in terms of modifications. The sound was as dead quiet as I've heard from an audio rig outside my own listening room where tons of the new Bybee Super Effect Speaker Bullets and prototype AC cords perform similar feats. It was obvious from the first song that something unique was happening that I've heard only from Bybee's newest products and there were no Bybees in this room.
The system, I found was entirely battery powered with individual battery supplies for each component. This included the Audio Consulting Silver Rock battery powered preamplifier ($8k), Stereo amplifier was the 30-watt Audio Consulting Mains Independent Power Amplifier ($25k). For my tastes, this room proved an oasis compared to most others. Using a conventional CD player sporting modifications that cost nearly as much as the player itself would seem ludicrous for most, that is until you hear what something like that can sound like.
Takenaga says this is RAM's all-out approach. For example, the Reimyo CD player was modified using this list of parts; Audiocom Ultraclock, Audiocom Invisus Discrete regulation, Rubycon ZA/ZL capacitors ~300,000uf and Audio Consulting silver wire/cotton. Special battery supply with auto charging and silver cotton umbilicals. Custom built wooden chassis for sound and aesthetics. Silver Rock transformers are optional for the Reimyo to create higher output, balanced outs, and galvanic isolation though are required for most to achieve optimal signal summation and gain. Cryo treatment for resonance control rather then traditional topical solutions. WBT NextGen RCA's. Price of mod? $12,000 complete.