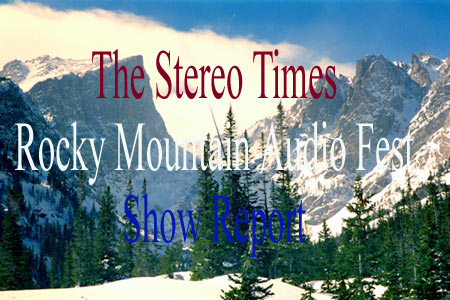 With a fair amount of advance planning including my share of telephone calls, e-mail messages and notification from various manufacturers, distributors and exhibitors, my level of interest and anxiety for attending this year's show increased significantly over the weeks preceding the event. In addition to reconnecting with numerous long-time industry acquaintances, I've also found this particular show to be a great place for networking and making new acquaintances as well. For those who have not attended the Rocky Mountain Audio Fest (RMAF) – clearly, it is one of the best planned, organized and well executed high-end audio show of any that takes place in the U.S.

Not to knock any of the other big shows but once you've experienced RMAF - with its ease of registration, enhanced access to the hotel, exhibit rooms and adjacent convention center, you'll likely get spoiled. Plus, one potential significant benefit is the fact the show is pretty much self contained with much of what you need right at your finger tips. Inside the hotel space are several restaurants where you can get a pretty decent meal. Additionally, there is also the ever-present Starbucks for those on the run and little time for a sit down meal. Basically, if you are so inclined, you can easily camp out at the show venue, throughout much of entire three days thereby minimizing any sort of transportation needs other than getting from and to the airport.

My departure from Minneapolis this year started by me arriving at the airport well in advance of the flight. This was quite unusual for me due to my normal routine of cutting it fairly close and spending only the slightest bit of additional time that I have to in the airport. However, on this occasion, my wife dropped me off at the airport as she was en route to an early morning meeting. As such, once at the airport, I had plenty of time before boarding my flight. So with nothing particularly to do, I leisurely made my way to the Northwest Airlines World Perks Club, sat down with a copy of USA Today, plopped myself in front of a T.V. with CNN playing and treated myself to a cup of hot tea, some orange juice and a few pastries. Weather on this day was another rainy fall day in Minneapolis and I was looking forward to the usually bright sunny skies of Denver. So far – everything was going great.

After reading the paper, watching the news on CNN loop and finishing my morning treats, I was off to catch my flight to Denver. Still things were going perfectly. Boarded the plane early, fortunately I had received an upgrade to First Class so I just had this smug feeling that this was my day and also my weekend. However, not long after the doors of the plane were closed, things started going south. Although the initial announcement by the flight attendant was fine – shortly afterward, we received that unpleasant message from the captain indicating there would be a slight delay due to – yes, you guessed – a mechanical difficulty. In fact, the onboard computer was malfunctioning and even after several attempts to reboot it – nothing. Time for a replacement computer chip and finally after a 2 hour delay, we were set to take off. That is – after letting the ten or so other planes ahead of us do their thing and soar into the skies.

Finally arriving in Denver, I was indeed greeted with mild temps and sunny blue skies. Getting picked up by a longtime personal friend, who recently retired to the Denver area, was a fine treat. From there, a relatively uneventful ride to the Denver Tech Center/ Marriott Hotel, located in south Denver, where RMAF hosts its annual show and soon I had my show badge, booklet and map indicating where each exhibit was located (i.e., early preregistration helps). As has been in the past, arriving at the show and getting registered was again basically straightforward. Also – as in the past, the mood in the hotel lobby and registration lines seemed upbeat and pleasant. Basically – no fuss, no muss and even though considerably later than I had expected – I was soon ready to start what was left of the day. As before – I came prepared and had with me a batch of my favorite CDs. Nothing like hearing your favorite music played through the wide variety of interesting audio systems on hand at the show.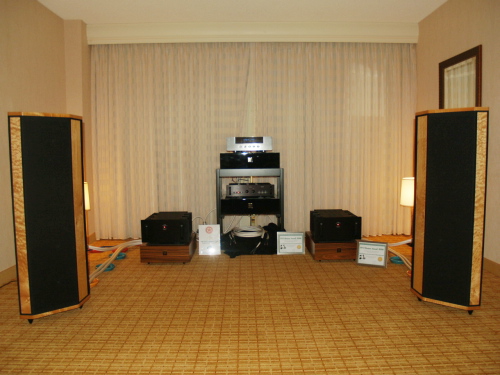 My very first stop was to check in with the folks at the Matrx Systems exhibit. This was a first time ever exhibit for this company at RMAF and the room was filled with some wonderful products. There featured speakers were the ESP Bodhran SE loudspeakers and were powered by Lamm electronics. Additionally, the system was wired together with Argento Audio cables throughout. Included in this system was the Avatar Acoustics CD player along with numerous Critical Mass Systems isolation devices.

As I entered the room, I was quickly greeted by mostly familiar faces and one or two new ones. Additionally, I quickly became aware of a sound reminiscent of the classic ESP sound. The Bodhrans, priced at $16,000, look quite similar to the magnificent ESP flagship Concert Grand Si loudspeakers, and can sound wonderful mated to the right electronics, cables and fed with a really good music source. First and foremost, these speakers provide a realistically very authentic soundstage that is wonderfully filled with music. No doubt the superb electronics used during this year's exhibit (i.e., Lamm M1.2 Reference mono blocks and LL2 Deluxe preamp), outstanding Argento Audio cables (Serenity interconnects/speaker cables and Flow power cords), Avatar Audio AMR CD-77 CD player and Grand Mass Series Isolation Systems from Critical Mass Systems) helped achieve the good sound.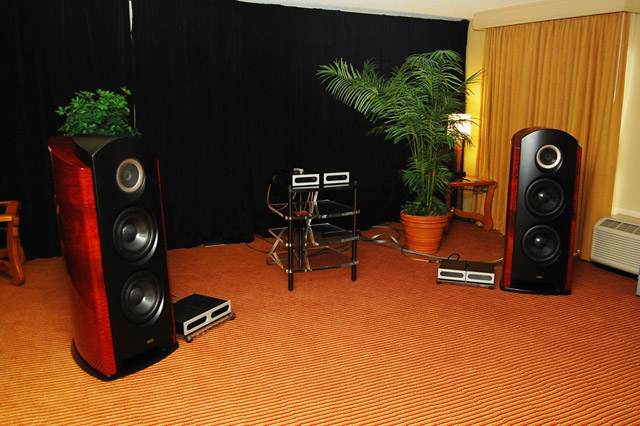 Next stop was at the Bel Canto exhibit right down the hall and in this room, I found John Stronczer, president, along with several colleagues firing up a full complement of his electronics with the TAD Reference One loudspeakers. Everything was wired together with the latest Gold Eclipse Series 5 interconnect / speaker cables, Gold Starlight 5 digital cable and Silver Electra power cords from Wire World. Trust me – this room had it 'going on' musically as well as aesthetically. These speakers are fairly large and have a very nice finish to them. The sound was quite outstanding being full, complete, open and very natural. There was also great sound staging, along with a very dynamic, tightly controlled bass.

All types of music sounded good on this system - especially the James Williams Sextet CD featuring Clark Terry. Terry's trumpet came through loud and clear, Christian McBride's bass was full and articulate and all other instruments did their thing as well. I also played numerous cuts from a special CD made by Clement Perry (AKA CP) on his wonderful Nova Physics Memory Player and hardly a soul present wasn't moved. All ears were glued to this system. Finally, Stronczer treated us all to a riveting selection by the late Shirley Horn, and to use the phrase made popular by CP, it was "game over." Here's the really good news – Bel Cantos electronics are all very reasonably priced yet consistently provide excellent sound on a variety of systems where they're used. For example, the CD 2 retails for $2995, the DAC 3 for $2495 and the REF 1000 mono blocks go for every bit of $1995 for the pair. For this exhibit, Stronczer had the speakers bi-amped with two pair of his wonderful mono blocks.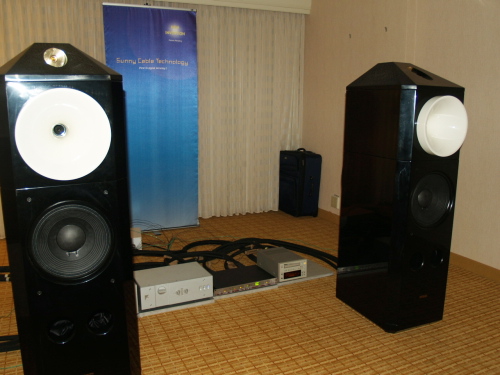 Based on an earlier tip from CP – I then made my way back down the hall and around the corner to an exhibit featuring new speakers by the folks from Sunny Cable Technology. Interestingly, these folks are likely best known, at least in the U.S., for their superb audio cables. More recently, they've been making a splash with loudspeakers and their room featured a new model called the H3W12. These speakers are quite large, measuring 59" high, 17.7" wide, 20.7" deep and weighing in at approximately 350 lbs each. Retailing at $26,800 – you get a whole lot of speaker for this money. Additionally, according to the literature they provided, these speakers are designed based on their proprietary Time-Accurate cable design principles used in their other cable products.

Being in room with these speakers, you definitely feel their presence – both visually and sonically. Although the room could have been larger to better accommodate their overall performance capabilities – I was able to also catch more than just a glimpse of their sound. First you need to know that the speakers are a three-way system featuring a bass reflex woofer and horn-loader mid and high frequency drivers. This is a very special horn arrangement that covers a broad midrange spectrum (i.e., approx 100 Hz to 18 kHz). The bass duties are cover by a 12" woofer and the super highs are handled by a horn super tweeter that supposedly goes all the way up to 38 kHz.

So how did they sound. Well in a word – fantastic. For the most part, there was a midrange purity that was simply stunning. The sound was also seamless, coherent and without any indication of crossover problems. I should also mention that these speakers feature special tri-wired capability as well. The sound was also big, powerful, full, clear, open and naturally dynamic with an ease and flow to the music. Great soundstage and the depth was excellent. Good tonal balance – all the way from the very deep bass to the much extended high frequencies.

I listened to a variety of music with the Sunny speakers including lots of piano, female vocals and all types of instrumental sounds – everything came through with authority as well as finesse. Tricky combination but they pulled it off with these speakers. Now – I'd love to hear them in something other than a smallish hotel room. The good news is that this company has a wide range of speaker models from relatively inexpensive to the huge 800 lbs monsters that CP now has at his home. You should hear him tell the story about how he managed to get these babies all the way upstairs to his 3rd floor listening room. (As a side note – for additional information about this company and their speaker products - you should check out Dennis Parham's recent review regarding the smaller Sunny Cable Technology model H2W10 loudspeakers here).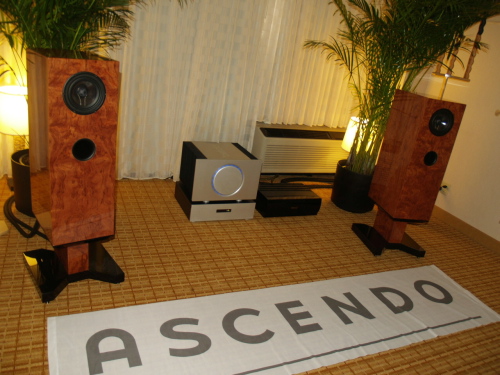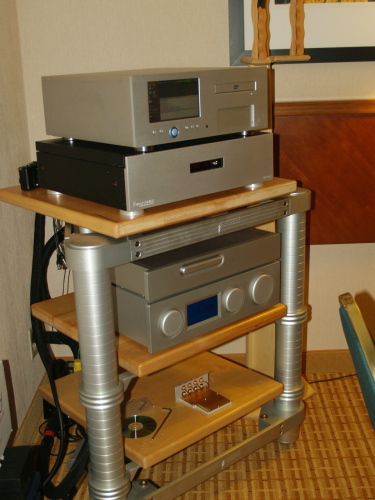 Moving right along, I happened to come across another room with what I considered killer sound. Definitely not on the order of what I heard in the Sunny room but what I experienced in the Ascendo exhibit was nothing short of very special. Interestingly, I didn't realize until later that the speakers I heard were the very same ones discovered by CP during his visit to Munich last May. The speaker I'm referring to is the Ascendo model C8 Renaissance. Wow, what a wonderful speaker. At $9500 with matching stands, not only were they very nice to look at – their sound was right on target. Powered by a bevy of Behold electronics and fed music via the Nova Physics Memory Player, not to forget the Shakti Hallograph's magical effects on room acoustics – the sound was sweet with a very right sense of harmonics and tonal balance.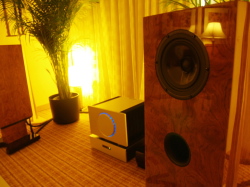 The Ascendo C8 loudspeakers are very attractive with their somewhat slender appearance and unique single coaxial driver. An 8" band pass woofer rests inside this ported design that boasts a rear firing ribbon tweeter. This rear firing ribbon tweeter is supposedly operating out of phase and serves only as for ambiance enhancement. The C8s are capable for for bi-wire hookup as well. During my time in the room, I listened to a variety of music – all the way from Hugh Masakela's "Stimila" to Mary Stallings "Manhattan Moos, You Go To My Head." These recordings were rendered in a very lifelike, expressive and clear manner. Along with her superb voice, the C8s portrayed piano, harmonica and flute very accurately and held my attention for a long, long time. Only reason I left was to make sure I got to other exhibits. These are simply lovely speakers – visually as well as sonically. (For a different perspective read CPs previous comments from the 2007 Munich Show here).

This is about all I could manage for the first part of my visit to RMAF this year. However, there's much more to come so stay tuned!