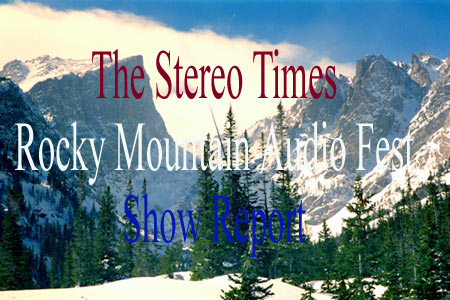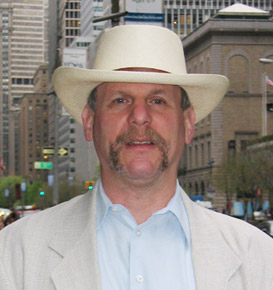 Since its inception the RMAF has shown steady growth, and has all the signs of becoming one of the U.S.'s premier high-end audio shows. On the plus side, growth means more exhibitors, and thus more toys to audition. On the negative side, the growth also meant crowded rooms, elevators and restaurants, as well as less of the intimacy that characterized the show in its first two years. Yet all-in-all, I would rate the show a clear success. Rather than attempt to describe all the exhibits at the show, something for which I have neither the temperament nor time, I will instead restrict my comments to the rooms I most enjoyed. So here for your reading pleasure, Larry's favorites.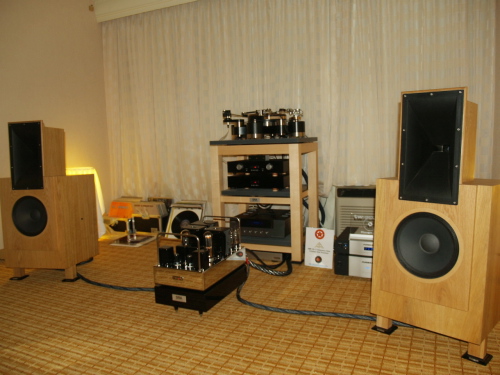 High Water Sound has traditionally been one of my favorite rooms, and this year was no exception. The mating of Aspara Acoustic speakers, Tron electronics and TW Acustics 'table are a match made in heaven. For this year's showing Jeff Catalano brought the most recent iteration of the Aspara HL1 (approximately $12,500) which, as I understand it, sports a newly-designed cross-over; Tron Seven line- and phono-stages and, in its first US appearance, an as yet-unnamed 211-based stereo amp pumping out a whopping (relatively speaking) 12 Watts (retail price not yet established, but estimated to be $15,5000).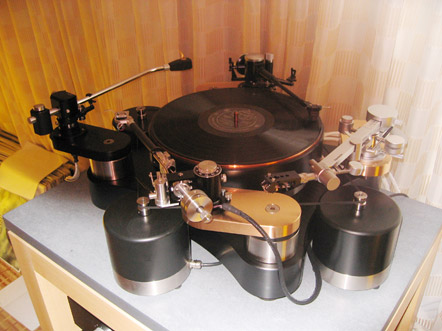 As in years past the 'table was the top-of-the-line TW Raven AC, sporting four different arms, each with a unique cartridge. (Most of the listening was done with a Graham Phantom arm and Air Tight PC1 cartridge.) The sound was incredibly dynamic, with impressive detail and tonality. A true stand-out system.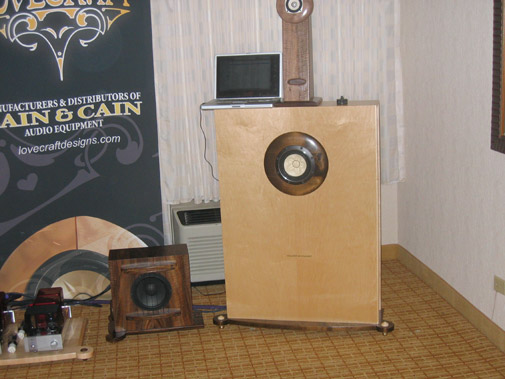 The untimely passing of Terry Cain touched deeply many in the audiophile community. Terry's former protege Jason Flannary has taken over the business, operating under the name "Lovecraft Design." I am pleased to report that Jason views this not just as a business venture but equally so an act of keeping alive Terry's memory. Along with his friend Clark Blumentstein - another Terry protege - the two brought to Denver a variety of their speakers, all of which have the distinctive Terry Cain wood-working. Powered by a 200B amp from Triode Corporation, I especially enjoyed the wide-baffle Walla-Wall Sound (($3,300). Measuring 30" wide x 42" tall x 7.5" deep, and utilizing a Fostex FE168 E Sigma driver in a back-loaded horn configuration (with the opening at the side), these speakers had a big sound, good presence, and a minimum of harshness. Pending Clement's approval, I hope to review these speakers in the near future.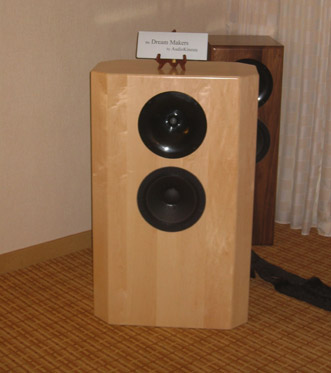 Each year I look forward to seeing Duke LeJeune of AudioKinesis. Duke is always jovial, doesn't take himself too seriously, and has a wealth of audio knowledge. While still a dealer for (amongst other brands) Sound Labs, Duke has recently begun designing his own line of speakers. His Dream Makers are a 2-way design (but see below) exhibiting 92 dB sensitivity and a benign 16 Ohm load. They measure 42" tall x 26" wide x 15" deep, and weigh in at a significant 170 pounds ($9,000). The speakers use a specially made CP380 compression driver from Beyma, which crosses over at 1,700 Hz to a TAD TL1102 woofer.
The Dream makers have two especially interesting features. First, they are bipoles, whereby the speaker array described above is duplicated on the rear of the speaker (I assume they are 180 degrees out of phase with respect to the front drivers). Second, Duke paid considerable attention to the speaker's dispersion (quite possibly a result of lessons learned from his years spent with Sound Labs) - - the Beyma drivers fire into 90 degrees constant directivity waveguides. When set up with considerable toe-in such that the speakers' paths crossed in front of the listener, an extremely wide sweet spot resulted, such that a reasonable soundstage was heard from pretty much anywhere in the room. Because of the rear-firing drivers, I imagine the speakers are very sensitive to placement with respect to the rear wall. Driven by Atma-Sphere preamp and amplifier, the system had nice "body" - -especially apparent when listening to piano on a sampler disc provided by Ira Segall of Unipheye Music - - a relaxed tonality, wonderful ambience, and exhibited good coherence between the drivers. I hope to be able to spend more time with these speakers.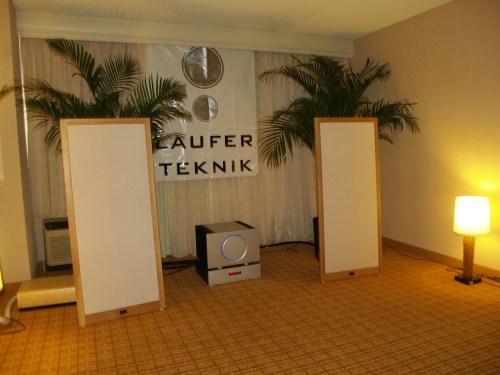 A speaker which intrigued me was that from Podium. Designed by Shelly Katz and imported to the U.S. by Sam Laufer, the Podiums are panel speakers which are neither magnetic ribbons, not electrostats. Rather, they utilize a technology in which, if I understand correctly, voice coils are attached directly to the panel. The panels were (relatively speaking) modestly sized and easy to drive, yet produced surprising amounts of bass; moreover, they had a wide sweet spot with seemingly little beaming. At a price of $5,500 US, they seem to be a great deal.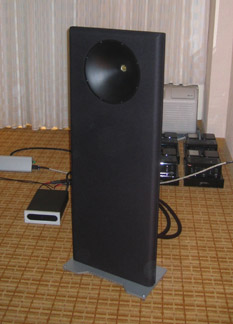 A few speakers deserve mention for providing terrific bang for the buck. The Usher Be-718 ("The Tiny Dancer"; $2,795) ) is an incredible two-way with a big sound (for its size) and lots of detail. The LS6 ($4,500; designed by Danny Ritchie of GR Research, and sold through AV123) is an impressive line array featuring ribbon tweeters and dynamic driver mid-woofers. Powered by Dodd Audio reference monoblocks, the sound was quite impressive, especially given the speaker's modest pricing. A bit less mainstream but of equally high value was the Emerald Physics CS2 controlled directivity speaker system (photo right). The speaker is a 2-way, open baffle design. The tweeter-midrange is a 1" compression driver in a 12' waveguide, while the mid-woofer is a 15" pulp fiber cone. The speaker operates as a dipole below 1 KHz, and a monopole above that frequency. The price is $3,495, which includes a digital cross-over. All three speakers demonstrate that good sound can be had without taking out a second mortgage.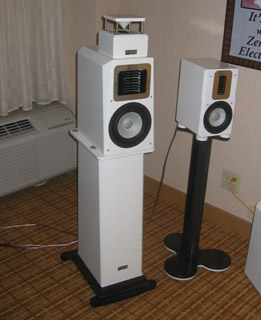 Mark and Daniel speakers have received numerous accolades in another on-line magazine, so I was understandably curious to hear what all the fuss was about. Wandering into their room I struck up a conversation with importer Loren Charles, then set down for a listen to the Maximus Monitor with Omni Harmonizer. Despite a less than ideal digital source (their intended source having not survived shipping), I was most favorably impressed. As others have noted, the Maximus Monitor puts out bass that belies its size. Moreover, the Heil- driver is an excellent performer, and its broadband nature adds to the speaker's coherence. Last but not least, the ambiance added by the Omni Harmonizer increases the sense of "being there." I would welcome the opportunity to try these speakers in my home, though doing so would necessitate my borrowing a suitable amplifier of at least 100 W per channel.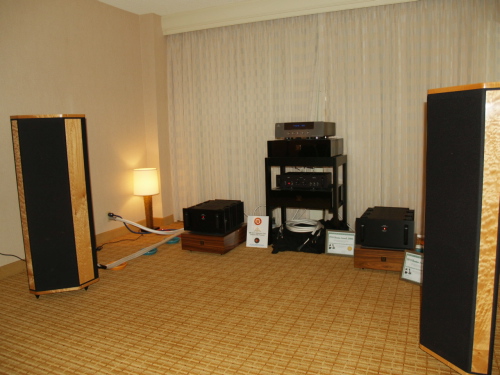 Of dynamic driver speakers, the ESP Concert Grands are amongst my favorites. Displaying a warmth and ease reminiscent of the Rogers LS6 monitor, they always struck me a the kind of speaker one could listen to for hours without growing weary. Their $40,000+ price tag however, does put a bit of a damper on things. I was thus delighted to hear the smaller version, the $16,000 Bodhrans, which seem to have much of the magic of the larger version.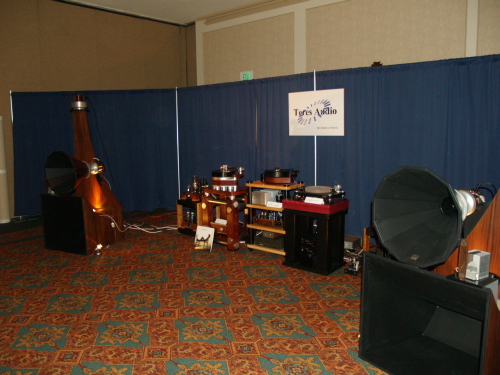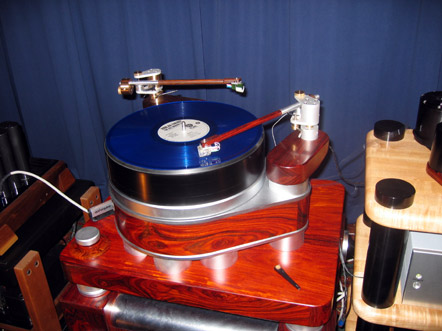 I have intentionally saved the best for last, the Cogent horn system, about which much ink has been spilled the past few years. The "basic" speaker is a two-way design utilizing two in-house designed and built field coil compression drivers: a midrange unit which fires into a conical horn (designed by Bill Woods of Acoustic Horn Audio), and a woofer driver firing into an approximately 10 foot long bass horn. This years' iteration included a small tweeter horn, as well as two "conventional" subwoofers (the latter used in lieu of the enormous Cogent subwoofer horn). Front end duties were via a bevy of Teres turntables, with amplification of Teres' Chris Brady's own design.
I have heard these speakers at previous shows, in a variety of sized rooms, and my impressions varied between "definite potential" to "needs work". This year the speakers were - finally -in a room large enough to allow them to breathe, and show what they are truly capable of. The Cogents have effortless dynamics and vanishingly low distortion; they make most of the other speakers at the show, even many of the very expensive ones, sound lifeless. Having heard these speakers, one instantly understands why horn enthusiasm is alive and well, even decades after this technology fell out of favor in mainstream audio. I should add that I had an opportunity to get to know the two main players behind Cogent, Steve Schell and Rich Drysdale, as well as their business colleague Jonathan Weiss, and found them to be good-hearted, level-headed individuals with unbridled passion for what they are doing. Kudios to these guys for their outstanding efforts.
Well, that's it in a nutshell. Needless to say, there were many other very enjoyable systems at the show, and no offense is meant to those not mentioned. Thanks are due to the organizers of RMAF, the hard-working exhibitors, and the enthusiastic visitors. I look forward to next year's gala!