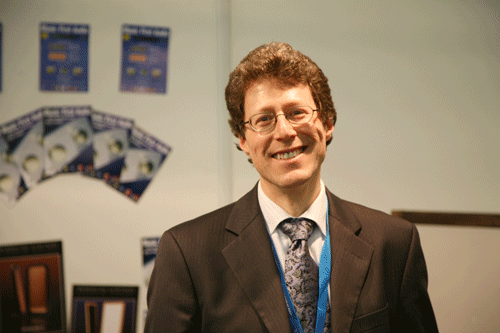 Shelly Katz of Podium Sound loudspeakers Ltd (England), decided this year to show his Podium .5s panel designs in an open booth avoiding the usual strict codes audiophiles subscribe to. "This, insists Katz, will allow music lovers in small spaces to enjoy my products, not just audiophiles." Always insistent about his .5s physical placement as being among the most tolerant to real-life living conditions, Katz placed his right against the wall and demonstrated how well they could perform.
My guess is, after gaining such critical success at last years Munich show (ST awarded Podium "Most Exciting Product Award"), in this his second year, Katz has decided to promote other aspects of his products. Most notably how versatile the .5s are under less than ideal situations. I admire any manufacturer that designs his products for folks that don't have Donald Trump-type bank accounts or live in palatial suites. Thank you.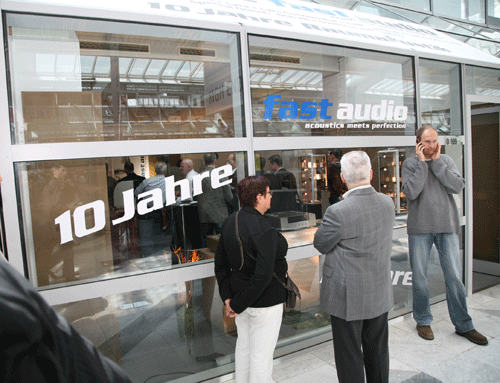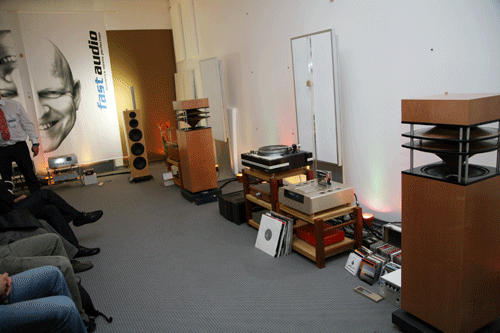 Thomas Fast is quite the gregarious type who loves to smile and that seemed perfectly fine with everyone walking into this excellent sounding space. That's because Thomas Fast knows his shit. Fast's personality is larger than the poster that bears his photo. Fast possesses that rare combination of passion coupled with scientific study and many years experience with room acoustics. No matter the setup, room or loudspeaker, Fast's setups always get high marks year in and year out. This show was no exception with a favorite loudspeaker in the new omni-directional Duevel Sirius loudspeakers. An Abbingdon Music Research CD player and Karan Acoustics amplifier kept the room full and Thomas Fast smiling.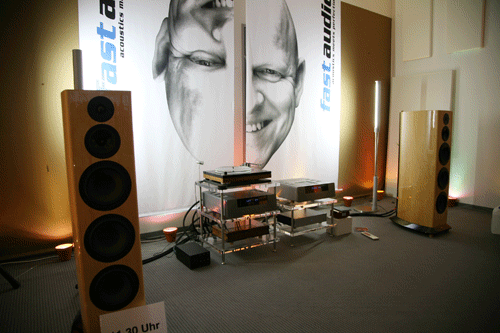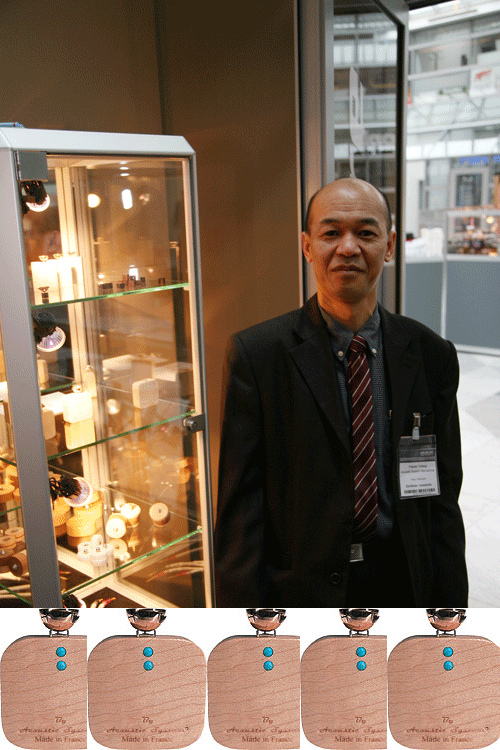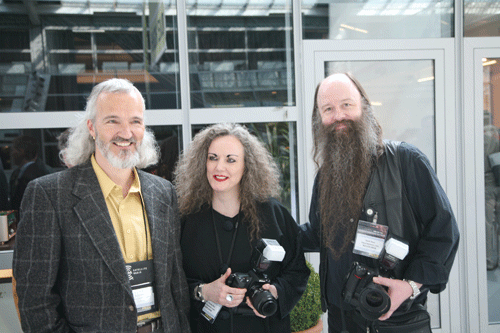 And of course Fast Audio is the home of Franck Tchang's Acoustic Resonators and Tango series loudspeakers (photo above). Tchang's resonators still grace my listening space after more than five years (read my review here) and more than likely will be around for another five. In that span of time, it seems the only other journalists that have also joined in the Resonators fray besides a few writers here at ST are (photo above left to right) sixmoons ezine publisher Srajan Ebaen and writing team Marja and Henk of Sixmoons who I consistently bumped into at the Munich show.