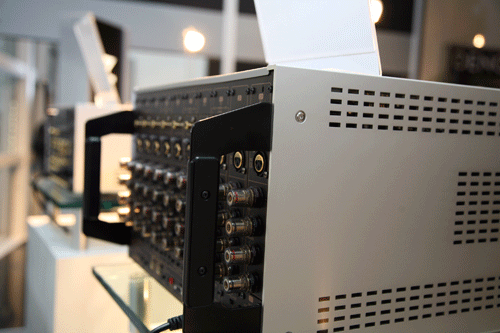 Wow! The rear of this Denon POA-A1HDCI ($7k) 150-watt 10-channel amplifier was among the biggest I've seen with regard to home theater applications. Options abound in this 120 lbs beast; bi-amp or bridge up to five channels (500-watts per), or use each channel independently.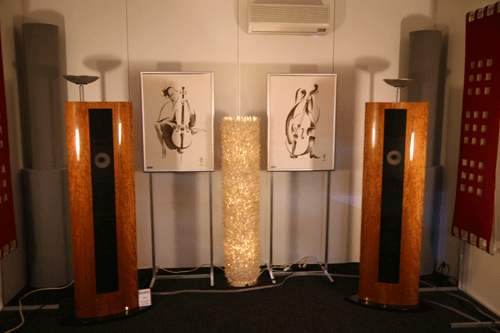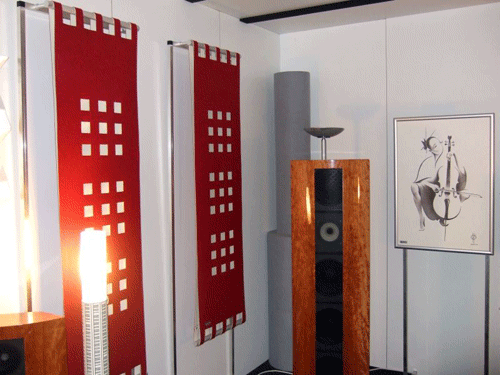 Acoustic Plan sounded just as delightful as when heard in previous demos. Their open-baffle designed Veena ($28k active and $23k passive) is remarkably open while their electronics never seem to disappoint. Talk about owning a perfectly synergistic setup? You might want to consult with a company that makes both the electronics as well as loudspeakers. Believe it or not, the fancy artwork and lamp centered between the Veenas, as well as the bass traps and fabrics that adorned the sidewalls were strictly designed for acoustic treatment compliments of Transparent Acoustic of Germany (www.transparent-acoustic.de). Tastefully made, these products were shown in a number of rooms that, incidentally, sounded slightly more neutral and evenly balanced. Moreover, they were hardly intrusive ala the moniker transparent acoustic.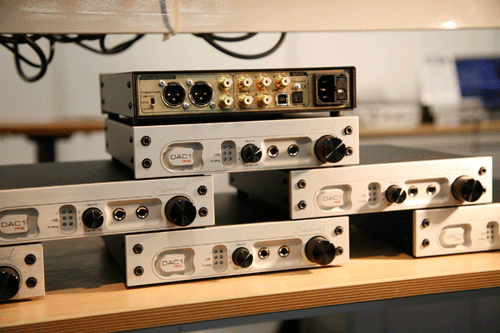 Benchmark Media Systems displayed a variety of affordable products such as their highly acclaimed DAC1 2-channel, 24-bit, 192kHz D to A converters (starting at $1275.00).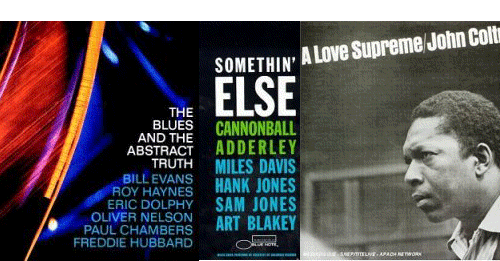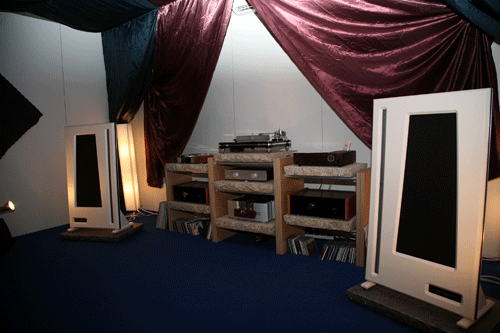 Analysis Audio of Greece put on a great demonstration once again this year that featured their smaller Omicron loudspeakers. A long fan of planar based designs, this Apogee look-alike has been one of my favorites since it launched back in '05 and boasts a wonderful importer and music lover in Mike Kalellis whose located right here in northern New Jersey. Electronics included Pathos and ASR while the anonymous equipment and isolation devices (?) looked as if they were cut right from stone...literally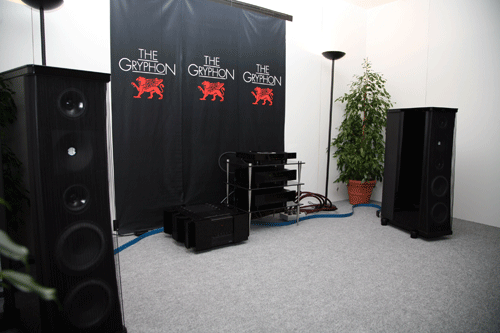 Finally got the opportunity to hear the Gryphon Atlantis loudspeaker ($30k) and was not disappointed. A brainchild of designer Flemming E. Rasmussen, this Danish 3-way design employing dual mid and bass drivers was fashioned more as a scaled-down cut-off-at-the-knee version of their humongous 8-foot tall and $250k Poseidon reference loudspeaker. As a personal owner and long time customer of Gryphon products, namely the Mikado CD player, I get a little sentimental about the sound (rather lack thereof) these electronics produce.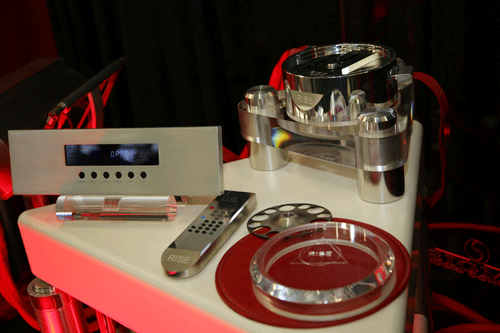 What on earth...
Yep, it's a single drive CD player built in three separate forms from solid block aluminum. Italian manufacturer RISE (the same folks who design the Labor Limae loudspeakers) gave quite a showing here using their cherry-red Cableless interconnects no less. Using the highly touted Philips CD Pro 2 transport and built only upon request, I was afraid to ask "how much?"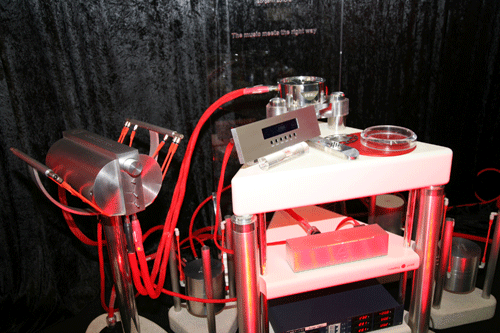 RISE preamplifier (left) and RISE amplifiers (floor) graced the place while I just looked on in amazement. Looking at all that cabling gave me a sweet-tooth.