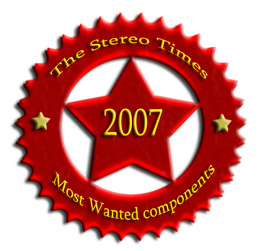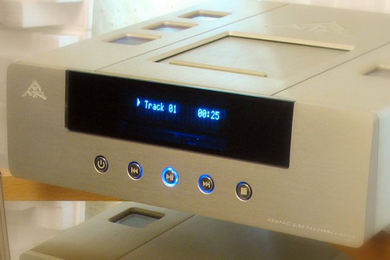 AMR CD-77 CD Player ($8,500)
This "talk of the town" AMR CD-77 player is built like a Sherman tank, features a proprietary top-loading transport mechanism, and at its heart, employs the "king of multi-bit DACs," the Phillips TD1541A chipset. Simply put, this player produces music with an uncanny sense of naturalness and a wealth of openness, detail and incredible bandwidth. Review to come. [Key Kim]

Aurum Acoustics Integris CD Player ($12k) I'm not the only listener who thinks that Derrick Moss of Aurum Acoustics (AurumAcoustics.com) has come up with a world-beater in his Integris CDP, the letters in this instance indicating that the unit includes a sophisticated preamp. It's far from cheap, nor is it overpriced. The CDP is actually part of an integrated system, the Integris 300B, which several discerning folks have judged best-in-show in recent audio exhibitions. [Mike Silverton]
Bel Canto Dac 3 ($2495)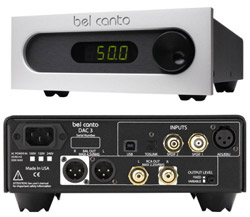 Having lived with the superbly musical one-box Bel Canto PL1-A multi-format digital player for some time now, I was surprised at the overall performance of the Dac 3. This unit represents the company's latest thinking in digital playback and clearly represents a step forward in musical reproduction. With the Dac 3 in place, there was a greater sense of quiet with music emerging from a totally black background. Along with this, my system's bass took on greater impact and control, the midrange became smoother and the highs were more open with improved delicacy. Additionally, there was a better sense of body to the music. Connecting the Dac 3 directly to the Bel Canto REF 1000 mono block amps took the sound to another level with a noticeable wholesale improvement across the entire frequency spectrum. The Dac 3 is truly a serious product for music lovers and audiophiles alike. Once you try it - it's hard to imagine listening to music without it in your system. [Bill Wells]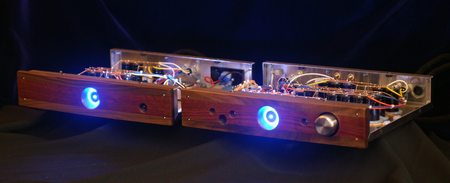 Blue Circle BC501ob DAC ($6995.00).
Gilbert Yueng has done an excellent job of eliminating the argument of which is better analog or digital. The BC501ob is Blue Circle's top of the line DAC that is a turbo charged BC501 ($3995.00). The BC501ob shares the same 24 bit 8x oversampling as the 501 but adds an external GZpz 880,000 uf power supply. I was able to hear both units side by side and although the BC501 is a very good performer the BC501ob is state of the art and takes music to an entirely different level. The BC501ob portrays the music with a seductive midrange reminiscence of tubes, tight deep bass like 1000 watt monoblocks, and crystal clear highs that sounds like drummers are using the best of the lot from Zildjian, Paiste, or Sabian cymbals. The BC501ob will raise any system to a higher level of performance, equal the performance of some of the top flight analog rigs and create a musical experience that is very close to the real thing. [Craig Fitzpatrick].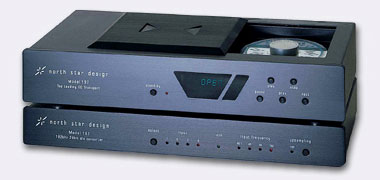 North Star Model 192 Transport & DAC (Italian made at ($2500 each/retail)
With sophisticated styling and good looks to boot, this wonderful combo of separate transport and DAC from Italy at no time failed to please. In fact, my initial and long-lasting opinion was that they had a deliciously, seductive sound, full of character and musically true. I enjoyed many hours of extended listening to music with strong bass quality, open and detailed midrange along with extended highs. Overall dynamics were powerful with the sound coming to you in a convincingly forceful manner. But the sound also had the ability to go soft and delicate when appropriate. The North Star offers solid price-to-performance ratio, and is at all times quite musically pleasing and something seriously worth considering. [Bill Wells]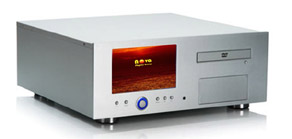 Nova Physics Group Memory Player ($10,950 Transport Model)
It don't mean a thing if it ain't got that swing. I could elaborate on the technical details of the Memory Player design and wax poetic about paradigm shifts in digital playback but the bottom line to this pragmatist is performance. The Memory Player redefines CD playback through its exceptional performance in all areas. The fact that it is a music server is simply a wonderful bonus. Bottom line --- the Memory Player is by far the best sounding digital transport I have ever heard in my system. And that includes all the musical parameters I value, including "swing". [Don Shaulis]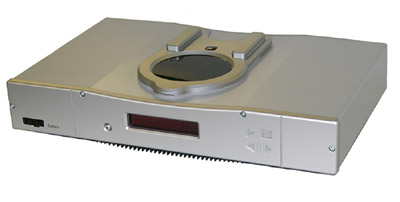 The Rega Saturn CD Player ($2395)
Building on the proprietary disc operating system of the breakthrough Rega Apollo, the Saturn extends the technology's potential to its apotheosis. It's perhaps not surprising that it took a turntable manufacturer to extract the kind of musical communication that has always been the provenance of high-quality LP playback from the compromised CD format. LP listeners who have previously been frustrated by the CD's poor depiction of rhythm and timing, and its high level of artistic distortion (not to mention its sonic anomalies) finally have a CD player they can listen to seriously, without secretly yearning for an LP version of the recording to understand what the music's really about [Paul Szabady].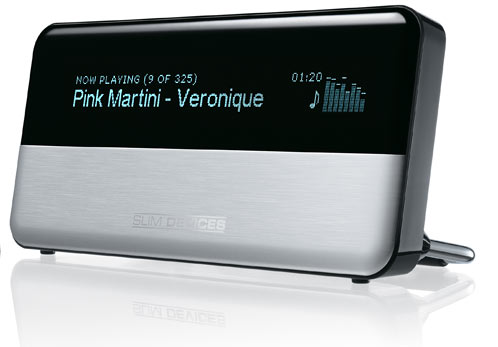 SlimDevices Squeezebox WiFi Network Music Player ($299 for wireless version)
It does what it's supposed to and very well at that. This is the most liberating and get-ya-listenin'-to-music-faster,-more-'n-easier piece of high end audio equipment that I've ever had in my system. When playing back WMA Lossless files over my 802.11G network via the Squeezebox the sound was only slightly less transparent in comparison to the corresponding CD's played on my Marantz SA-8260 player. Even with that slight loss in transparency the Squeezebox still managed to sound a bit more relaxed than the SA-8260. (Can you say "bye, bye error correction"?) Featuring an easy to use remote and nicely designed web interface the Squeezebox can be controlled from other computers on the network a network connected Windows Mobile device or any network device that has a browser. (I can control the thing from my Pocket PC T-Mobile branded phone!) It has tremendous file support for non-DRM'ed music. Also the implications of the included built-in preamp further spice up the mix of setup options. Even if it might be not used for one's primary critical listening device it's still an excellent tool for musical enjoyment. Extremely recommended for every and any one with a decent, well-ripped (copied as Lossless or wave format) computer based music collection and a wireless or wired home network. The wired-only version is $50 cheaper. Welcome to the future! [Alvester Garnett]
MusicGiants Network ($1.29 per track or $15.29 per most track) in combination with the Toshiba Gigabeat S60 Portable Media Center Player ($299.99) and Etymotic Research ER-40 MicroPro Insert Earphones ($299) [Alvester Garnett] Though the MusicGiants Network music download service is not a hardware component per se, it is a valuable component of my portable audiophile listening experience. (Yes, I said "portable audiophile"!) As far as download services go it is the only company to sell Lossless tracks and albums that are mathematically and sonically exactly the same as the wave files on audio CD's. MusicGiants even more one-ups the competition by remastering all it's for sale music for, in theory, even better fidelity than the original CD's. I have yet to do and A - B comparison of a title bought in both CD and MusicGiants format but I can vouch for the excellent sound of the several acoustic Jazz, Soul, and African music titles I've bought from them. Most recently MusicGiants has started to even offer DVD Audio quality 24 bit/96 kHz downloads. It's the best and currently only option for music lovers and audiophiles who value quality of sound over quantity. Also a further plus is their diligent and dare I say passionate tech support. Keep an eye out for their partnership with, and placement on Niveus' high end Media Servers.

Toshiba Gigabeat S60 Portable Media Center is one of the very few portables that can playback the superior sounding WMA Lossless files and the Digital Rights Managed variant of them sold by MusicGiants. Generally a tad cleaner, more transparent, more audiophile level of playback and I would dare say a slicker and easier to learn user interface that requires less clicks than that of the iPod's. Sure it plays movies and shows photos but the sound is to die for when playing back WMA Lossless and Wave files. Battery life takes a big hit while playing WMA Lossless but it's the unfortunate price to pay with today's technology for such a small portable audiophile experience.

Etymotic ER-4P in-ear phones when combined with the Gigabeat S series players represent an excellent audiophile option for the busy traveler. When properly seated in the ear canal they offer a satisfyingly accurate sound with a precise detailed bass. Their overall sound tends more towards neutral than romantic. On average I spend 4 to 6 months out of the year on the road touring the world playing gigs and these earphones offer up high fidelity plus the ability to block out the majority of ambient noise in the din of environments like airplanes, trains and automobiles. (Of course I'm not driving while using them!) Besides better enjoyment of the music, the added benefit of their superior noise isolation is less of a need to turn up the headphones further saving my ears for the bandstand (and the big rig back home) while requiring less battery drain of any associated player.