Rick Wald and 16/NYC, "Castaneda's Dreams" [Glowbow Music]
Work of Art- "Lift" [Soundkeeper Recordings]
September, 2007




I spotlight these two recordings (with warm beams of August sun) because they illustrate how talented musicians and recording engineers can collectively produce recordings on independent labels that offer a treasure trove of musical delights for the adventurous explorer, along with superb, natural sound.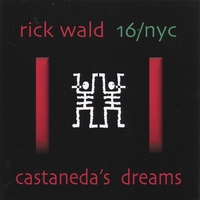 Castaneda's Dream
Dizzy Gillespie once commented that he loved the big band sound because for him it represented the epitome of cooperation and universal love. He also stated that he wished to live to see the day when Cuban/Latin rhythms were forged with Brazilian music and the blues. Gillespie's trips to Cuba and South America were part of his journey in search of combining these traditions. Gillespie's thoughts capture the playful beauty and musical essence of Rick Wald's compositions performed by his 16/NYC's Big Band on Castaneda's Dream. Composer and saxophonist Wald gathered many of his favorite musicians in the New York area to play on this recording, and the "labor of love" that results in the 16/NYC's delivery of these seven original compositions is a fitting tribute to Gillespie's vision. In the title cut, "Castaneda's Dream", we have a beautiful interweaving of rhythms and musical themes from both North American and South American influences. Its opening slow bossa starts with a lovely, agile flute solo by Lou Marini that moves into a pulsating up tempo bebop development, with Keith O'Quinn's trombone plunging and dipping into John Eckert's burnished trumpet solo. Jeff Brillinger's percussion swings with the colors and textures of this far-ranging composition. Similarly, on "Mixed Clouds and Sun," two sax players, (Paul Ostermayer on tenor and Loren Stillman on alto) share a cascading ballad of sorts, playing bookends to a languid trumpet solo from Valery Ponomarev, light touches from Ted Kooshian on piano and Art Baron's trombone, reaching higher and higher. Once again Wald and his soloists present a fascinating palette of Latin beats, bebop rhythms and long held blues chords. Watch out too for Chip Jackson's bass as he slides very low and deep throughout this intriguing exploration.

"Pixilation" reminds one in its theme of an old time American sleuth movie, with lots of mystery from muted horns and beautiful caresses from Sam Burtis on trombone. Burtis leaves things hanging in the air for Lou Marini's serpentine solo on soprano and Gary Smulyan's boisterous, deep baritone solo. "Breeze Right Through" starts off with a bang of big band raucous good times, swinging but with a hint of mystery as well, with great use of plunger techniques on trumpet and trombone - slip sliding away. The recording concludes with light percussion and rims touching off the swinging bossa theme of "Gliding" that moves swiftly through a terrain of skittish piano, large brass punctuations and great undertow provided by Jackson on bass. Wald and his skillful soloists are again on the prowl to bring some surprising colors and textures here, highlighted in its mid-section frolic into Latin/Cuban themes ignited by Kooshian on piano and explored by Stillman on an alto sax solo. Don't miss Jackson again as he plucks, picks and scampers over his wonderfully expressive bass solo. The sound of this recording is natural and spacious, with inviting burnished tones to the brass and an uncanny dynamic quality to bring out the great colors and interplay with the players onstage. Utilizing his multi-mic'd technique to pan the band in the soundstage, (with no overdubs), Wald has captured the artistry of his 16/nyc band and his creative compositions in all their Big Band splendor and panache.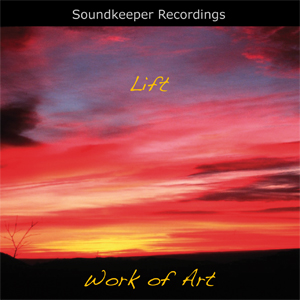 Work of Art-Lift
Producer and "Mastering Mind" Barry Diament of Soundkeeper Recordings, like Rick Wald, believes in producing recordings without overdubs or mixes, "without a net" as he aptly describes. In Lift, Diament has beautifully ensnared in his recording net the acoustic body and soul of the songs and music of Art Halperin, captured live in performance at St. John's Episcopal Church in Elka Park, N.Y. This is a recording to cherish for its uncanny ability to present a clear window into the acoustic proceedings, recorded in a natural, airy space. From the first strums of Halperin's crystalline guitar on "Dragon Boats" to the feathery, silver of Al Maddy's banjo and Jon Rosenblatt's mandolin on "If You Ever Were To Go Away," you are on a journey of blissful discovery into the inner details of the talented musicianship on display. You can wallow all you wish in the crisp, airy swirls of Nat Seely's brushes on snare laying the foundation behind "Outrun This Pain" or enjoy the natural precision and decay of those hand shakers keeping time on "Rescue Mission." If your system is up for it, you will not hear any better in terms of image dimensionality or a dynamic sense of a real recording space with layers of air and space between the musicians. The band assembled here is a perfect foil for Diament's recording care and precision. Wonderful acoustic guitar solos from Halperin, Maddy and Carver Blanchard bend and weave, as in "Oh Me Oh My Oh," with Diament capturing their inner textures perfectly, down to the percussive scrapes of the player's picks on their guitar bodies. "No Time To Think" literally explodes off the blocks with Halperin's powerful harmonica leading into a sweeping ballad, punctuated by naturally layered vocal harmonies and great bass foundation provided by Sue Williams' acoustic bass. Bluegrass lovers will luxuriate in the light fanciful flight of "Tomorrow's Another Day," with great flourishes from Seely's percussion and layers of captured air and natural depth between Halperin's vocals and the frolicking mandolin, banjo and bass that accompanies him.

This is also a recording where Halperin's original compositions stand up to the marvelous artistry of the musicians and Diament's production skills. Halperin brings beauty, humor and passion to his lyrics, spanning territories from environmental degradation to the foibles of ex-lover encounters. Halperin reminds me of the late George Harrison, delivering biting social commentary, sly humor and lilting imagery wrapped in pop hooks that grab the listener and linger in the mind long after the last mandolin chord is struck.

We welcome any suggestions for audiophile recording gems. Please write to nelsonbrill@stereotimes.com