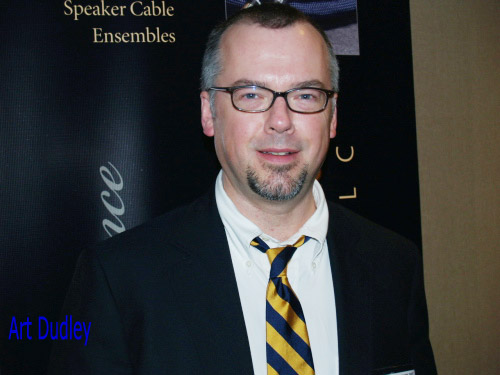 Art Dudley poses for our camera. A Wonderful guy I might add.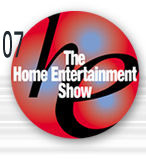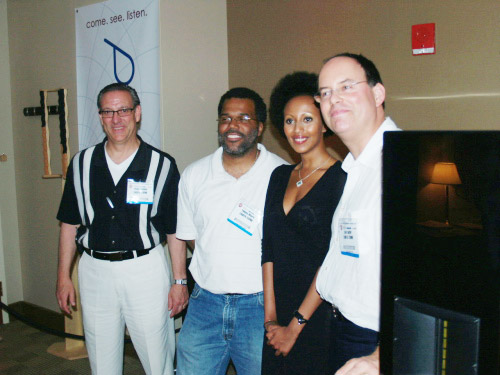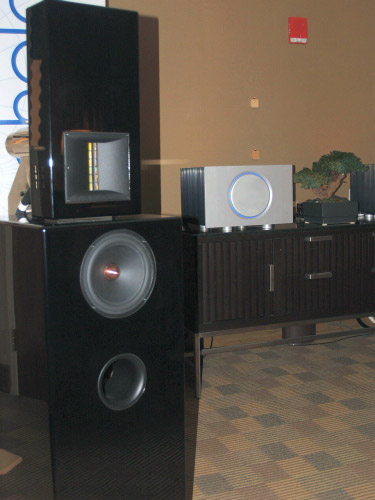 Team Laufer Teknik is quite an eager, young and spirited bunch that includes their fearless leader in Sam Laufer (top photo far right). Importers of German high-end products; Ascendo loudspeakers, Behold electronics and the Halcyonics platforms, Team Laufer and I are kindred spirits when it comes to our fondness for these state-of-art sounding products.
Speaking of which, the sonics of this space were exemplary. The Ascendo System M ($45k photo left) was driven by a single Behold BPA stereo amplifier ($45k) with the greatest of sonic ease. Hotel room limitations notwithstanding, the sound of this setup was not only respectable, but better than I can remember under the same circumstances. The Ascendos love breathing room and this room wasn't an ideal space but that didn't stop them from showing what potential lies in this otherwise excellent transducer. Kudos to Team Laufer.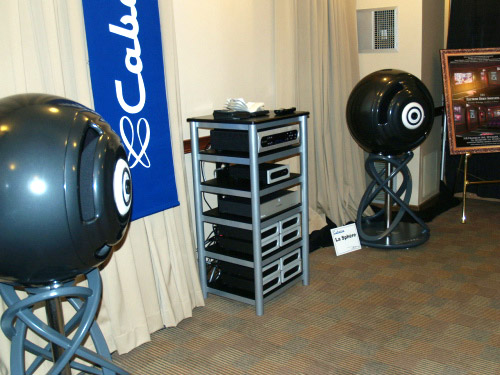 My initial impression in comment as to the price of the Cabasse La Sphere loudspeakers ($150k) was HOW MUCH did you say? Shown here with multiples of Bel Canto electronics, the overall sound was impressive that's for sure but I'm having a hard time being convinced, intellectual and proprietary design matters aside, that something could (or should) cost this much money. Hearing them in a more controlled setting may change my mind so I welcome any offers. I've been conditioned to seeing a lot of pretty wood veneer, and a stack of dedicated subwoofers standing 8 feet high whenever I see prices like this attached to a loudspeaker. Call me jaded.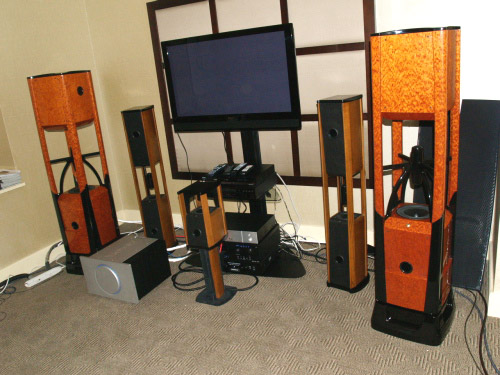 Bolzano Villetri showed with Behold electronics and the sound was rather disappointing considering what I've experienced in my listening space with these loudspeakers. Truth be told, attempting to tame otherwise poor hotel spaces may require the services of David Blaine, so please note I don't always expect the best. Also, I am aware that the gents who handle Bolzano Villetri are new to these events and basically don't know all the tricks to the trade; notice not a hint of room treatments or AC line conditioners? Lastly, I guess someone like myself who owns these very products knows what they're fully capable of only wanted the world to hear it too.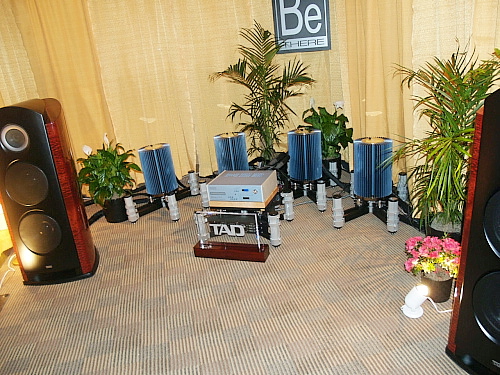 What a wonderful sounding setup this was! The TAD Ref One ($60k) had me in serious business mode due to the remarkable sound I was hearing via MSB's model 200 monos ($15k pair) and Ref CD Station ($10k - add another $1k for internal volume control). Using their famous concentric mid/tweeter drivers the sound of this room was nothing short of splendid. My only regret was that I wasn't able to stay as long as I would have wanted. This was not my first time hearing the MSB monos although I've not heard them driving the TAD loudspeakers. Got to take my hat off to those guys too because these amps sounded delightfully open, clean and most importantly, musical.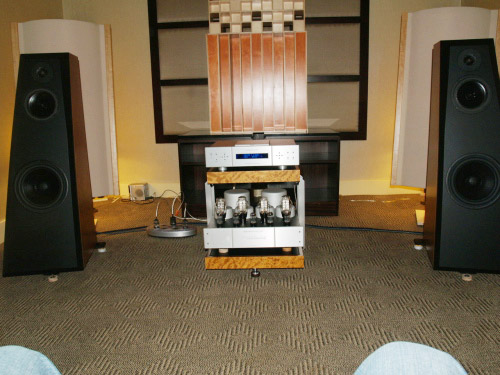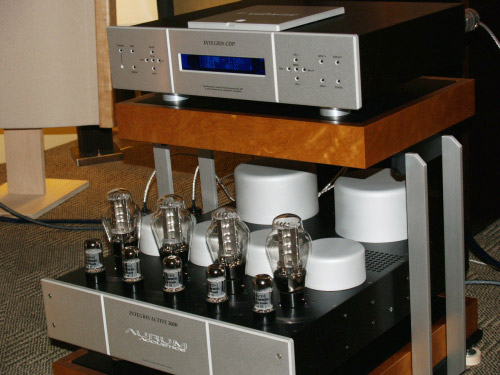 Strictly in terms of tonal rightness with a splendiferous sense of musicality that is rare under most conditions and hardly, if EVER, attainable under dreaded show conditions, I must tip my hat to the Canadian designers of Aurum Acoustics. At $42k for the entire rig makes this even that much more unbelievable considering all the hyper-priced rigs flanking this very room. Simplicity is the word according to Aurum Acoustics (if you can call a tri-wired system simple, please be my guest). Their logic makes plenty sense and moreover the sound was incredibly liquid and three-dimensional. I can go on and on telling you about how Aurum Acoustics designs each of their 300B tubes specifically to drive each midrange and tweeter driver independently and crossover-less while the bass drivers have their own dedicated amplifiers built in to the loudspeakers.
Our own Mike Silverton uses their CD player which lists for $12k and asked me to seek this room out since Mikey thinks much of their player. Well, now I can fully understand what's got Mikey all excited. The sonics of this room wowed me enough to nominate it as my Best of Show though, I will admit there was stiff albeit more pricey competition coming from the Scaena/Behold, Ascendo/Behold, Magico/VAC and the TAD/MSB rooms. Though grossly more expensive by comparison the Aurum Acoustics stood up toe to toe with no apologies except one: NOT gouging your bank account. Bravo.
Until we meet again,
Clement Perry