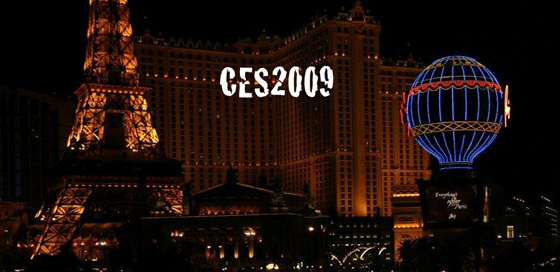 Virtue Audio/Audience, LLC/Mark & Daniel Audio Labs (Alexis Park 1703)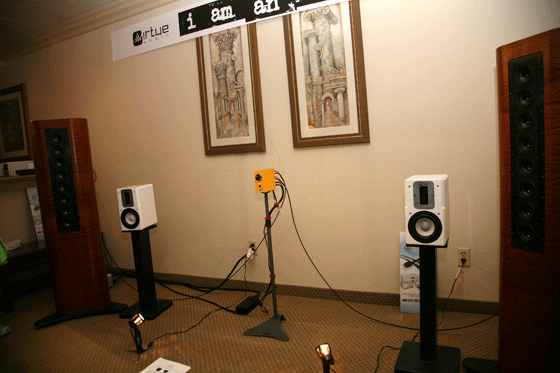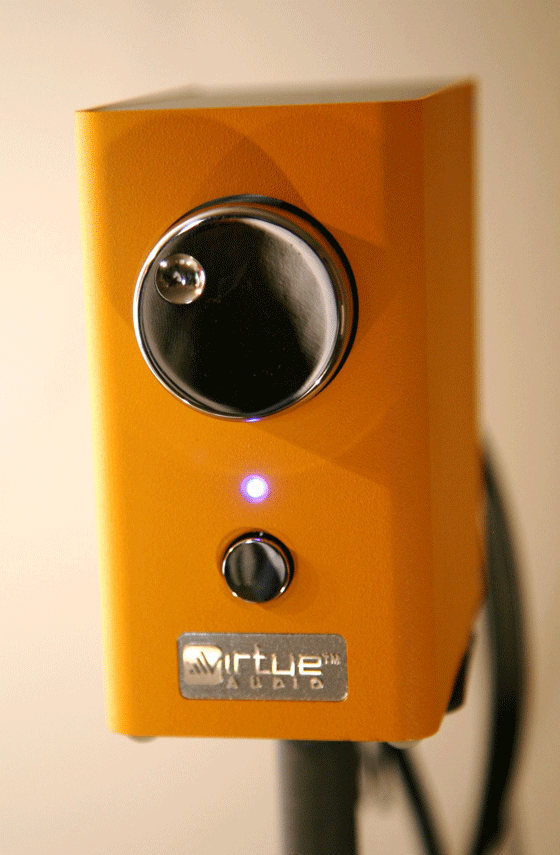 The Virtue Two ($349 + $99 optional 130W power supply) is the "little engine that could". It was quite impressive driving the elegant ClairAudient LSA 8 loudspeakers ($21,000). This is the second year in a row I heard the ClairAudient speakers sounding very dynamic and musical, although last year it was with a "full-sized" amplifier.

The Virtue Two is only 5"H x 2.75"H x 5.5"D. With the optional 130W power supply it is rated at 60Wpc in stereo mode and 90Wpc in mono mode into 4-ohms. With the standard 90W power supply the rated output is 50Wpc in stereo and 100Wpc in mono. There is also a Virtue One model available starting at $249 with a 65W power supply. Both are available in five colors.

An OPPO DVD player was used as the source with a prototype Virtue DAC. Audience provided cables and power conditioning (Adept Response).


Stillpoints LLC/Acoustic Zen (Alexis Park 1809)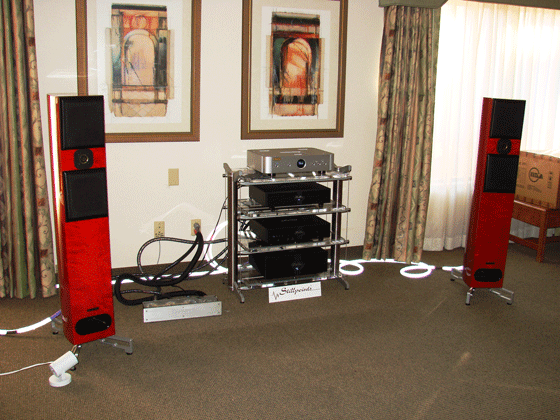 Another good sounding and affordable setup included the Acoustic Zen Adagio two-way transmission line speaker ($4000) with the Exemplar Audio XCD-1 CD player ($6500), Belles Electronics VT-01 Vacuum tube preamplifier ($4295), and Belles Electronics SA-100 stereo amplifier ($4695). A Shunyata Hydra Model-6 provided power conditioning while Stillpoints provided the stylish rack and speaker stands. Also pictured is a Belles Electronics PH-01 stereo phono preamplifier with separate sections for moving magnet and moving coil phono cartridges ($4000) and Acoustic Zen speaker cables.

Triode Corporation Ltd./Acoustic Zen (Venetian 13-201)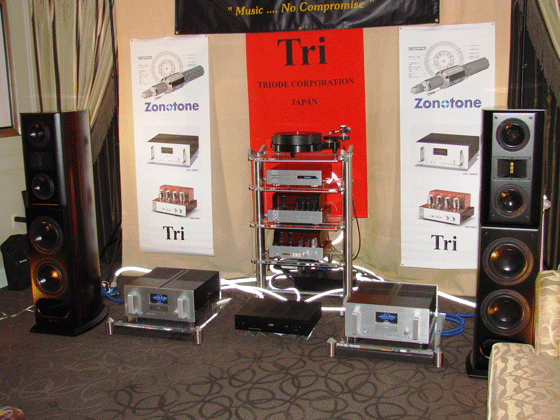 Acoustic Zen strikes again with their Crescendo three-way transmission line loudspeaker ($14000) making sweet music coupled with electronics from Triode Corporation Ltd. The Triode Corp. Electronics included their TRV-CD4SE tube CD player ($2100), TRV-EQ3SE tube phono preamplifier ($2800), TRV-4SE limited special edition tube preamplifier ($2800), and the TRV-M88PP KT88 push-pull monoblock amplifiers (200W into 8 ohms and $14,000/pair). Speaker cables were the famous, glow-when-photographed-with-a- flash, Acoustic Zen. How DO they do that?

Clarity Cable (Alexis Park 1310)

Clarity Cable took a different approach to their room this year. They still had great demo tracks as always but instead of featuring expensive, state-of-the-art equipment, they chose to demonstrate how critical cables and power conditioning can be to even the most basic system. Yes Emily, the devil is in the details and wire does matter.

Their main system consisted of a Panasonic DMP-BD30 Blue Ray player ($250), Panasonic SA-XR700 Receiver ($700) and Infinity Beta 50 loudspeakers ($800/pair). That is a whopping grand total of $1750. By contrast, the Clarity cable products totaled $8200. The room was dynamic, musical, and very clean sounding with none of the nasties that plagued the Venetian, although rooms at T.H.E. Show did tend to sound cleaner in general.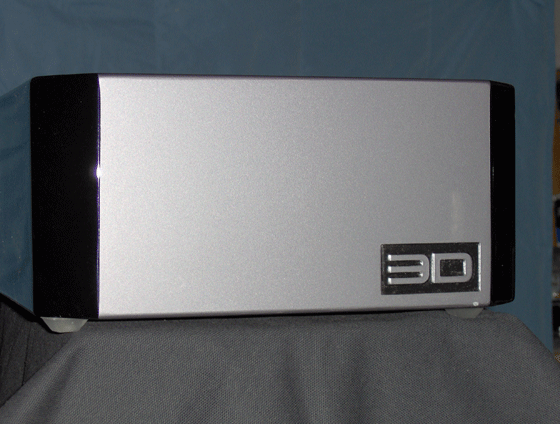 At the heart of this good sounding room was the Clarity 3D power conditioner ($1900 for a six outlet model). Other Clarity Cable products included their Organic digital cable ($600), Glory biwire speaker cable ($1600/2M pair), Vortex power cords ($600/1M), Audio Pillows ($30/60 each) and speaker modifications (rewiring and vibration control, $1000).

Von Gaylord (Alexis Park 1512)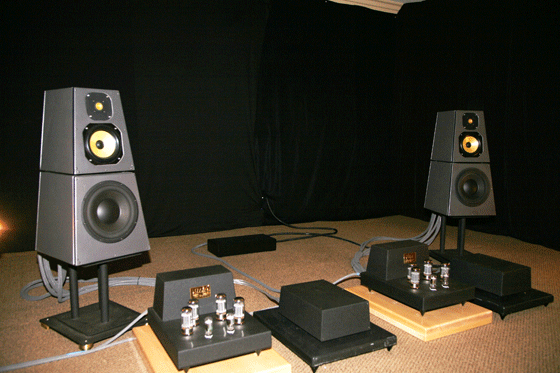 Von Gaylord consistently has a good room. Practice makes perfect and the synergies of all Von Gaylord (except CD transport) products help. This year they were exhibiting the new Uni 160W triode monoblock amplifiers ($12,500/pair). While lacking the ultimate bass slam and low bass definition of their 200W aquatic namesake the liquid cooled Uni (Sea Urchin @ $100,000/monoblock pair), they were still quite engaging. The vG One and vG One Plus loudspeakers ($13,800 for main monitors and low frequency units) have been updated recently. Also in use was a Uni preamplifier ($12,500) and Uni DAC ($9995). The Uni amplifiers, preamplifier, and DAC all have external power supplies. All wire products were Von Gaylord Chinchilla.

Analysis Audio/Spectron Audio (Alexis Park 2009)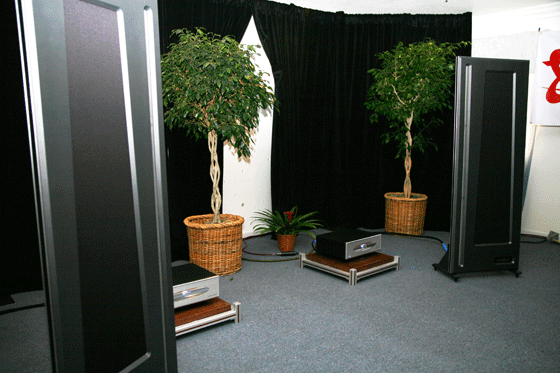 Affordability be damned. This room was my show favorite. The Analysis Audio Omega loudspeakers ($22,000/pair) with optional Reference external crossovers ($4800/pair) were paired with Spectron Audio Musician III Signature Edition MK2 monoblocks ($7200 each) using the Spectron/JPS Labs Remote Sense speaker cables ($5300).

The supporting cast included a Cary 306 CD/SACD player ($7500), VTL 7.5 LS MkI preamplifier ($12,000), VPI Aries III turntable with 10.5i arm ($4,800), VPI Super Platter ($1,200), Dynavector DRT XV-1S cartridge ($4,500),
Audible Arts modified phono preamplifier ($1,995), Electric Bamboo power conditioner ($3,200), and Bybee XLR Frequency Filters ($2500).

This room created the most positive energy for me and it was where I wanted to listen to every one of my demo CDs and hang around for others to drop in and share their audio treasures. These were the speakers I wanted to take home. And, in a sense, I did. The show pair will soon take up temporary residence in my listening room while I do a full review. Stay tuned to The Stereo Times.