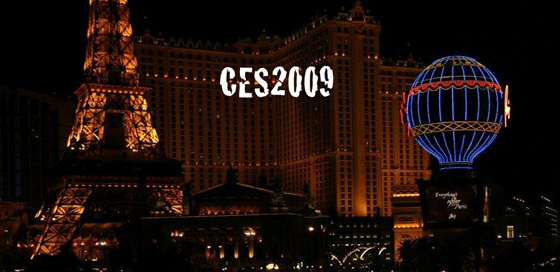 The Venetian Hotel is huge and walking through it is a task unto itself. The sites and sounds are eye-opening particularly when you see partially-dressed Adult Video Awards attendees walking about with all their private parts all out in the open. Sigh.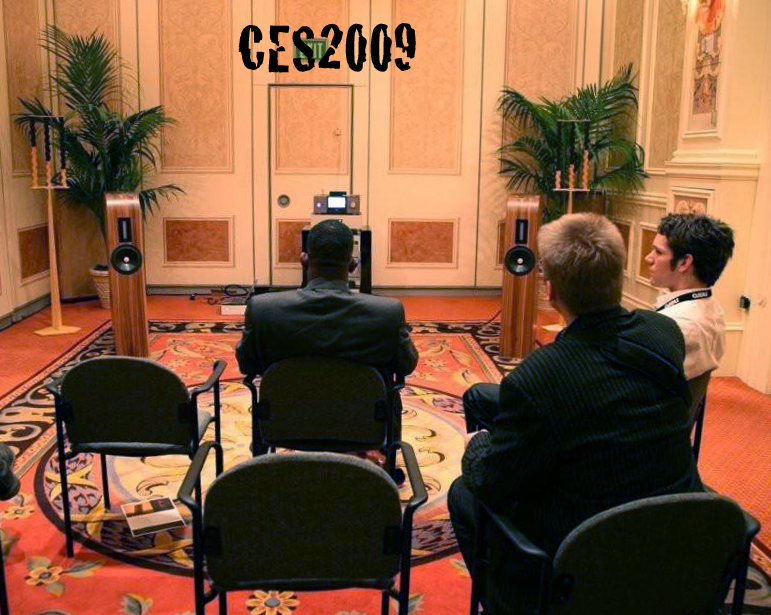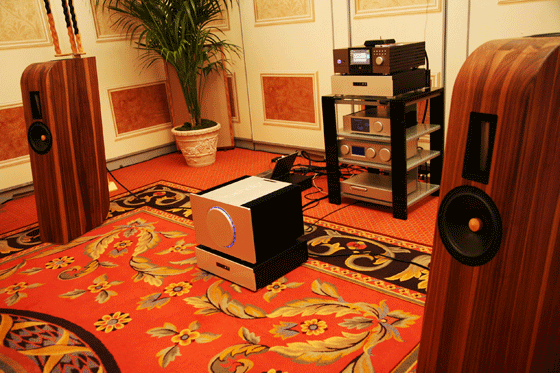 Before attempting to go to the towers we (CP and I) ventured to level two to the Laufer Teknik room. We were greeted by Sam Laufer who, over the past few years, has become recognized as the importer of superior high-end German electronics Behold. Laufer asked us to sit and give the Boenicke W20 SE loudspeaker ($40k), the newest addition to his arsenal, our undivided attention. The W20 SE's a true transmission line and its build quality (CNC milled from two solid wood blocks I'm told), look, fit n' finish are stellar.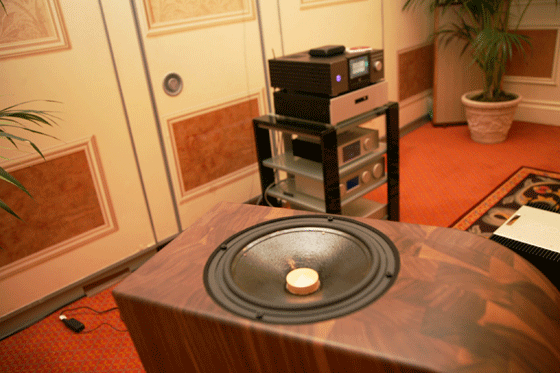 Rather unusual is one of the W20 SE's full-range driver is located atop its cabinet. Designer Sven Boenicke says this adds a dimensionality not often found in front-firing designs. Matched with the most Behold electronics and the exalted Nova Physics Memory Player, the sound was larger and wider than the physical location the Boenicke was in a testimony to Boenicke's unique top driver. Here's a loudspeaker that paints a large sonic landscape which was also very detailed and musical. Mr. Sam Laufer, you've done it again!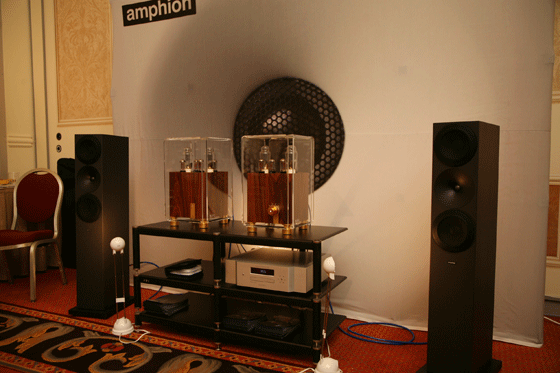 The Amphion room was showing their Prio loudspeaker ($6,000) with the beautiful Lars 300B complimented tube amplifier ($100,000). The Lars is of Swedish design and is referred to as "The Stradivarius of Amplifiers" I don't know about that quote but the sound was rather impressive. $100k or Stradivarius good? Now, I wouldn't go that far.

On to the towers.

In the Escalante room Terri Budge was showing the $20,000. Fremont loudspeakers piloted by
Electrocompaniet electronics. At first blush I thought, for the large size of these monitors, the sound was rather too relaxed and demur sounding. That is, until he turned up the volume. I heard Escalante Fremonts transform from Tinker bells to the Incredible Hulk. The utter dynamics, musical heft and soft transients make this an intriguing loudspeaker and another of my most impressive "Best Sounds".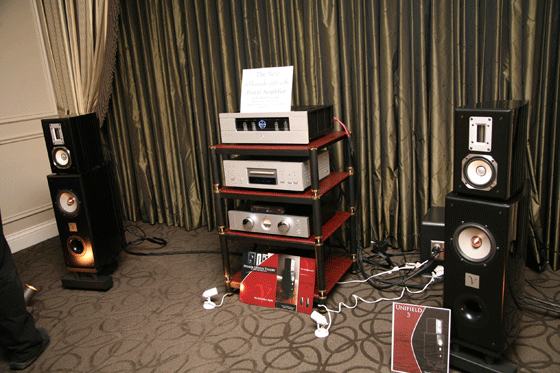 For the money, the Von Schweikert Audio Unifield 3 ($15k), has to be among the best sounding loudspeakers I heard at this year's CES. George Kaye's Moscode electronics are no slouches either in the wonderful sonics they provide.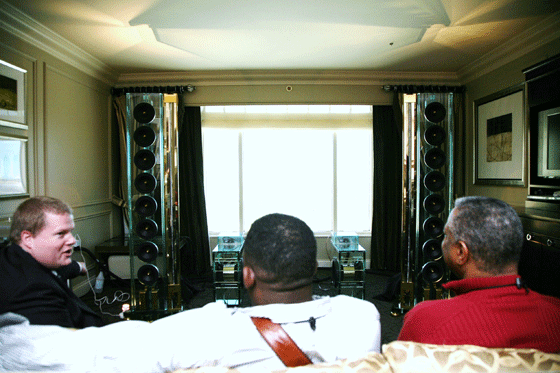 The Perfect 8 loudspeaker in conjunction with Bridge Audio Labratory and Zanden Audio was a showstopper. I am in total agreement with CP on this setup and think I returned to this room at least three times just to double and triple-check. The concept of using glass as an enclosure - even on subs so devoid of vibrations that when a full 16 Oz bottled water was placed on them you don't even get a ripple - serves as a contradiction to everything I was taught. The sound was simply fabulous and ultra-quiet. The system weaved a sonic tapestry with such a great sense of ease, I could digest all the musicians at once. Not an easy feat. Easily my vote for "Best Sound at Show."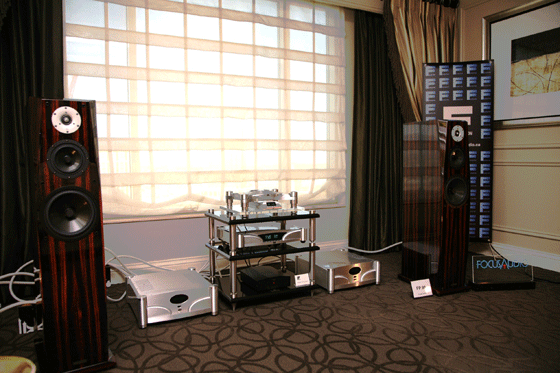 The Focus Audio setup featured its Prestige Series FP90 loudspeaker: an 87db, 8 ohm beauty, displayed in a beautiful Ebony finish. The guys responsible for this room put together a sound that truly represented "Focus Audio" because I was easily able focus in on the music and nothing else. It, of course, didn't hurt all electronics were by way of Oracle Audio that featured their model 2000 transport, model 1000 DAC and model P1000 mono amplifiers.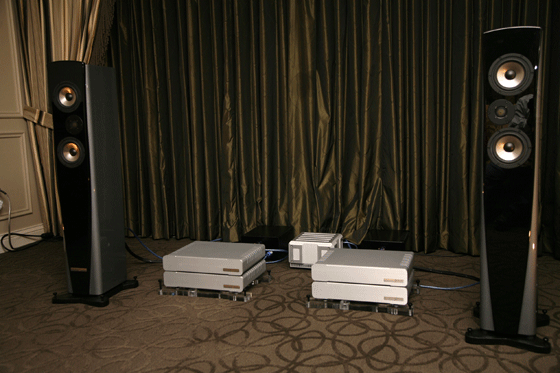 The Genesis Audio room showed their new Genesis 7.if loudspeaker, which comes with its own self-powered woofer section complete for $8k. The sound rivaled loudspeakers costing many times more. I was impressed by the ease and dynamic flow, especially bass, which they delivered in spades.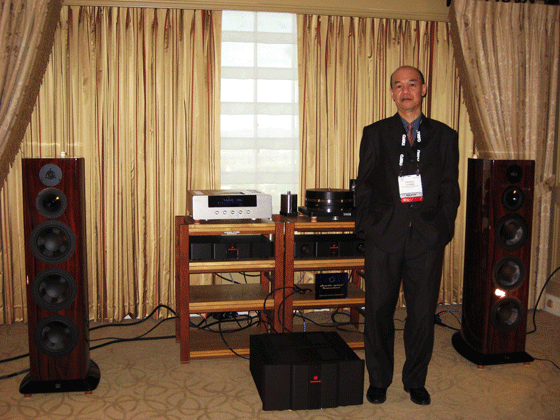 The Avatar Acoustics room featured Acoustic System International Tango Platinum loudspeaker ($27k), in addition to Karan Acoustics electronics and cabling by Franck Tchang (photo). The synergistic sound emanating from this system produced an easy to listen get lost into: detailed, dynamic and truly three-dimensional.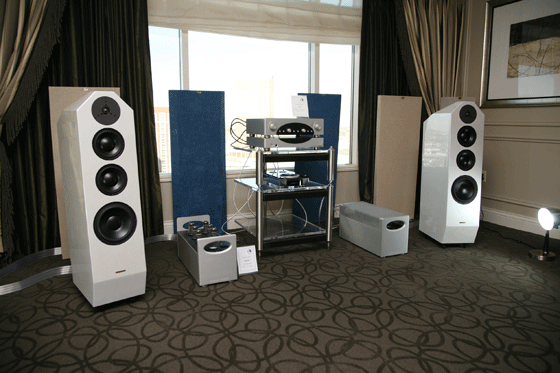 The Rogue Audio room was showing off its Hera Tube Line Stage ($7500) and Apollo Mono Block electronics ($10k) powering an egg colored pair of Eggleston Ref 9 loudspeakers. If its the glorious glow of tubes you like, these babies will warm the cockles of your heart.

In conclusion although I only reported on a few rooms the Stereo Times staff was well represented here and redundancy was something I tried to avoid and after all is said and done this years CES was a better event than I had anticipated it to be.
The turn out for the CES was a boost the Las Vegas economy and over all it was a good time was had by all.
Hope to see you next year!