CES 2008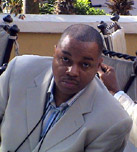 Well itís that time of the year againÖ the most wonderful time of the year, when Las Vegas comes alive with ladies and gents from near and afar to showcase some of the electronics industryís most alluring products. This year T.H.E. Show expanded by incorporating rooms that were previously utilized by CES when it was held at Alexis Park. For a second year in a row CES was held at the Venetian.

This year the weather was acceptableóno rain, no snow with an average temperature of 55 degrees. Perfect for me because I like to wear jackets. My flight was slightly delayed, yet uneventful and arrived slightly off schedule. I immediately went over to T.H.E. Show because it is a straight shot from the airport and my hotel was a block away, so I was able to drop off my bags and get right into the mix. So letís get started!

T.H.E. Show 2008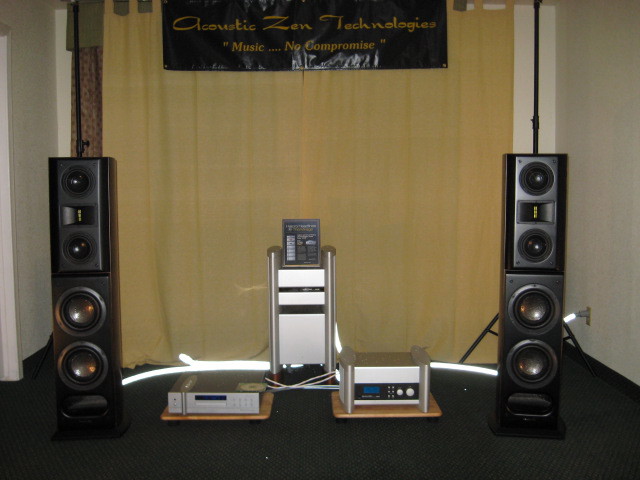 Acoustic Zen Technologies/ Halcro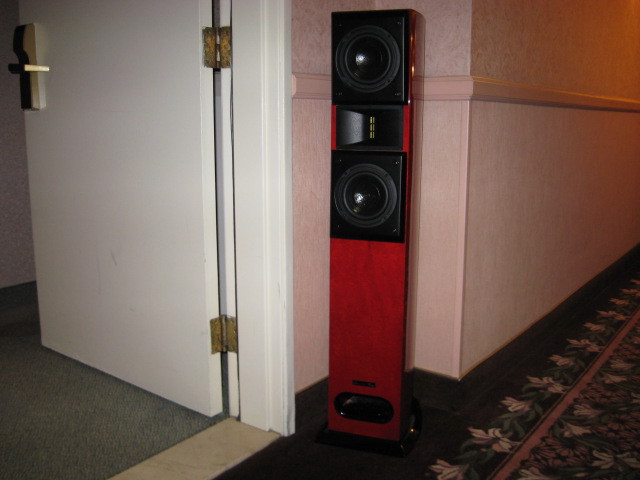 The first stop that I made was over at the Acoustic Zen Technologies suite where Robert Lee revealed a number of new loudspeaker models to augment an already impressive portfolio. The Vivo ($2,800.00) is a slightly smaller version of the Adagio with (2) 5 ľ midrange underhung drivers and a horn loaded rectangular ribbon tweeter. Sound wise the apple doesnít fall too far from the tree; in this case the Vivoís bigger brother the Adagio. Moving up in appearance in price and stature is the new Crescendo ($14,000.00). This is a full range loudspeaker that has two eight inch woofers, two five inch midrange drivers and a single two inch horn loaded tweeter per side. The sound easily filled the room with beautiful music.


At the top of the list is the Maestro ($36,000.00), Acoustic Zenís assault on the upper end of high end audio. Electronics were provided by Halcro. Each room had the same compliment of electronics the DM38 stereo amplifier ($19,490.00), DM10 preamplifier ($17,490.00) and Logic CD player; except for the top end room where he used the DM88 monoblock amplifiers ($42,990.00 per pair). Cabling was of course provided by Acoustic Zen. Each one of Mr. Leeís rooms (and he had three demos running concurrently), produced a signature sound. So now the question can be asked, is he a cable guy or a speaker guy?


Art Audio/Maxxhorn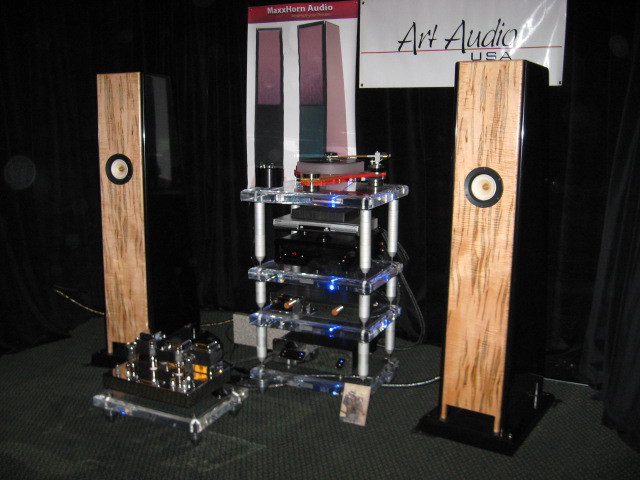 Tube guru Joe Fratus partnered with Robert Spence and the crew from Maxxhorn from the Lone Star state to produce some remarkable sounds. Art Audio is already known for producing some ultra transparent, extremely linear, musically satisfying amplifiers and preamplifiers. This time he had on display the PX25 single ended triode stereo amplifier ($7,150.00), and the Gill Audio Design Elana preamp ($4,500.00) and Elise D to A Converter ($6,000.00).

The Maxxhorn loudspeakers (price tbd) uses the Feastrex D5 full range driver from Japan ($7,900.00) and the sound was very smooth and detailed with an effortless presentation. Mr. Spenceís goal is to design a loudspeaker that he hopes, ďwill stand up to the test of time and a hundred years down the road will still command a compelling price as one of the featured items at Sothebyís auction houseĒ. I donít know about the future, but judging by the sound that Iím hearing in the present heís definitely on to something special. Cabling and 3D AC conditioner by way of Clarity Cables.


Modwright Instruments Inc. /NSR Sonic Research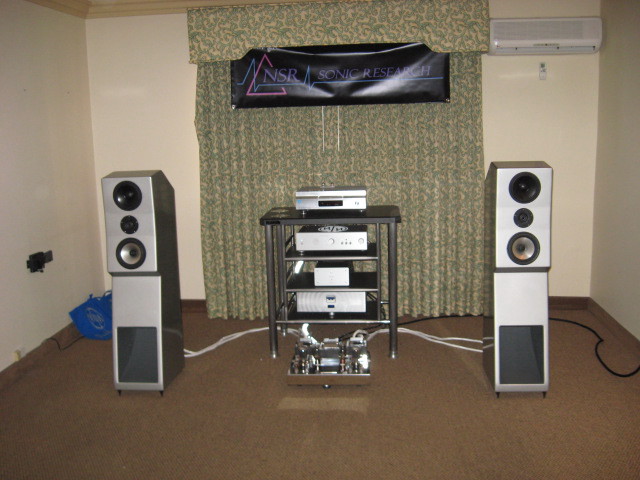 Dan Wright of Modwright Instruments Inc. was at it again this time with NSR Sonic Research loudspeakers. Each time Iíve visited his room in the past, the sound was always fantastic. He had a number of his products in the room including his modification of the Sony 9100 CD player. The Signature Truth mod retails for ($4,300.00), and he also had on hand the LS 36.5 balanced reference tube linestage ($4,995.00). The stellar Art Audio Symphony single ended triode stereo amplifier ($6,600.00 plus an additional $500.00 for the stainless steel finish) was used to drive the NSR Concerto Series D3 Sonata loudspeakers ($4,495.00). Cabling is by Acoustic Zen Technologies and the rack was by Billy Bags. The NSR Concerto D3 is a spectacular sounding loudspeaker with a ridiculously low price tag and I look forward to bringing you some detailed information about this marvelous transducer.

Mark & Daniel/Audio Zone/Dynamic Design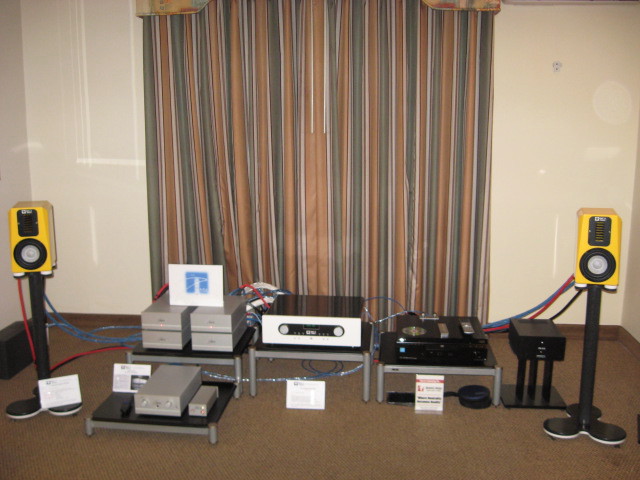 If good things come in small packages then the name on the shipping label might probably say Mark & Daniel. The Maximus Sapphire is only five and a quarter inch tall and has a modified Heil Motion transformer and a patented SX woofer. This miniature dynamo at ($2,240.00) provided an astonishing presentation. It was paired up with their own prototype 6 channel analog preamp (estimated price $2,500.00), Audio Zone AMP-D1 Stereo amplifier ($1,600.00 estimated) on the tweeters and Audio Zone AMP-D2 monoblock amplifiers ($2,200.00 estimated per pair) on the woofers. Cables were by Dynamic Design, the new generation Lotus series: $400.00 per meter pair of interconnects, $750.00 for an eight foot pair of loudspeaker cables, and $750.00 for a six foot power cord. Iím familiar with this brand of cables and this new iteration is not only competitive within its price category but can outclass cables costing many times more. Overall this was an extremely engaging demo with a clear and transparent sound.