CES 08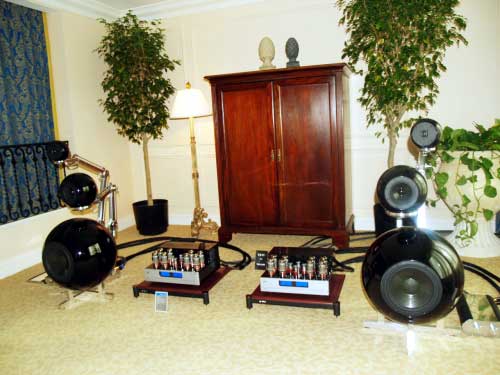 Proclaim Audio Works versatile DMT 100 loudspeakers ($26k) and Cary Audio put on a pretty unique demo. The fully adjustable and circular built DMT 100 comes standard with a clever out-board crossover (photo left) that allows for individual volume adjustment for each loudspeaker. One may wonder why would a loudspeaker manufacturer offer variable time/coherency and individual volume adjustment for a loudspeaker? Consider this case-scenario; how many times have you personally witnessed a pair of loudspeakers placed in a room where either the sidewalls were uneven, sloped or in some cases non-existent? This would be the perfect scenario for a pair of Proclaim DMT 100s says its designers. Wire and AC cords were by way of TARA Labs.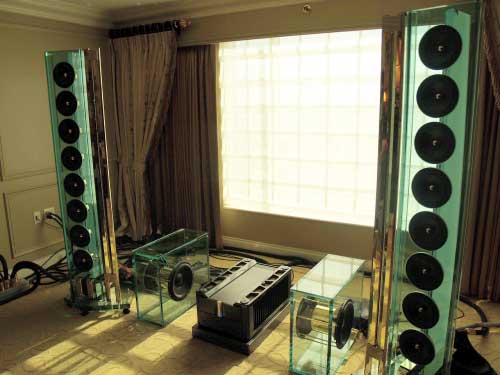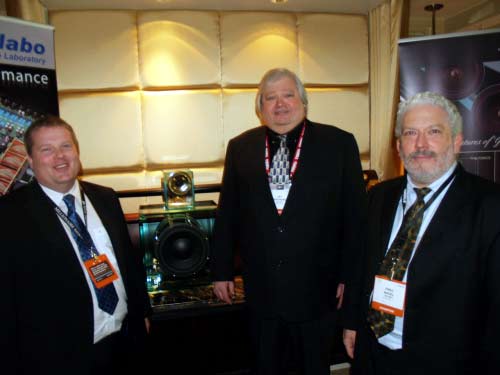 The system that pressed my sonic buttons the most was the "Force" dipole loudspeaker from Swedish manufacturer Perfect 8 ($275k) and the Japanese made Bridge Audio Labs linestage ($55k) and stereo amplifier ($70k). Standing nearly 6'6" tall and sporting eight 7" SEAS mid/bass drivers and a 64" tall dipole ribbon tweeter attached an enclosure comprised of three sheets of specially treated glass using a polymer bonding material that produces a " super-silent" transducer says Perfect 8s company chief Jon Rantila (photo left, Jay Bertrand center and Fred Nadel right). The woofers are powered by 2000-watt analogue amplifiers employing dual 12" custom-made drivers in semi-transparent glass enclosures.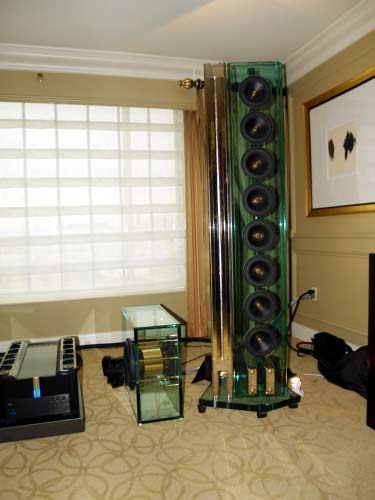 Bridge Audio Labs' electronics are hardly affordable but its physical look and sonic performance proved, in conjunction with the "Force" loudspeakers, revelatory to these ears. Very seldom have I been so taken by a product particularly under show conditions. Yet, this system, using a relatively affordable Accustic Arts standard CD player had me totally transfixed on its performance. Every single song I threw at this rig from my personal CD collection sounded harmonically as well as spatially remarkable. I'm not going to say the sound could mimic what I hear now from horns on a dynamic level, but then again, this isn't a horn and from the perspective of a sheer line source, this was about as good as I've ever heard.
I argued, fussed and fought over the silly price but could not find anything to fault with regard to the "Force" sonic capabilities...of course with those remarkable electronics from Bridge Audio Labs. Stunning.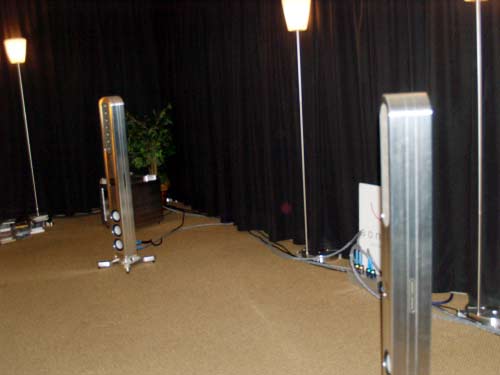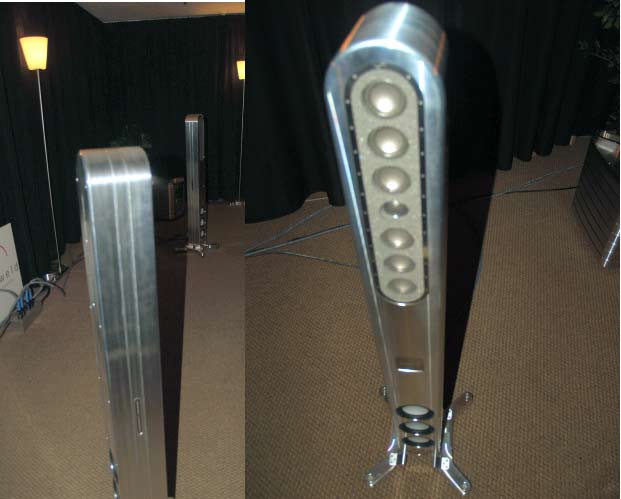 In an attempt not to mince my words, I'll qualify the Sonicweld Pulserod/Subpulse loudspeaker system ($100k) as this: Far and away, the best disappearing act I've heard from a loudspeaker with no exceptions. Keep in mind the system comes with everything minus a source so in terms of price, yes it's expensive but justifiably so. I must have spent two hours in this room attempting to find something, anything wrong or imperfect about these loudspeakers.
Well, they're not going to sound as big as the really big loudspeakers, nor will they go as extremely low in the lowest octaves. But they do come so close to sounding so much like the big boys... I sat there in total awe. As a matter of fact, the only area this system did not match the amazingly musical Perfect 8s was in the low bass fundamentals. Everywhere else, midrange, presence, treble, soundstage - width, depth and dimensionality - believe it or not, the Sonicweld put on a demonstration I've never personally witnessed prior in anything remotely close to its size. My hunch is, when you look at them, they'll physically disarm you because you just can't believe the sound you're going to hear from such miniature drivers.