CES 08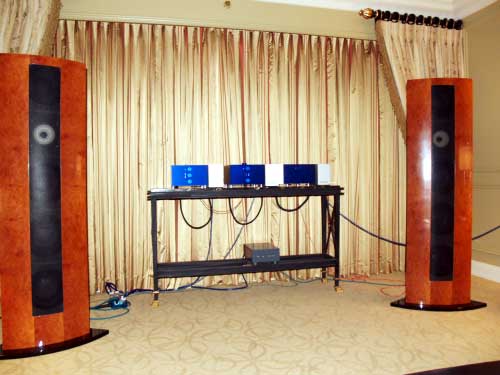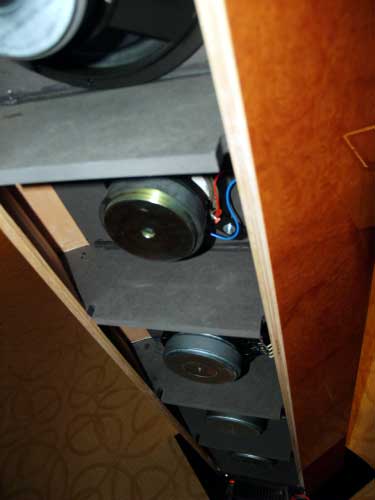 Got the opportunity to hear once again the AcousticPlan series of tube electronics and loudspeakers of Germany. Their reference model nicknamed the Veena ($28k active, $23 passive), employs a single 6" broad-band driver and four 10" woofers used in an open baffle, dipole configuration (photo left). The Veena's radiation pattern, like all dipoles, allows the music to flow evenly from the rear without energy absorption from the cabinet. I originally heard these in '05 at the High End show in Munich and the sound was very impressive as it was here: Open, lively with great bass articulation and ease of flow. I really liked the silky, wide open sonic presentation the AcousticPlan Veena's gave which brought to mind the sound of 'stats on steroids.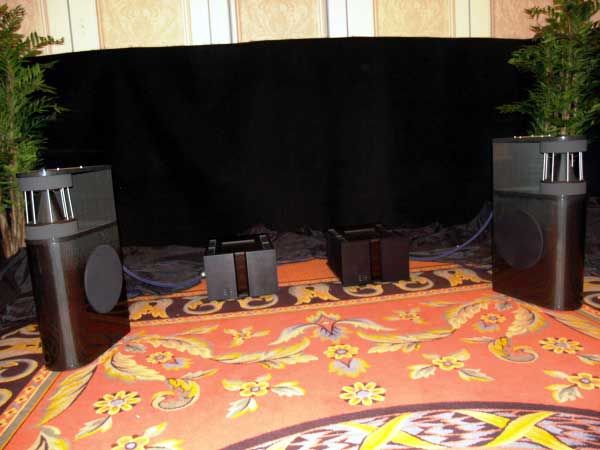 Chris Sommovigo of Signals SuperFi, importers of Continuum, StereoVox, Vitus and German Physiks showed their collective best - in all black no less. Showing very good soundstaging capabilities via the omni-directional way was the German Physiks model PQS202 ($55,595 with full carbon fiber cabinet finish) and the Vitus mono SM101 amps ($65k!) were driven by its own SCD-010 CD player ($16,995) and SL100 linestage ($40k). My very own reference discs sounded quite nice with a very airy and open effect that appeared realistic despite the less than ideal acoustics. Always a fan of omni designs, and a personal long time admirer, I think the German Physiks are certainly one to keep an eye on.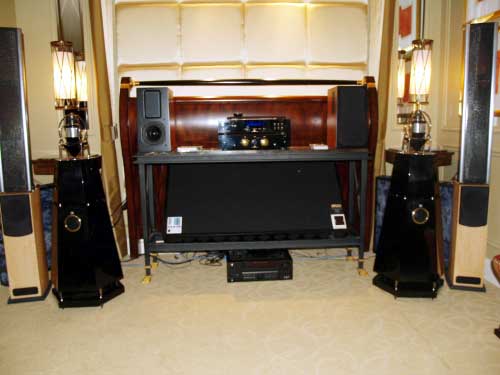 Chinese manufacturers King Sound Ltd, makers of the King electrostatic loudspeaker reviewed here, revealed an arsenal of affordable products. One included a omni-directional dynamic design that, though in prototype form, really sounded quite impressive...especially with a price promised at around $2,500.00. Not too many omni-designed loudspeakers can be had at that price. Sound was impressive to boot.
While the Euro continues to rise, forcing prices of imported products ever skyward, the Asian market continues to offer hope and common decency to a hobby that, strictly price-wise, has "damn near lost its mind." There were about two-dozen rooms I walked into and literally cringed at the mentioned price of a particular product. Not to pick anyone in particular, because I happen to admire Albert Von Schweikert BUT, his VR4 Gen 3 retailed for $3999 back in the fall of '01. His current price on a pair of special edition VR4 retail for $12,500!!! AND Von Schweikert is located right here in the U.S. of A. no less. What the ... Aren't we walking into a recession? Doesn't seem so, at least, not in in Las Vegas.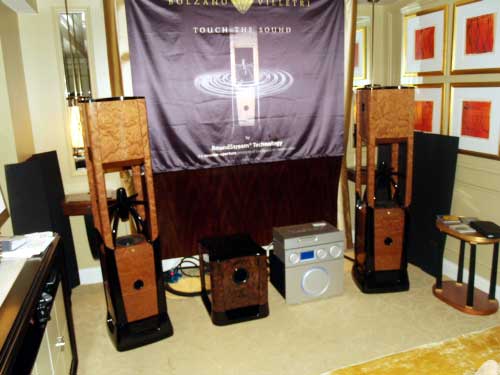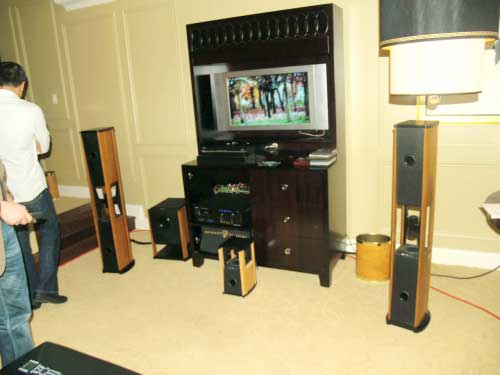 Bolzano Velletri showed off their "RoundStream" omni-directional technology featuring both their 3000 series Torre loudspeaker and subwoofer ($15,500 total package) as well as their Bellagio home theater setup. My disappointment here was huge. The sound quality wasn't bad at all, but at the same time it wasn't nearly what it could have been had they swapped the equipment around. Why on earth did the very large Torre loudspeaker using world-class Behold electronics in such cramped quarters while their smaller Ballagio HT system took up the larger space area - the perfect space for the Torre/Behold setup? Hey, these guys are still new and trying to find their way, so I'll cut them a little bit of slack. But I found it very hard being a personal owner and lover of the 3000 series Torre, with a pair Bellagios used as surround channels with remarkable results.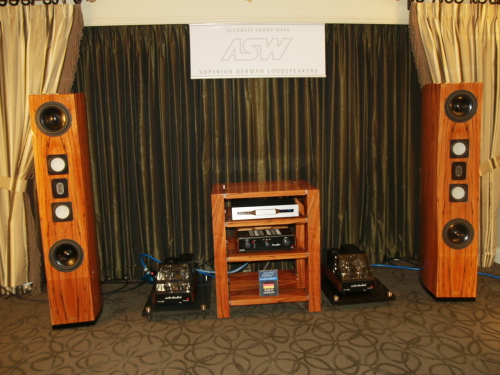 May Audio imports the German made Accurate Sound Wave (ASW) Megadis ($30k) loudspeaker and Master Sound series of electronics which I thought sounded quite impressive especially considering its price/performance category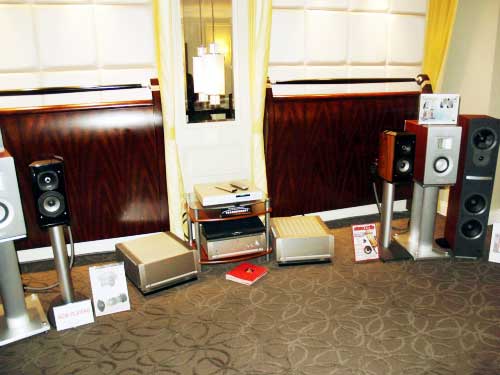 Phil Jones, designer of the famous Air Pulse multi-horn loudspeaker introduced some ten years ago is back. His Ref1 monitor ( $1,500, left) which features a single 5" two- way, using a horn loaded concentric ribbon tweeter sounded quite impressive despite its rather small stature. Standing next to the Ref1 is their flagship Bookshelf ($12,500) that also features a single 5" bass driver and ribbon tweeter. The outer floor-stander is from their affordable V1 series ($1,900) and uses dual 6 1/2 bass and a single 6 1/2 carbon-soft dome midrange. Amplification was Parasound Halo and preamp.