CES 2008

From the Alexis Villas and St. Tropez suites it was off to the Venetian with fellow audiophile Peter Israelson of Star Sound (maker of iso-racks and accessories), with whom I walked much of the show with. Israelson drives a soup'ed up apple red Audi coup and while it was a real treat to let him show off just what he could do behind the wheel, I would have felt a lot safer had I had on a crash helmet. We made it safely to our destination but not without a lot of prayers and spiritual chants of Eh-Ko-Ba...Shala la Gosha
It was great to see all the usual suspects showing their wares in the best possible fashion. Whether it was VTL and Wilson or a suite featuring an entire MBL rig, the results were impressive though expected.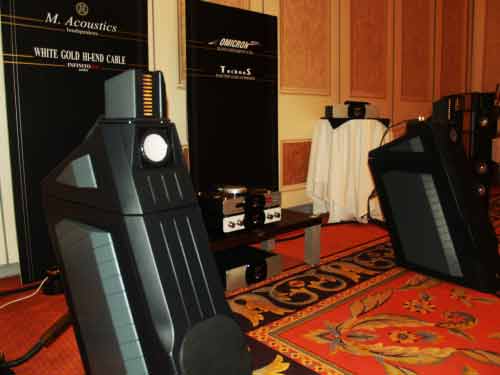 What proved totally unexpected however was the debut of Italian made M. Acoustics Eclipse 2.3 Evo loudspeakers ($18k - whew what a name). Designer Mauro Mauri's infinite slope cabinetry is quite unique and gives the Evo a special look. I'm glad to see Mauri used the Heil ESS Air Motion Transfer tweeter again as this is one of my favorites. Using Omicron Group's electronics that featured their Pi Greco Class-A stereo amplifier ($12k), and CDIX Mk II CD player ($13k), the sound once again proved stellar especially considering these loudspeakers are but a fraction of their reference Coherence series which cost about $48k. Hopefully, one day soon, I'll have the opportunity to personally hear and possibly review the Evo's here in my own setup to see what they would sound like via my own electronics.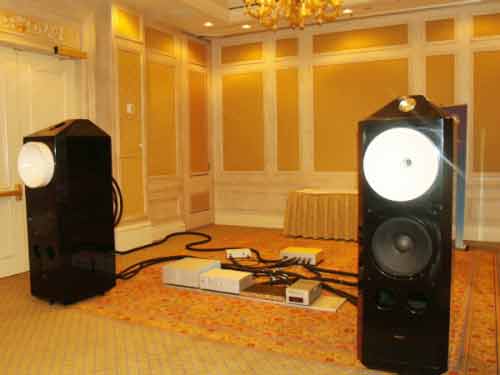 Sunny Cable Technologies debuted another arsenal in their growing line of horn loudspeakers. The H3W15SE or Majestic Jr. ($54k) represents a more modest scaled down version of their 800 lbs model they showed last year, albeit in a much smaller room. This year's setup featured the same modified Ayre preamp and amplifier Sunny Lo brings every year. In addition Sunny Cable Supreme was used throughout and a pro-series CD transport and dac (whose name I can't recall) serve as Lo's digital source. As many of you know, the Sunny stands a my reference and this particular version shown is under review by our own Greg Petan and should be available soon. I can vouch for Greg having heard his system that this slightly lighter gorilla-sized (550 lbs) loudspeaker has provided Mr. Petan a level of playback never experienced prior.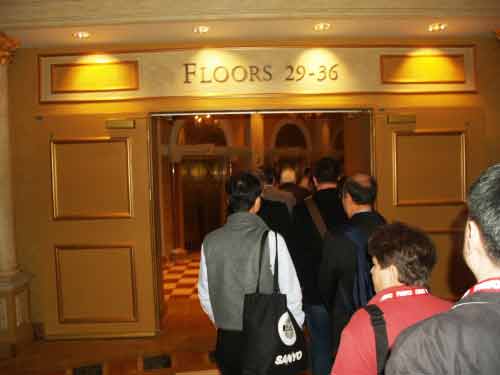 Photos seldom lie! Just in case you thought I was exaggerating about the incredibly long lines that awaited attendees seeking entrance to the Venetian towers. As you might have suspected, that was ME on the back of the line.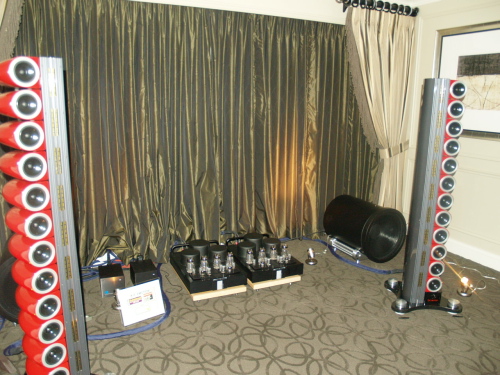 Scaena Model 3.2 Iso-linear Array loudspeakers ($42k), shown in a beautiful cherry red, really got my sonic juices flowing when driven with BAT tube electronics featuring the VK150 SE mono amplifiers. BAT's Geoff Poor, a blues fanatic if there ever was one, kept the vinyl spinning via a Continuum turntable using a Dyna Vector cartridge. I was delighted to hear what I've always realized once you pair tubes and ribbons: Instant magic. The excellent sound coming from this setup proved another sonic home-run showing how synergistic and versatile the Scaena 3.2s are no matter the source (at last year's NY HE Show, the Scaena's received many "Best Sound" awards driven by Behold solid-state electronics).
Bound for greatness! (?) I didn't ask any questions pertaining to the electronics of this room for which I apologize. I did however hear again the Emerald Physics CS-2 loudspeakers ($2999) and once again came away overwhelmed that such an affordable and amazingly good sounding loudspeaker could be still virtually unknown. This marks the fourth time I've heard it and the fourth time I've been thoroughly enamored by its performance. Initially, without knowing the price, thought, after a first listen, that it was in the $6- $8k range. To me, it's that good!