CES 2007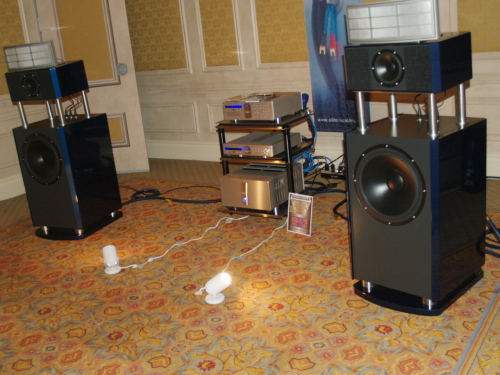 Some demos sounded only so-so!

Siltech introduced their very first loudspeaker in the SC1 - priced between $100k - $150k. Room and speaker interaction were the main goal behind the innovative design features. The only thing I could think of was how the SC1 chose not to interact with this listener. I'm not unlike many show goers that say to themselves "Well, if you're going to price it so high, show me why." Granted the room wasn't accommodating in the least as I explained, but I heard better sound coming from around the corner in the Avatar Acoustics room and they were using a speaker at nearly a tenth the price. I'm also man enough to apologize when and if I hear the SC1 again under better conditions. I trust I will.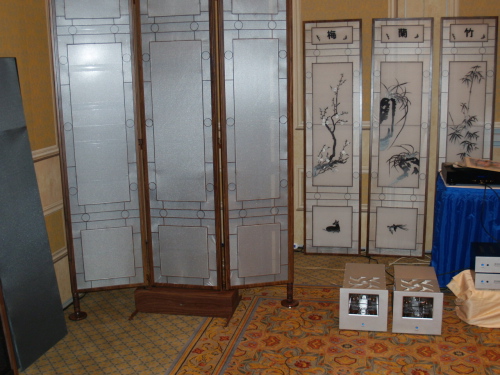 Singing Partitions ... literally

The King's Audio Limited Emperor ($32k) is a three-panel electrostat hailing from Hong Kong that closer resembles partitions I see in fancy dining spots and restaurants than high-end transducers. Artistic ESLs they are but that's only part of what is attractive about them. Their sound was seductive if for no reason other than they simply didn't sound like they were on. Despite their size they have the ability to disappear and possess the ultra transparency ESLs are known for. Driven by Jolida tube amplifiers I would love to have the opportunity to hear these under better conditions. Very promising indeed.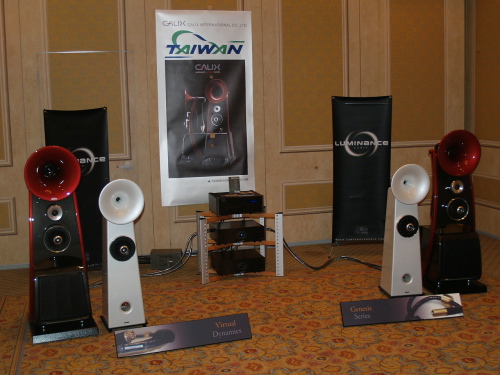 Luminance Audio, Calix, Wadia and Virtual Dynamics teamed to show what a good horn based system could sound like. Generally, I would qualify myself as NOT a big fan of horns. Unless of course, you've been to France to hear Jean Yves' massive horn system as I did. Some designers do a tremendous job reducing what I always associate from horns: when played loud they have a tendency to shout. There was little of that here except the room's cheap partitions had some adverse affect on the sound I think. Knowing Rick Schultz as I do, I am certain he was powerless over the less than ideal sonics this room presented. Sigh.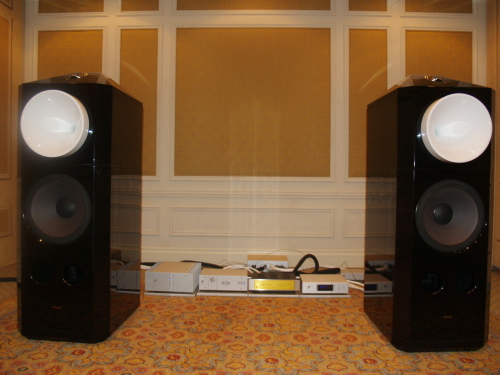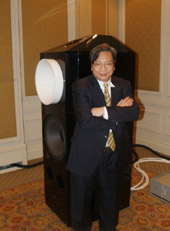 The weatherman said the weather would be Sunny all during the show. He wasn't kidding!
Sunny Cable Technology's massive 700 lb. Majestic loudspeaker ($88K), introduced for the first time to the public, took me by surprise. This totally impractically sized monster-- particularly if your listening room is located up two flights of stairs like mine -- sounded so realistic in the ever so important areas of tonality, harmonics and pitch, that I was completely dumbstruck by their performance especially since this room was afflicted by the very same poor acoustics mentioned in previous rooms. Moreover, the decision to use a ten-year-old discontinued DAC the Sonic Frontiers SFT-2 alongside Ayre electronics made these guys appear as though they could do no wrong. I've personally reported on chief designer Sunny Lo's previous attempts at shows and each was, well rather impressive but nothing challenging the state-of-the-art. The Majestic Loudspeakers do challenge what is possible in the home in my opinion. Sporting a proprietary 16.5" midrange compression driver, rated at 96 dB, and designed by Lo himself, coupled to an 18" fast-acting/low-going woofer. A super tweeter, dialed in at 18 kHz is used only to sustain air and atmosphere. Lo first blasted on the scene a couple of years ago with his stellar cable designs but now this latest assault on the senses has caused me to officially rename him "Mr. Majestic." Personally, this served as both a reminder and a wake up call to what is dynamically possible from an audio system when done correctly. In terms of dynamic prowess I don't recall EVER hearing a loudspeaker play simultaneously as soft, loud and effortless - no not even my beloved DALI Megalines - as the Majestic. Impractical yes, but most things challenging the state-of-the-art are. Here was no exception. A review is slated for the spring so we shall see if what I heard can be duplicated at or least, or bettered.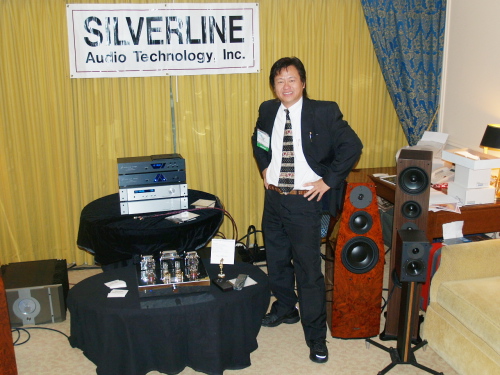 Heading to the other side of the Venetian to the Towers would lead me to where all the usual suspects were hiding.
One of the more pleasing and affordable sounds came from Silverline loudspeakers designer Alan Yun, shown posing next to his newest line of products. The big floorstander is the Allegro ($3k), while the slender Prelude ($1200) is partially hidden behind the Minuet mini-monitor, Yun's most affordable ($600) model. The system was run by North Star's Digital Dynamo DAC and transport. I didn't get a chance to sit and be overwhelmed by the sound as only Alan Yun can do, without any music playing. So, we hope to have some review samples in the not too distant future. Stay tuned.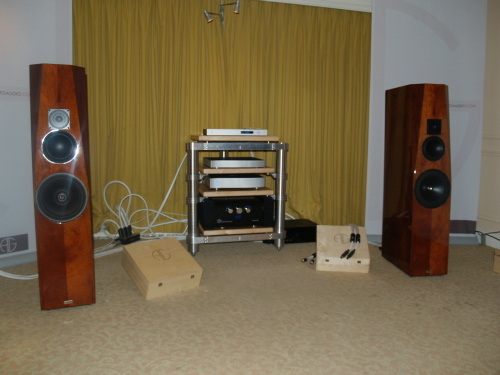 It's nice to see the Tidal Audio and their Contriva Diacera loudspeakers ($50k) stateside. I was smitten by this company in Munich. Here they were being shown alongside the ASR II Emitter integrated ($25k) using Argento wiring throughout. The digital source was a personal favorite of mine; the Swiss built Orpheus Zero ($9k) transport and Heritage dac ($30k). The sound was gloriously articulate, open and harmonically spot-on. The thing I noticed about the Tidal series of loudspeakers under very different settings, is that their tonal character remains wonderfully well-balanced. This tells me they're consistent, which is always a good thing. The ASR/Orpheus combo displayed greater promise of what Tidal is fully capable of. Great sounding rig!