Las Vegas 2007: CES 40th Anniversary Impressions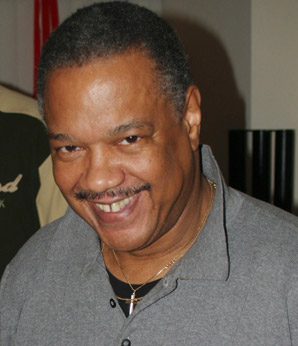 It was Monday, January 8, the time 5:30 AM when my cab arrived to take me to Newark Airport. Bleary eyed and excited, I tried not to dwell on the notion that due to poor visibility from rain, I might not make my 7:30 flight or even worse my connecting flight to Las Vegas might get cancelled. The cab was stuck in the morning rush hour traffic complicated by the pouring rain, and my flight was delayed more than 90 minutes! As life would have it Murphy's Law was in full effect.
Once we were airborne, the remainder of the flight was uneventful.

Upon arrival in "Lost Wages", Nevada (apparently a more apt name for the city) my spirit began to convey the significance of WHY the CES is held annually in this wonderfully lit eclectic city. There were reservations awaiting me at the Golden Nugget Hotel, so the gracious airport sky captains hailed me a cab and off to the hotel we sped. On the way the driver mentioned, that Las Vegas was the fastest growing city in America, averaging more than 14,000 visitors a week and more than two thirds of the visitors become residents (Wow!). There is something for everyone in this town, from the fabulous stage show productions, great hotels & casinos to the fabulous and affordable homes, not too mention eloquent restaurants and sight-seeing tours. There was also a consistent mantra everywhere I went and I quote "What ever happens in Vegas stays in Vegas." I arrived at the beautiful Golden Nugget Hotel & Casino checked into my room, sat on the edge of the bed and thought to myself. Imagine me a music lover turned audio reviewer participating at the 40th Anniversary of the International CES.

While fantasying about the day, wondering about the various events and showcases to be seen, the phone rang and reality stepped in. The call was from Clement Perry, who had just landed. All he said was "I'll pick you up in 20 minutes. Be ready to hit the ground running." My God, this man was serious. After, the preliminary salutations to his lovely and tolerant wife we hailed a cab and off to the San Tropez Hotel we went.

Like a Priest visiting the Vatican for the first time, I was full of curiosity and awe.
We proceeded to the press registration and reception room. Looking at and passing people whose faces I've only seen in the audio press was exciting. Once in the pressroom, I witnessed my longtime friend in his element.

We received our Press passes and it was off to T.H.E. Show (or races for that matter).

CP'S knowledge of the manufactures and their products made the shows coverage a breeze to this novice observer. Let me apologize in advance for not taking my own pictures due to a non-functioning digital camera and being in such awe that I didn't collect or misplaced all the program data.

Lansche Audio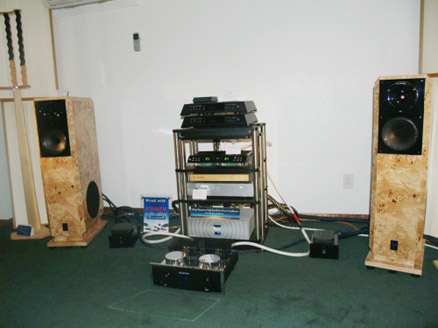 Lansche Audio is a German loudspeaker manufacturer whose products certainly had compelling and involving sound. The manufacturer intimated that his speaker promoted some type of physiological well being. All I remember is that if you don't have room for a sauna and don't care about the heat they generate, this may be the speaker for you. (Heat generating loudspeaker? Ed.)

ROOMS of INTEREST
Behold USA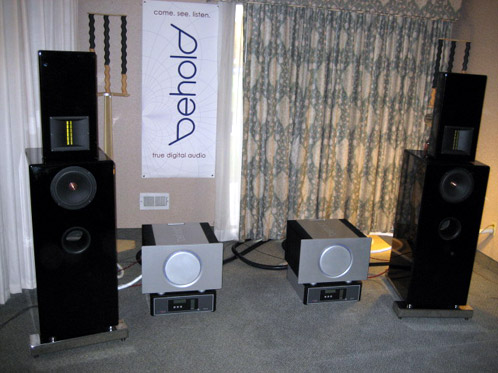 In the Behold Room I was greeted by Sam Laufer of Laufer Teknik, importer for the fabulous Behold equipment powering the now legendary Ascendo loudspeakers. The front-end handling the music was the Behold CD player and/or the Nova Physics Memory player. It was no mere accident Laufer chose Sunny cabling to complete this ensemble. Laufer's warm greeting was typical of his, non-imposing and unassuming yet informative persona. Basically, the system spoke for itself. I've heard a similar rig before (at guess whose home?). Not only did this room sound good but it attempted to reach the soul. I'm not going to say that it could do it as faithfully as I've encountered outside show venues but I've got to admit they tried. On the other hand the Behold gear is a thing of beauty unto itself aesthetically speaking: clean and simple makes for a satisfying appearance accented by a large blue light emanating from behind its dial (after looking at it for awhile you wonder who's watching who). As for the Ascendo loudspeakers, they seem to just disappear when music is played and I became easily engulfed in their sound. Keep on the lookout for importer Laufer Teknik.


Sunny Cable Room

Prior to entering this room you're greeted by Miss Lo, Sunny's daughter. As she swipes her key card then pushes the door open, you wonder is this the top secret audio room that only the chosen can enter? The first thing you see are two black behemoth loudspeakers resembling paralleling phone booths. When I say big, I should have said huge like in sumo wrestler huge. Imagine someone like CP or Clark Kent going behind those things and emerging as the Caped Crusader bound to protect the weak eared audiophile from himself. Stepping in front of these speakers and declaring, "I'll save you but first let's have a listen." Sunny approaches us and greets CP and I with a formal handshake. All kidding aside Sunny Lo is a gracious and passionate music lover who builds audio cables with a unique philosophy employing phase timing and coherency. Now he's about to launch his new speaker line utilizing the same technology.

To my recollection the speakers seemed to be as tall as Wilt Chamberlin and weighed in at 700lbs. Each cabinet has two parts: the base housing a 16 1/2'' compression horn driver and 18" woofer the upper cabinet housing a gold super tweeter. The speakers are basically a 2.5-way system, utilizing the super tweeter to capture ambient cues and air in the recordings.

Prior to the Sunny demonstration the best sound I've heard was at CP's place in that sanctified upper room. We would have listening sessions that seemed to last for hours. During those sessions we'd be jamming, dancing or crying. My goal was to duplicate those treasured experiences in my place. What a task, I was never close but with CP's help my system maintained a rather trendy growth.

Sunny Lo asked CP if he had any music he'd like to hear, if you know CP then you know that's like asking Citibank if they had change for a $100 bill. First CD up was a compilation of classical recordings. I can't remember the title of the first piece but I recall looking at CP's face after the arpeggio and we jointly, as if in sign language, said, "Do you hear that s#!t?" Pardon the expression but sometimes colloquialisms just fit the moment.

We not only heard the music, we heard the event. It was as if we were on the Starship Enterprise and asked Scotty to beam us there. CP has a habit of asking me to sit in the sweet spot and tells others to observe my behavior or reactions. What floats my boat is music that can transcend time and space and place you at the scene of the composer/conductor's or performer's translation of the material. These majestic behemoths were able to do this and much more. CP selected John Rutter's "Requiem" as the next sonic experience. Moving to the rear of the room he pointed to Sunny to take a seat next to him and prankishly pointed to me. Track 4 "Lord Make Me an Instrument of Thy Peace" started to play. I've been listening to this particular track for years so I thought it would be nice to hear. The opening sounds were unfamiliar and when the Turtle Creek Chorale began to sing. I felt as if I entered a dimension that truly transcends space and time. It was a dimension that takes you to a place of the heart, where your soul reaches out to welcome you and makes you quiet and still. During this mesmerizing experience you forget your surroundings. You just let go. The Meyerson Symphony Center became alive again with what appears to be a hundred individuals sing separately but together. The goose bump factor was on overload and tears began to flow. Tears that showed me that everything was right with the world and that I too was an Instrument of the Lord (Wow!).

When the music was over I excused myself and left the room feeling that something special had just happened. I literally felt blessed. Never before in my life have I ever felt myself trembling from just listening to speakers. Oh, did I mention that during the demonstration the speakers disappeared. If I had the space and financial wherewithal I'd beg borrow and sell my wares to get these big boys. I can only give words of the highest praise to Sonny Lo for this creation, and God Bless you for allowing us to share your dream.