CES 2004 Another Great Show! Part One

Lost Wages, Nevada.
Clement Perry
I arrived in one piece. Considering what life is like these days post 9/11 air travel, the flight was relatively easy. Getting a taxi was not. I knew this was an omen. It took well over and hour. And it was only Wednesday! While the LVCC looked like a mad house, it seemed to me that overall, the attendance dropped a hair at both Alexis Park and the San Tropez. It just didn't look as crowded as it did the past year. Passions, however, ran mighty high with the look and sound of a majority of the rooms. Minus some surprisingly crude setups and disappointing sound, this was another great year to be in attendance at CES. Albert Von Schweikert accomplished a miracle in his room at the San Remo pitting virtual against live. ESP loudspeaker lovers would have fainted to hear the return of Sean McCaughan's flagship Concert Grands at the San Tropez. And new European imports like the Ascendo room sounded improved over last year's with first time German electronics Phonosophie. It was a pleasant surprise to see Wadia's new and exciting products taking up space in some of the rooms (notably their own and Nova's).
There was plenty to see walking the show with Dave Thomas, Mike Wright and Key Kim. One of the more enlightening elements of having four reviewers listen together (one at a time), is to find if their tastes match your own. And knowing Key's, since he's a neighbor, personal friend and uses the same electronics as his reference, it was with a sigh of relief that I found the tastes of both Dave and Mike to mirror ours. They thought the sound of the Ascendo room as superior compared to many others. I found this illuminating since they serve as reference loudspeakers for both Key and myself. Never did I want to give any impression of what makes this loudspeaker special. And as good as the room did sound, I thought there was still a lot to accomplish with respect to the room--after all, it is my reference. The Ascendo loudspeaker can sound A LOT better than what we heard there in CES in a larger room. Give that loudspeaker room to breath and it can be pretty impressive sounding. There was no question that the Phonosophie line of electronics are no slouch despite their rather bland European style and appearance. They sounded better matched with the Ascendos than the world class Zanden products used last year. Go figure.
Interesting turn of events: Not surprising. While most of you turned away from room correction products they couldn't have been more popular this year. With the increasing presence of parametric equalizers like Rives Audio PARC and Australian newby Deqx. Rooms using these products sounded very well balanced particularly in the bass regions. None of the rooms using the PARC or Deqx, and I counted nearly a dozen, produced boomy bass which is usually typical under show conditions when attempting to play loud. The only logical reason I can come up with why Tact Audio, my longtime reference pre/room correction device, isn't being used in setups such as these is; Tact is simply too hard and intimidating and/or its sonic benefits seem to be overkill where a touch of correction may be only necessary. Of course I don't agree that Tact is overkill but then again I've never auditioned either of these two competing products. Yes, I do agree that the Tact 2.2X can be intimidating upon first blush. One thing's certain: The room is still the least understood and most overlooked. The more companies that offer room correction capabilities the better because it only allows us to see how overlooked this situation actually has become. Okay, on to other pet peeves.
Disappointing setups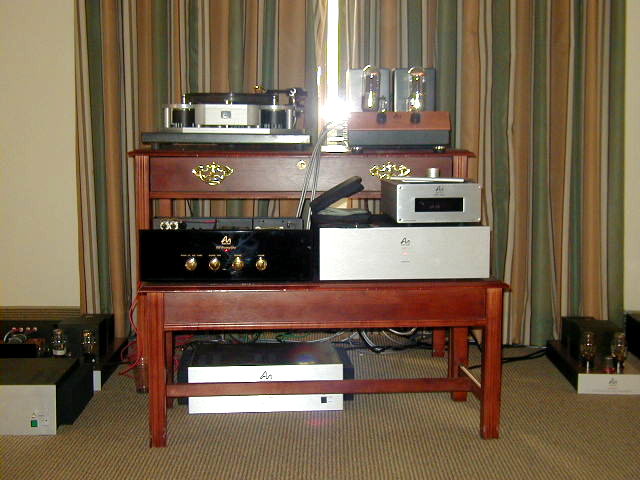 Who was it that said a picture is worth a thousand words? Audio Note should be ashamed of themselves for this setup (above). Can you imagine how this room must have sounded looking at this photo? Just the thought they used hotel furniture makes me dizzy. Notice from the photo the Audio Note transport resting directly on the $35k DAC! Well, I heard it with my own two ears and it wasn't nearly as good as I would have thought considering the price of these components and the reviews Constantine Soo did right here. Truth be told, it sounded better than it looked. Actually, there was a sense of string tone authenticity that was impressive but that isn't the only thing that makes music sound right -- and just as importantly -- inviting. There's body, there's dynamics, there's midrange three-dimensionality and there's realism. Lastly, there's size and scale. All of these audiophile MUSTS seemed lacking. These MUSTS are the very reason dedicated equipment like isolation platforms and racks are a must; the very things overlooked by this room. Considering show conditions, which are usually never ideal in the first place, there's no getting away with using a standard el' cheapo power strip, and hotel furniture. Tsk, tsk.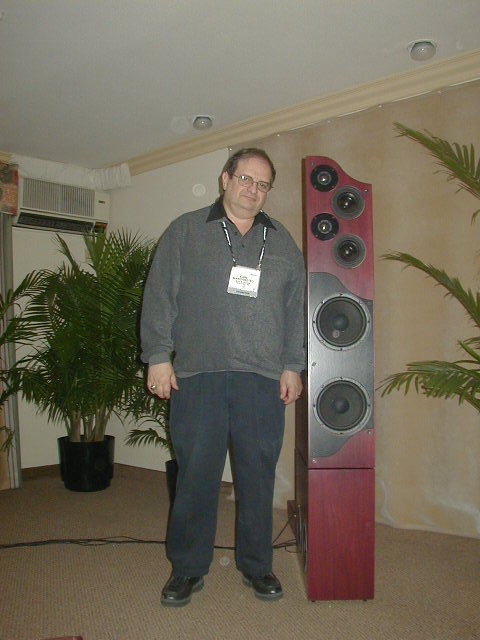 Unfortunately there was another poor setup in the Alon By Acarian room. The room was composed of great electronics like the Antique Sound Labs Hurricane (200 watt) tube monoblock amplifiers ($4,400 pair) as well as Conrad Johnson's ART II preamp ($15,990). The digital was by way of the newly imported Lector Strumenti Audio CD Player ($3,200),while all cabling was by Soundstring Cable Technologies designed by local hero Jed Hacker. Alon's designer Carl Marchisotto (above) is showing his Alon Proteus loudspeaker ($45,000) and setup against two adjoining walls similar to the way Balanced Audio Technology does each year. Except, the first thing I could tell upon sitting that there was no sweet spot the way the loudspeakers were set up to aim at the listener evenly. Somehow it was grossly uneven. I immediately asked Marchisotto "where's the sweet spot?" He never once looked at me after posing for our camera, and dismissively stated, "just listen to the music. You don't ask for the sweet spot when it's live." Oh my God, I'm about to have a brain cramp! How enlightening Mr. Marchisotto but this isn't live. When it is [live], people are there in front of you so soundstage never becomes an issue. Needless to say, I looked to my left at Key Kim who, sitting next to me, looked as dumbfounded as I was. We both got up and walked right out without uttering a syllable. However, I do have good news Mr. Marchisotto; I saved $325 on my car insurance switching over to Geico.
On to Excellent Setups



The Acoustic Dreams room, using the same room as last year at the San Remo, with practically the very same electronics, offered a delightfully musical setup. Employing the elegant and long legged Vyger Indian Signature 'table ($36,000) to get the show started made life a tad easier for the Featherling brothers (they caught hell trying to figure out what was wrong with a left channel connection. Alas, it was a defective interconnect! Loudspeakers were the Lumen White ($40,000 plus) while a pair of Ayon Signature monoblocks supplied current. All digital gear was dCS, while the superbly built equipment rack ($6,000 for a four tier unit) were made by Acoustic Dreams.
Outstanding Performance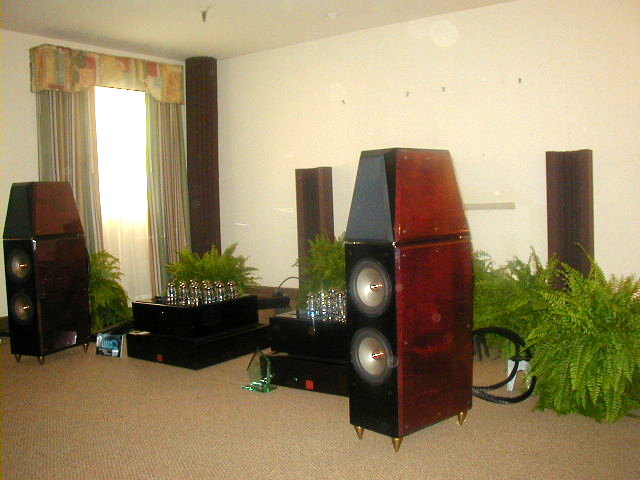 No wonder these things are so hard to choose when making a purchase decision. The sound of the Joseph Audio Pearl loudspeakers ($20,000) was intoxicating. Strapped to a pair of Joule Electra Rite of Passage OTL monoblocks resting on custom amp stands made by Critical Mass Systems certainly lent a helping hand. Cables as well as AC cords were all by Elrod Power Systems, while AC conditioning was done via Sound Applications Line Stage ($4,000). Needless to say, this was a sonic sensation.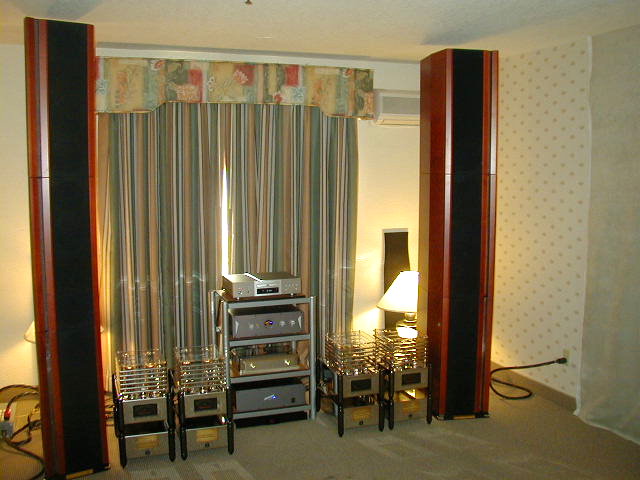 Jay Bertrand, Importer extraordinaire, put on some display with a pair of reference DALI loudspeakers ($40,000) that nearly went to the ceiling that were being driven by two sets of Ming-Da vacuum tube monoblock amplifiers ($12,500) [using the 845 tube for power and the 300B for drivers].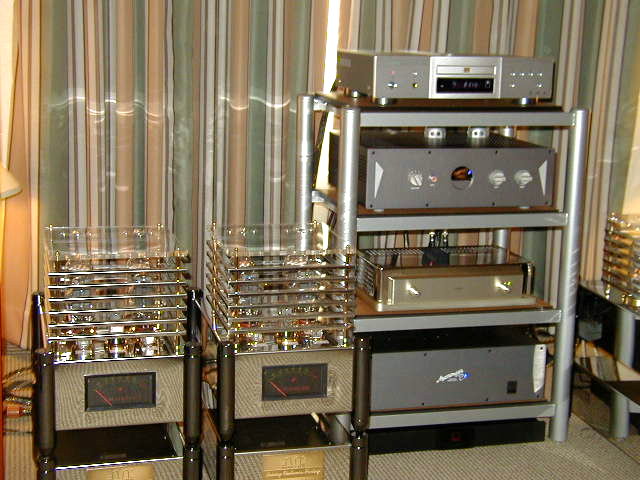 Jay also introduced Zindak's new tubed SACD player SCD2 ($1,850) which performed some feat used solely as a transport into the Zanden Model 5000 MkIII. New on the scene is the Messenger Reference tube preamplifier ($12,500) designed by Bruce Wulach this new upstart designer has seemed to hit the proverbial home run with this two-boxed delight. Comprised of single 6829 input tubes and single 6AS7's at the output. For the ultra choosy, Wulack also offers optional solid-state or tube power supplies. Cabling and AC cords were supplied by Zindak. This was certainly one of the best sounds at the show. Keep an eye out on these new products.
Good Sounding Multi-Channel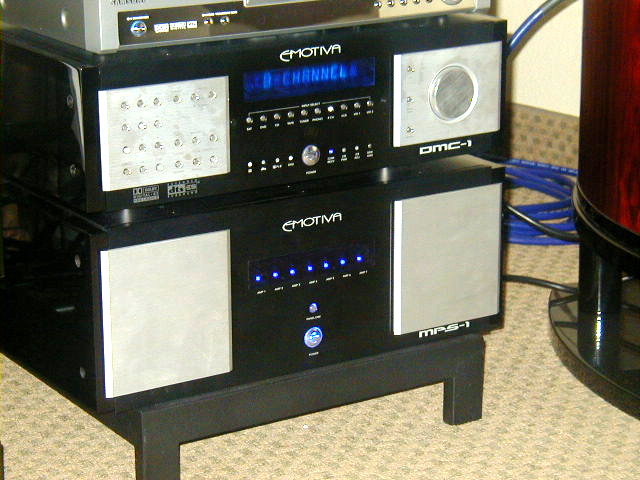 AV123's Mark Schifter introduced new products at this year's CES event. The Emotiva DMC-1 processor boasting Precision Motorola Symphony™ based 7.1 Channel Dolby Digital, Dolby Digital EX, Dolby Pro-Logic II/IIx, DTS, DTS-ES, and DTS Neo:6, decoding and the MPS-1 Modular 200-watt multichannel amplifier (prices to be determined) did a nice job showing all there is to be had from multi-channel audio as well as video. Keep an eye out on this product.
Elegant Sounding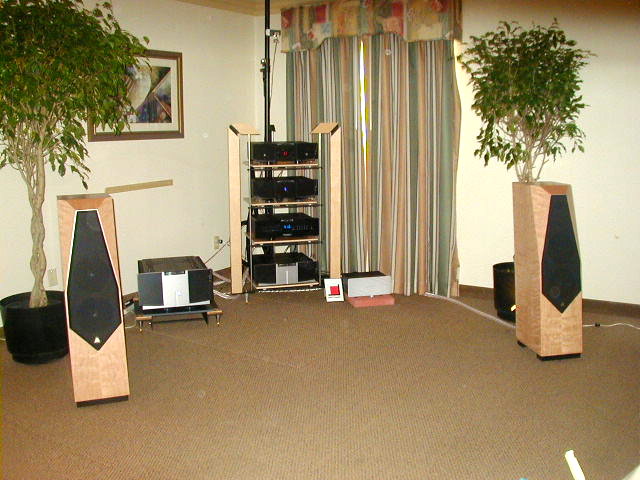 Balanced Audio Technologies did another great job as usual integrating the room with their electronics. This year, using Avalon's newest member in the Ascendant loudspeaker ($7,995). Also, BAT introduced the all new VK-600, featuring only two gain stages, and a Zero Gobal Feedback Design to go with its new faceplate design. Flexibility is BAT's newest achievement for the VK-600 can be ordered either in stereo or monoblock configuration. Cabling, as well as AC room conditioning was by way of Shunyata Research. The elegant stand is by pARTicular.